Obituaries
Major N C Shuttleworth
Late Scots Guards
by Major General D M Naylor CB MBE DL
formerly Scots Guards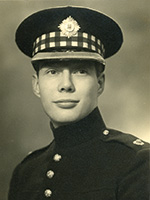 Noel Shuttleworth died just before Christmas 2021 aged 88. He was born in January 1933 at Ripley near Harrogate where his father was the local rector. Involvement with the Church ran deep in the family and throughout his life Noel remained a committed Christian and a regular attender at church.

Noel attended Haileybury College in 1947 where he quickly made his mark as a sportsman, particularly excelling as a cricketer. His prowess with bat and ball stayed with him for much of his life and brought him success in many different places, and indeed on more than one continent as this obituary will testify. After school Noel had to undertake National Service and in October 1951 he enlisted in the Green Howards with the intention of later applying for officer training at Sandhurst. In due course and, with the encouragement of Sir Joslan Ingilby of Ripley Castle, a former Scots Guards officer, Noel attended Sandhurst and was commissioned into the Scots Guards in December 1953, alongside Michael Scott and Philip Erskine, both of whom thereafter remained close friends.

Noel's first posting was to Hubblerath near Düsseldorf where he joined the 2nd Battalion then commanded by Digby Raeburn, at times a daunting leader and a bachelor whose presence in the Officers' Mess could sometimes cause tensions! Noel however thrived and was rewarded with command of the Machine Gun platoon in 1956 before later becoming Signal Officer. In February 1958 the Battalion moved to Chelsea Barracks to undertake public duties. However, January 1959 saw Noel selected for a two year attachment to the Canadian Guards near Montreal. There he commanded the Battalion's Ceremonial Company and made several friends, many of whom were later reunited with him when he was living in Savernake Forest.

Returning from Canada in early 1961 Noel re-joined the 2nd Battalion at Chelsea and stayed with it when it transferred to the UK Strategic Command, based first in Shorncliffe and later at Tidworth before moving to Wellington Barracks. Towards the end of this period he commanded G Company. He undoubtedly enjoyed life in London along with a group of contemporaries like Philp Erskine, Roddy Rose, Gay Gardner and Tim Gosselin; he shared a flat with some of them in Sloane Court adjacent to Chelsea Barracks. From there they made the most of what was on hand to be enjoyed regardless of where the Battalion happened to be!

In February 1962 the Battalion was posted to Kahawa in Kenya to join 24th Infantry Brigade, the latter's role being to oversee the transition to independence of the East African colonies. It was a wonderful posting and Noel made the most of it; he commanded Headquarter Company until mid-1963 when he decided to leave the Regiment. Before doing so he went with Left Flank to Zanzibar to help ensure a secure environment when the island became independent.

However, for many it will be for his cricketing skills that Noel will be best remembered. Two instances come to mind: in Germany in 1955 when the Scots Guards beat a Coldstream team in a BAOR competition, with Noel taking all the opposition's ten wickets; years later when he played for East Africa against a MCC touring team he took the wickets of some redoubtable international players. He was a very accomplished bowler and cricket was a great joy for him.

On leaving the Army Noel involved himself in a number of building industry and other enterprises with various partners. He had an inventive mind which produced many ideas, not all of which saw the light of day. He suffered a very bad car accident in August 1973 and was in intensive care for a long period; on recovery he established 'English Courtyard' to provide high quality retirement homes along lines similar to alms houses; the project was a great success and, although later merged with a rival firm, Noel remained involved with it to the end of his life.

Noel was never destined to be a high-ranking soldier and probably never expected to be or even wanted to be. His interest was people and what made them tick. He had an easy manner epitomised by the friendly, relaxed way in which he approached other people. Very much his own man, he was happy in his own company, something exemplified by all the years he lived alone in his treasured cottage in the midst of Savernake Forest. He never married but knew the joys of a relationship and cherished the company of people whoever they might be.

Towards the end of his life the effects of his car accident in 1973 began to take their toll on Noel's health; in addition to the usual ailments of old age he also suffered from growing blindness and, although loath to admit it, life became difficult. Fortunately, assistance was on hand in the form of a number of Scots Guardsmen living locally who rallied to give Noel whatever support they could; a wonderful example of what a family regiment can do for one of its own.