Obituaries
Lieutenant Colonel Digby Noel Thornewill
Late Coldstream Guards
by Major General P G Williams CMG OBE
formerly Coldstream Guards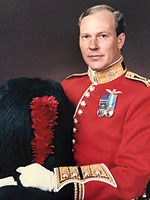 Lieutenant Colonel Digby Thornewill died on 8th December 2021, some three weeks before his 79th birthday, following a brave struggle against cancer. His family had moved from Kenya to South Africa in 1939 and Digby was born and grew up in Cape Town, where he was educated at Bishop's College and then at De Villiers Graaf High School in Villersdorp. After a brief spell with the Standard Bank, he sailed to England in October 1961, following in the footsteps of his elder brother Jeremy, who had been commissioned from Sandhurst into the Coldstream. His cousin, Lord Digby, a heavily decorated Great War Coldstreamer, had encouraged Jeremy and Digby to join the Regiment.

Digby passed out of Mons Officer Cadet School in April 1962 and joined the 1st Battalion, which was sent to British Guiana in the October of that year to restore order in the face of inter-communal unrest, including a general strike that began in April 1963. In early July a patrol under Digby's command was attacked by rioters and opened fire in self-defence; fifteen of the assailants were arrested, five of who had been wounded, and Guardsman Baker was awarded the British Empire Medal for Gallantry.

Digby was granted a Regular Commission in December 1963, not long after the battalion had returned to England. After two years serving in No 13 Company at the Guards Depot, he was selected to train as a helicopter pilot. In July 1967 he was awarded his wings and was attached to the Army Air Corps, in which he flew Scout and Sioux helicopters in Aden, Sharjah and Germany. In the midst of all this operational activity, Digby married Deirdre Bird with whom he was to enjoy over half a century of happiness as a husband and as a father to Guy, who was born in 1974.

From May 1970 until January 1975 Digby served with the 1st Battalion in Northern Ireland, commanded a company training Junior Guardsmen at the Guards Depot, and then went on to command the 1st Battalion's Support Company in Berlin. In 1975 he returned to the Army Air Corps, completed refresher training, and took command of the helicopter flight that was a key part of the United Nations Force in Cyprus (UNFICYP). Arriving only six months after the Turkish invasion of the island, he thoroughly enjoyed this demanding posting.

In 1977 Digby served as a staff officer in Hong Kong before returning in May 1979 to fill the Second in Command appointment in the 2nd Battalion during which time it moved from England to Fallingbostel and into the mechanised infantry role. In mid-1981 he was posted again to Berlin, this time to be the DACOS in the British Sector headquarters. Somewhat unexpectedly, his responsibilities including officiating at the civil weddings of members of the garrison and Digby told hilarious stories about some of the more bizarre ceremonies.

After Berlin Digby was posted to Wellington Barracks as the Regimental Adjutant, where he managed to survive riding a very frisky horse on a parade on Horse Guards, before moving back to the Army Air Corps in 1986. Having converted to Gazelle helicopters, he became the Second in Command of 4th Regiment Army Air Corps in Detmold. It is said that he turned down an offer to command an Army Air Corps regiment, preferring to return to the Regiment. In August 1989 Digby was promoted to lieutenant colonel and filled an SO1 appointment in Horse Guards with distinction until he took early retirement in November 1992.

It was at this stage that Digby began his second career, as the Treasurer in Headquarters Household Division, where for the next fifteen years he became a pivotal, behind the scenes figure in the Horse Guards hierarchy, giving sound advice to a series of Major Generals, dispensing charitable and adventurous training funds, maintaining the Guards Magazine and the Guards Chapel financially on the straight and narrow and keeping an eye on the accounts of numerous Guards-related sporting clubs.

Digby finally retired at the end of 2007 and he and Deirdre moved to Somerset, where they enjoyed seeing family and friends, gardening, travelling and, in Digby's case playing golf and shooting. Digby served as a Coldstreamer and in Horse Guards for more than 45 years. His attention to detail, his loyalty to his friends and comrades, his ever-present charm and his wicked sense of humour will all be sorely missed by those of us who had the privilege to serve with him and to count him as a friend. We offer our profound condolences to Deirdre, to Guy and to his family.