Obituaries
Colonel Fra' Matthew Festing OBE DL
Late Grenadier Guards
by Major General Sir Evelyn Webb-Carter KCVO OBE DL
formerly Grenadier Guards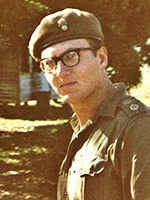 Matthew Festing died in Malta just short of his 72nd birthday on 12th November 2021. Educated at Ampleforth, he then went on to St John's College Cambridge. I knew Matthew way back in the days of the 2nd Battalion's tour in British Honduras, when I was Adjutant and he a platoon commander, where he avoided the daily 'run and walks' as much as possible. He then became the Intelligence Officer. Neither of us, I recall, particularly liked British Honduras or Belize City, for that matter; he would say it was 'all quite beastly'. Part of his duties entailed being the editor of The Grenadier battalion newsletter, which came out monthly. He had a very good sense of humour which was apparent in the column he wrote answering questions from a certain 'Mr Mouse' which invariably culminated with the final response from Matthew: 'get knotted'.

I much regret having to write this obituary, not least because Matthew would have made a far better job of it himself and in the process have had us all in fits of laughter. It was his wit and repartee which drew many of us to his side at lunch or dinner. A keen observer of regimental life, he was a regular contributor to the Officers' Mess Lie Book, frequently making fun of the Adjutant and anyone who was pompous or who had pretensions well above their station. The Garrison Commander did not avoid the occasional witty barb.

For the last fifteen years or so Celia and I would, in September, drive to Birks, Matthew's beloved home in Northumberland where we would fish on the North Tyne over the weekend and he would join us for a picnic lunch. The highlight of the weekends would be Matthew's storytelling, invariably about his father or more recently the shenanigans of Rome, which have been amply covered in the Daily Telegraph and other publications. Nevertheless, in 1993 he was justly proud of being elected Grand Prior in the Grand Priory of England in the Sovereign Order of The Knights of Malta. He was the first since the Reformation some 450 years previous. He was then voted 79th Prince and Grand Master in 2008. He was only the second English Grand Master since its foundation in the 11th Century. In the process he was required to take vows of chastity, poverty and obedience. Matthew always said that 'chastity was relatively easy, poverty no problem, but obedience was almost impossible'. Ever modest about his exalted rank, he used to be tickled pink however when more self-aware British grandees had to bow in his presence in Rome. I laughed when I saw the portrait painted by his brother Andrew. It shows a rather disapproving Matthew. He adopted this pose because he deprecated the self-satisfied expressions of most sitters of portraits, and it amused him to be contrary. I recall Matthew showing us his Austrian Order of The Golden Fleece awarded to him in 2011; he was particularly humbled by this singular honour being the only the second English recipient for nearly two centuries.

Matthew's father, the Field Marshal, was a Rifle Brigade officer with an impressive lineage of soldiers and at one stage in the early 1950s commanded British Troops in Egypt where two Guards Brigades (1st and 32nd) were stationed. So impressed was he by the Foot Guards that he resolved that his eldest and in due course his youngest son, Matthew, should join the Grenadiers. His mother, Mary, came from an old Northumberland family, the Riddells of Swinburne Castle, and so the county became very much the family home.

Matthew's career in the Grenadiers was a short one, but he much enjoyed attending First Guards Club dinners. At one he sat next to Prince Philip and their natural affinity was apparent to all. He then joined Sotheby's as a consultant which he continued until his duties in Rome precluded it. In Northumberland he joined the Territorial Army and was second in command of 6th Battalion of the Royal Regiment of Fusiliers. For his service in the Territorial Army he was awarded the Territorial Decoration. He later became the County Commandant of the Northumberland ACF. Matthew had the common touch and was always at ease with soldiers and cadets because, of course, he made them laugh. He was a great mimic of the Newcastle dialect and could recite the two sides of a conversation to much hilarity. He was awarded the OBE for his time as County Commandant, and he stayed with us for his investiture and well I remember the entire resources of the Regimental Tailor and equipment repairer being devoted to his service dress and Sam Browne belt. The latter had been his father's but even then it had to be extended!

I remember once when I was on exercise with 19 Brigade at Spadeadam, a MoD training area not far from Birks, I drove over for supper; it was only half an hour away. After a jolly meal Matthew asked how was I going to return to which I replied by the main road. 'Oh No you mustn't do that, there is a cross country route, which I know well'. So enthusiastic was he that he volunteered to take me back to Spadeadam in his Land Rover. And so we set off with my own Land Rover and driver following behind. It took us two hours to get there with various detours and I remember thinking that he hadn't been that good on navigation in British Honduras, but it was a thought too late!

Matthew was a wonderful friend to Celia and me and we will sorely miss him as will those Grenadiers who knew him. We will forever have happy memories of our weekends at Birks and the Villa Pagana, his much-loved retreat near Portofino whilst Grand Master. He is buried in the historic Grand Masters' crypt in St John's Co-Cathedral in Valletta where eleven of his predecessors pre-1798 were interred. It is worthy of note that no Grand Master has been buried in Malta since 1798, perhaps a greater honour than the Golden Fleece.