Obituaries
Lieutenant Colonel Michael Harding
Late The Blues and Royals
by Lieutenant General Sir Barney White-Spunner KCB CBE
formerly The Blues and Royals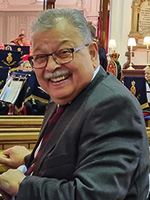 Michael Harding joined The Blues and Royals from Canada in 1973 aged 22 as part of a British Army Commonwealth recruiting drive. He wasn't actually Canadian; his father was in the Merchant Navy and Mike had been born in Leicester and partly raised in Calcutta only emigrating when he was in his teens. Yet badges stick and throughout his service he was always known as Cherokee, although he managed for 10 years to convince our current Secretary of the Association that he was an Eskimo.

Michael's career in the regiment can only be described as meteoric. After basic training at Pirbright, Trooper Harding went first to Knightsbridge. It was a tough time, with the Mounted Regiment undermanned, but he thrived and within two years he had been promoted to Lance Corporal. From Knightsbridge he went the way of so many successful Household Cavalry careers, being posted to the Guards Depot to instruct recruits. From Pirbright he started his career with The Blues and Royals in Detmold, completing a tough Northern Ireland tour and starting his long affiliation with tanks and gunnery.

After a tour at Windsor, which included a rotation as the Cyprus armoured car squadron, he undertook the Gunnery Instructors' Course at Lulworth and, hardly surprisingly, became qualified to teach at the School. In 1986 he returned to the Regiment as one of our first Staff Corporal Troop Leaders. During this period, he married Annie whose first husband, John Tucker, had been killed so tragically in Northern Ireland in 1979. It was to prove a wonderfully happy union of a devoted couple and family.

Back to Germany in 1988, Mike was promoted to WO2 and became Squadron Corporal Major of B Squadron, he was always really a B Sqn man, before doing his RQMS course and becoming RQ at Knightsbridge. He then made that very competitive promotion to WO1, becoming Regimental Corporal Major (Instructor) at the Gunnery School. He stood out once again and in September 1993 was commissioned into The Blues and Royals, spending a short time back at Knightsbridge as Families Officer before being deployed with the service regiment to Bosnia on Operation GRAPPLE.

After Bosnia he became, to my immense pleasure and good fortune, Quartermaster at Windsor just before I took over command. I look back at that time as one of the happiest in my own career and that was due largely to having Michael as my mentor. It was a hectic time operationally, with successive squadrons in the Balkans, but we also had great fun and took the regiment on a prolonged multinational exercise in Egypt. Michael decided that the Household Cavalry should show some proper hospitality and arranged a regimental barbecue for the 1,500 strong battle group. He chose a site overlooking the Qattara Depression on the lines the 8th Army had occupied before Alamein. Brigadier Valerian Wellington, who had been a troop leader at Alamein, came out to visit us and I will remember to my dying day his arrival across the desert in the British Ambassador's Rolls Royce flying the Union Jack and escorted by two Scimitars. Typical Harding style, with Michael giggling at the reaction of the various contingents: the Egyptians terrified, the Americans awe struck, the French feeling embarrassed that they had perhaps been on the wrong side, although Michael's favourite moment was when he introduced one of his young troopers to Brigadier Valerian. 'Trooper Smith' he said, 'this is The Duke of Wellington'. 'Wow Sir' replied Smith 'you've aged really well'.

From Windsor, Michael was posted to a series of staff jobs, in Cyprus again as the Episkopi Garrison Major, to the Permanent Joint HQ, and finally back to Bovington as a Lieutenant Colonel and as Staff Quartermaster, where he also did a wonderful job ensuring mounted trade pay was fair. He left the Army from Bovington in September 2005 after that stellar career of 32 years.

That was Lieutenant Colonel Michael Harding the soldier. Let me now just talk briefly about Mick Harding – Cherokee – my friend and mentor, the man who gave balance to so many lives; that easy charm, that cool, unflappable, wise, pipe smoking and ever generous man on whom I, and countless others, have relied on so much. I followed Mick into The Blues and royals five years after he joined, and he was always on something of a pedestal for me. He was supremely professional, yet always great fun to be with. Many was the time when I was commanding when I would escape to his office for a chat, braving the pipe smoke and Trooper Renton's coffee, and many is the time I came away so much the wiser. He was not only an unfailing source of really good advice, but he was also the sort of man you could talk to forever. He had an incredibly wide and questing mind, and many was the time lunch went on several hours longer than it should have done.

But beyond that Mick saw something deeper in his military service in general and in The Blues and Royals, and the Household Cavalry, in particular. He really believed in that ethos of service, to his Monarch, to his regiment, to his colleagues and soldiers; it was an almost sacred duty to him. He believed, and personified, what the Household Cavalry stands for and he lived those values that we all espouse but from which we so often fall short. Mick loved the Regiment and loved also the great honour of being the 653rd Military Knight of Windsor which entitled him to a packed and very moving funeral service in St George's Chapel alongside our Kings and Queens. But he also understood and loved what those institutions actually mean. He served because he believed. Nor would any tribute to him be complete without noting the huge amount he did for the Regimental Association and for the Oliver Montagu Fund, again so typical of his selfless approach. He only stood down as Association Treasurer very recently due to ill health and he and Annie were also heavily involved with the Berkshire SSAFA where Mick was Divisional Secretary. A fine Household Cavalryman, soldier, and family man; he will be missed by many.