Obituaries
Warrant Officer Class 1 (RCM) Dennis Hutchings
Late The Life Guards
by his son, John Hutchings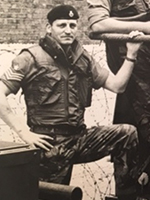 Dennis Hutchings was born in Cramlington, Northumberland, on 7th May 1941. His father worked in the local coal mine and the family lived in a colliery owned house. When his father lost his job in 1945, the family had to move to a different mine where they did not qualify for a colliery home, and so Dennis grew up in a disused Army camp, living in an ancient Nissen hut without the basic amenities of modern life. He went to school until the age of fifteen, leaving without any qualifications and following his father down a local mine, at Crofton Mill colliery. One of Dennis's friends who had left home to join the Royal Navy kept writing to him telling him how great Service life was. In the end Dennis was persuaded and made the trip to Newcastle, but unable to find the Naval recruiting office, went to the Army recruiting office to ask for directions. He signed up there and then for the 15/19th King's Royal Hussars. He gave his written notice to the mining company (rather typically) on the back of a fag packet. But whilst working his notice period at the colliery on the night shift, his father woke him one day at mid-morning to say that someone was at the door and wanted to see him.

The man at the door as was 6ft 2 and immaculately dressed. 'I hear you've signed up for the 15/19th King's Royal Hussars but look, I don't want you to join them, I want you to join my Regiment, The Life Guards, instead'. Dennis replied that that simply wouldn't work, because he couldn't swim. This smart man corrected him and outlined the glories of life in the Household Cavalry, of being based in Windsor, and the Regiment's deployment at that time to Aden. Dennis was sold and changed his regimental preference to join The Life Guards.

The following week he caught the train to London, and after reporting for duty at the wrong barracks and nearly joining the Irish Guards, he started his training at Combermere Barracks, Windsor.

After Dennis passed out of training he did tours of Aden, Cyprus and Germany. He was quickly recognised as being a tough individual and was soon selected to become a physical training instructor with a slightly unique style of taking the troops for runs whilst he peddled alongside on his bicycle. One day, the troopers stole his bicycle and hid it in the bushes, thinking they would have an easier session. Dennis ran them twice as far and twice as fast on foot. They returned the bicycle to him immediately.

He was married on 23rd December 1960 and had three young children who accompanied him on a Far East tour including Malaya, Singapore, Borneo, and Hong Kong. In 1969, at the very start of the Northern Ireland troubles, he embarked on the first of seven tours, spanning the next ten years.

On one Northern Ireland tour, in June 1974, Dennis was Mentioned in Despatches for leading a foot patrol that arrested six individuals in what became known as the 'Eglish Incident'. Following a firefight and seizure of a significant cache of arms and ammunition, Dennis discovered the six culprits were being hidden by a priest in a nearby cottage and promptly arrested them all.

The normal run of senior non-commissioned jobs followed: Squadron Corporal Major of the Ace Mobile Force Squadron, and Regimental Quartermaster Corporal in Headquarter Squadron. Dennis was a strong contender to become Regimental Corporal Major, but the timing did not work, so he went on attachment to become RCM of an Army Air Corps Regiment. Predictably, Dennis enlivened the Sergeants' Mess considerably, imposing his high standards on the Regiment and cleverly enhancing the bond between the Army Air Corps and The Life Guards.

Dennis left the Army in 1985, initially becoming an operations director for the Manpower haulage company before running their new events division providing security at sports events across the UK. However, convinced he could do a better job if he was on his own, he started Special Events Security Services Limited which became incredibly successful, providing security for racing, football and cricket matches, and Formula 1. Dennis's own formula for success was simple but effective: employ people who had worked in a Service setting, and use the same leadership approach he had acquired in the Army. He sold the business to G4S in 2007, at which point he semi-retired.

Dennis settled in Cornwall with his beloved partner Kim, continuing some security work at Epsom Racecourse where he used to take Kim and enjoyed many a happy sunny day. He also loved the people of Northern Ireland. He set up a business there; Catholic or protestant; unionist or nationalist, he didn't care. He employed local people and cared deeply about the local community. When the protection rackets came knocking, of either persuasion, he ignored their demands, saying that he would give money to local charities instead.

Typically, he threw himself into his beloved Cawsand community. He was always going to take it badly when he became the only member of the village to fail his audition to be in the Rame Head Male Voice Choir!

In 1974, Dennis's patrol was involved in an incident which resulted in a fatal shooting at Benburb, Co Tyrone, of John Patrick Cunningham. In theory, the case closed in 1974, but was reopened again in 2011 and 2014. The authorities sent 18 policemen to arrest him at his home at 5am in the morning, but Dennis with his immaculate manners completely took the wind from their sails by inviting them in for a brew. No new evidence had come to light, but still the authorities proceeded. Dennis was adamant that he was innocent and that he should defend himself, at whatever cost, to clear his name. With support from the Veterans' community, the Regimental Association and the MoD provided solicitors, Dennis fought his case even though he was experiencing dialysis every other day.

While in Belfast for the re-convened case, Dennis caught Covid-19 and died on 18th October 2021. Even his solicitor stated that he was treated appallingly. It is worthy of note that over 180 Association members attended his funeral, along with his large family and some three thousand supporters.
To many, Dennis appeared as a tough, hard man who demanded the highest standards, a man who was robust and courageous in thought and deed. However, those who knew him well also knew that he was a fair man, a clever and quick-witted man, a very loyal man and one who showed significant compassion to those in trouble. For Dennis, the cards often fell against him, but with no bitterness he picked himself up and moved on to the next task with enthusiasm.

He was described by a former officer at his trial: 'In my nearly fifty years of service and association with the UK's Armed Forces, if you asked me of the best example of the British senior non-commissioned officer, the name of Dennis Hutchings would immediately spring into my mind'. In a contested field, that is some attribute.
With thanks to Johnny Mercer MP