Obituaries
Sir Richard Baker Wilbraham Bt
Late Welsh Guards
by Paul de Zulueta
formerly Welsh Guards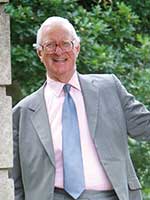 When Richard Baker Wilbraham left the Welsh Guards and transferred to the Reserves, he received a letter from the Regimental Adjutant saying, 'I rather think there is not much likelihood of our wanting to recall you from New York, but it might be an idea to have your address there just in case we need to mount an Expeditionary Force to block the Panama Canal'. Richard was never quite sure if the Regimental Adjutant's letter was in jest. In later years, however, he would often say that it was the unstuffy and gently humorous nature of the Welsh Guards which had so endeared him to the Regiment.
Richard chose the Welsh Guards on the advice of his uncle, Colonel Hugh Jones-Mortimer who had been captured at Boulogne in 1940 serving with the Second Battalion Welsh Guards. Jones-Mortimer spent the rest of the war in a POW camp where he taught himself fluent Welsh. Richard's only other connection with the Regiment was that he lived in the border county of Cheshire. Ironically, the founding fathers of the Welsh Guards in 1915 were largely Grenadier officers drawn from the border counties with Wales.
Richard was educated at Pinewood which had been evacuated to Devon at the outbreak of the war. There were regular prison outbreaks from Dartmoor Prison nearby. Much to his excitement, Richard found himself one summer's day playing cricket and fielding at long leg only to have the ball returned to him by an escapee lurking in the outfield wearing prison garb stamped with the distinctive broad arrow. History does not relate what happened next. Richard went on to Harrow, he was third generation of his family to do so, where he was head of house and described by the headmaster as an 'effective right-hand man with just the right blend of firmness and understanding'.
Richard became a National Service officer in 1952. The blend of firmness and understanding, which his headmaster had astutely observed in him, stood Richard in good stead when he took over his platoon in the Battalion which had been posted to Berlin. It was five years into the Cold War between the Soviet Union and the West, though Richard's only memory from that time was guarding Rudolf Hess in Spandau Prison. The rest of his time as a National Service officer was spent in Aldershot, the Guards Depot at Pirbright and London. Richard took part in the 1953 Birthday Parade and Her Majesty's Coronation a week later but in the rather less glamorous role as street liner. It was, however, a lively time to be in London as Britain threw off the privations of the war and began to embrace the second Elizabethan age. As Richard later recalled with more than a hint of nostalgia,  'There were parties four or five days a week and I found myself stumbling onto the parade ground for early morning drills with next to no sleep and an empty stomach'.
Richard had won a place at Magdalene College, Cambridge, to read Agriculture or what is now called rather more prosaically Land Economy. His father reminded him that if he wanted to live at Rode Hall, the family estate in Cheshire since 1669, he would need to be 'something in the City.' A telephone call to a family friend, Sir Lionel Fraser, Chairman of the merchant bank, Helbert Wagg now part of the Schroders Group, and Richard was soon sitting on a tall stool, writing a ledger and earning £12 a week. He did not sit still for long. 'My word is my Bond', relationships based on trust and whom you knew, ensuring the directors' lunches at Schroders were a much sought-after invitation for clients, and Richard rose rapidly to become something of a City grandee. He was a trustee to the Duke of Westminster (the Grosvenor family were Cheshire neighbours) and Chairman of the Bibby Shipping Line in Liverpool. The Wilbraham Coat of Arms and motto, In Porto Quies (Quiet in Port) was a touch at odds with a thriving shipping line as Sir Derek Bibby was fond of pointing out, but he was more than pleased with Richard Wilbraham's light touch on the tiller.
Richard was blessed in his marriage to Anne Bennett. They had three daughters and a son. There seemed little difficulty in choosing Wilbraham sons' names over the centuries. It was either Richard, Randle, Roger, or Rafe. Richard's son, Randle succeeds to the Baronetcy.
Conscientious though Richard was in his business and commercial life, it was all a means to an end, and the end was the preservation of Rode Hall and its Gardens, the Wilbraham family Seat for 350 years. The family's provenance went back to Sir Richard de Wilburgham, Sheriff of Cheshire in 1259. Rode Hall is famous for its porcelain collection which, at the end of the war, had to be recovered from dozens of water-resistant crates buried in the lake lest the Nazis got their hands on it. On inheriting the house, Richard and his wife, Anne, set about restoring the house to its illustrious past. A particular attraction is the annual snowdrop walks drawing thousands of visitors at the first glimpse of spring.
Richard, in the enduring words of Kipling's poem If, more than filled the 'unforgiving minute', balancing his City career, helping to bring up a young family of four, and fulfilling the responsibilities that came with his inheritance in his beloved Cheshire. He was High Sheriff and Deputy Lieutenant. He never lost touch with the Regiment and served as a regimental trustee for close to two decades.
His final years after a life at full tilt were physically difficult. His faith sustained him as did the prospect of his Diamond Wedding Anniversary which he, Anne, and his wider family and friends celebrated last March. Richard's mother, Betty, once said of him that he was 'Pure Gold'. It was an apposite description. Richard was solid and dependable to the last.