Obituaries
Major Jeremy Turner-Bridger
Late Coldstream Guards
by Major General P G Williams CMG OBE
formerly Coldstream Guards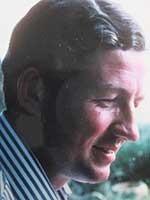 Major Jeremy Michael Turner-Bridger died on 11th March 2022, on the eve of his 72nd birthday, after enduring more than two decades of ill health. 
Having finished at the Oratory School, where he was the head boy, Jeremy was commissioned into the Coldstream in July 1970 and went on to serve for over thirty years in the regiment. He was following in the footsteps of his father, Captain Michael Turner-Bridger, who had served in the 3rd Battalion Coldstream Guards in Italy, where he was wounded in late 1943.
During a tour in Northern Ireland in the early 1970s Jeremy was injured in a nail-bomb attack which damaged one of his thumbs; fortunately, this in no way affected his enthusiasm for soldiering, not least in the field of athletics where he excelled.
After serving in the 1st Battalion in Berlin, Jeremy went on to become the Regimental Signals Officer in Fallingbostel before moving to the Infantry Junior Leaders Battalion in mid-1978, a posting that made good use of his leadership skills and sporting prowess.  The next highlight in his career was his posting back to the 1st Battalion during its two-year spell in Hong Kong in the mid-1980s, during which he led his company on a jungle training exercise in Brunei.
He then spent some time at Horse Guards as the SO3 Training before being posted back to command Headquarter Company just before the 1st Battalion deployed to Saudi Arabia as part of the Operation GRANBY task force, the British contingent in the coalition which fought and won the First Gulf War in early 1991. 
Sadly, in common with many other participants in that campaign, Jeremy's health declined thereafter, most probably as a result of the controversial and poorly understood 'Gulf War syndrome'.  As he fought against his illness he was incredibly fortunate to have his wife, Candide, whom he had married in 1986, to support him and his family.
After commanding the Rear Party in Münster during the 1st Battalion's operational tours in East Tyrone and Bosnia, Jeremy moved into Management Services (Army), where he was to spend the last decade and more of his service as a roving management consultant.
Retiring to Walsingham in Norfolk, Jeremy enjoyed nothing more than watching his children and latterly his grandchildren growing up.  It is to Candide, their children, Asia, Benita, Christian, Noelle and Ella, and their grandchildren that our profound condolences are extended.  Nulli Secundus.