Obituaries
Major Terry Nicholls
Late Coldstream Guards
by Major Sir Edward Crofton Bt
formerly Coldstream Guards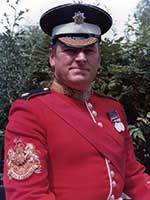 Terry Nicholls died on 10th February 2022, aged 82. He was born in Camborne, Cornwall, and attended school locally until leaving aged 15, when he worked as a factory presser for Harris Tweed. He was a member of the Camborne Boys Brigade from 1950-57, achieving the rank of Sergeant. During that time, he developed a great affection for Band music and marching in the various street parades, both of which, and no doubt his experience as a presser, played a significant part in what was to be his future career.
He enlisted in the Regiment at Redruth in July 1959, on a 22-year engagement. Over the period, he saw Service in both Coldstream Battalions, which included tours of duty in London, West Germany, Berlin, three in Northern Ireland, including South Armagh, and Canada. Away from Battalions, there were postings to the Infantry Junior Leaders Battalion at Oswestry, and the Guards Depot at Pirbright, where, as a PT Instructor, he is remembered by one of the recruits for keeping them swinging round on the Burma Bridge in full webbing with rifle!
In April 1979, he was appointed Regimental Sergeant Major of the 1st Battalion in Fallingbostel, an achievement which his family regarded as his main career aspiration since joining the Army. The Commanding Officer's Drill Parades were the background for the implementation of a marvellous code system developed by him and the Adjutant, for nailing Senior Non-Commissioned Officers having their chin straps the wrong way round. Terry would give a wiggle of his pacestick which identified the culprit, who subsequently visited the Guardroom at the double. It was very productive, with a bag of at least three every time! The Battalion moved to Caterham and Public Duties in November 1980.
He was commissioned in June 1981, and at the end of the year re-joined the 2nd Battalion as Mechanical Transport Officer and was promoted to Technical Quartermaster in 1984. The following year he was a member of the Regimental detachment at the 40th Anniversary Commemorations of the D Day Landings, held in Paris. In 1986 he took up a six-month tour with the British Military Training Team in Zimbabwe, and this was followed by his final posting to the School of Infantry at Warminster, before retiring in 1994.
In his retirement he ran a B&B business in Salisbury. He had always claimed that he had done every job in the Army, except being a medic or a cook. However, he is said to have been a dab hand at providing breakfast! He was an inveterate traveller throughout his life, which took him to some 61 countries, including the majority of the United States.
Terry was first married to Valerie, with whom he had two children, Mandy and Ian. In 2016 he married Jeanette, whom he had known from schooldays in Cornwall, and who was a widow in New Zealand. They divided their time between Salisbury and New Zealand, before deciding to return 'home' to Cornwall. Tragically, Terry died just before their move.
My association with Terry began in 1973, when he became Company Sergeant Major of my Company (No 2), of the 1st Battalion, in Berlin. This was not an easy posting, with the Battalion's role being largely confined to routine and somewhat tedious duties, with the Russians on the other side of the Wall. We were allowed out twice a year for annual training in the 'Zone', West Germany. In this frustrating existence, he ran the Company like clockwork, with a masterly eye for detail, and was highly respected by all ranks.
There are two occurrences that I particularly remember. One was his comment after I had done a briefing in Company Headquarters as part of the Brigade Inspection of the Battalion. He gave me a knowing look and said that 'there was a lot of support for you there, Sir'! The other was his reaction when informed by the Company Second in Command, that the Company Commander had sleepwalked out of the first floor window of the cottage on the training area. His look of horror made it clear that in future the route of the duty guard would include passing under the company commander's window!
For many years he was a stalwart and regular supporter of the Dorset and West Hants Branch of the Regimental Association, and also of the Plymouth and Cornwall Branch. With us, he would invariably appear with the star raffle prize, in the form of a microwave or similar appliance. He also regularly attended the annual Regimental Dinner in London.
Terry was a man whose standards of leadership were an example to all. He was understanding and kind, and, has been demonstrated, not without a sense of humour!  He had many friends and comrades in the Regiment, with whom he kept in touch during his retirement. He was dedicated to his Monarch and to his Country and was a Coldstreamer and Cornishman through and through. Our thoughts and deepest condolences go to Jeanette, and to both her and Terry's families. Nulli Secundus.