Obituaries
John Manningham-Buller, Viscount Dilhorne
Late Coldstream Guards
by Colonel Simon Vandeleur
formerly Coldstream Guards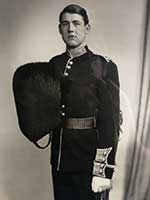 John Mervyn Manningham-Buller, Viscount Dilhorne, died  on 25th June 2022 aged 92. Born in 1932, one of four children and the only son of Sir Reginald Manningham-Buller Bt, and his wife Lady Mary, daughter of the Earl of Crawford. One of his sisters, Eliza, went on to serve as Director General of MI5 (2002-07).  Educated at Eton, he was commissioned from RMA Sandhurst into the Regiment in 1952, where he excelled at athletics. He was promoted Lieutenant in 1954 and retired in 1957 having served with the Regiment in Egypt and Germany. During the Suez crisis in 1956 he served with the 3rd Battalion in the Canal Zone. At the time his father was the Attorney General and had advised the British Government that the invasion of Egypt was illegal under international law. He went on to train as a singer, an accountant and in 1979 was called to the Bar.
It is probably fair to say that John was not a natural soldier, his many talents lay elsewhere. He was passionate about singing and had a beautiful deep bass voice. He was a stalwart of amateur choirs – notably the London Welsh Male Voice Choir - and travelling opera companies. He often performed as a soloist, including the role of Swallow, the lawyer and magistrate whose appearances book-end Britten's Peter Grimes.
In 1985 he sang a moving solo at his son James' wedding, taking a break from the normal father-in-law speech. In 1993 he released a self-financed CD, Songs of Glinka and Tchaikovsky. He learnt Russian in order, he said, to put on a better accent when singing his Russian repertoire of songs. Sadly, he persuaded himself not to train as a professional singer, and he first trained as an accountant after his spell in the Army, working for Arthur Andersen. His political career peaked as a member of Wiltshire County Council from 1967-70. 
He did not enjoy accountancy and was called to the bar in by the Inner Temple in 1979. He specialised in land law and inheritance tax. On the death of his father he took his seat in the House of Lords where he served on various scrutiny committees.
He loved motorcycles and was the proud owner of, over the years, a Vincent Black Prince, various BMWs, a Ducati and lastly a brace of Laverdas. For many years he would tour Europe with his son James riding pillion. He was elected to the Nulli Secundus Club in 1959 and latterly was a regular diner, where he enjoyed meeting the younger generation of the Regiment. During the recent pandemic, the Club put the unused wine into a lottery for members and the look of unadulterated joy, when he discovered that he had won a case of the finest Pomerol, was a great sight. His son James joined the Welsh Guards.
In 1955 he married Gillian Stockwell with whom he had two sons and a daughter. The marriage was dissolved and in 1981 he married Professor Susannah Eykyn, who survives him with the children of his first marriage and to whom we extend many condolences. Nulli Secundus.
With thanks to The Daily Telegraph (obituary, 2nd July 2022)