Obituaries
Academy Sergeant Major Ray Huggins MBE
Late Grenadier Guards
by Major General Sir Evelyn Webb-Carter KCVO OBE
formerly Grenadier Guards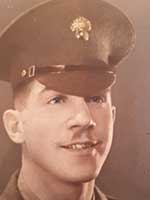 Ray Huggins was most probably the most outstanding Warrant Officer of his generation. He was a great example to all those, generals, cadets and guardsmen alike who met him during his life.  He achieved much in his long span but perhaps what is more memorable is the way in which he lived his life.  I am reminded of the lines in the poem by Summer Sanderscox so often read at Memorial Services:



Not how did he die, how did he live?

Not what he gained but what did he give?

Was he ever ready, with a word of good cheer
To bring back a smile, to banish a tear?


I first met Ray Huggins in my last few terms as an officer cadet at Sandhurst. Ray was College Sergeant Major of Old College and I was in New College and so hardly came across him until it was known I was to join the Grenadiers and then suddenly I was the focus of increased and unwelcome attention.  I recall being 'picked on' by Ray when on parade for all sorts of misdemeanours, much of course to the delight of my brother cadets.  

It will be hard to better the excellent obituary written on Ray in The Times so unashamedly I draw on large parts of it. Front and central to this obituary is Ray's portrait dressed as a Chelsea Pensioner and it is a marvellous likeness, although Andrew Festing relates that when Ray first saw it he said 'but it makes me look old'; 'you are old' retorted Andrew unsympathetically; Ray was 87 at the time. Ray was punctilious to a fault and Andrew remembers he was always lurking outside his studio for five minutes or more. 

When asked by a Military Knight of Windsor what the initials RH on his cap stood for (the Knight should have known) he retorted with a broad smile 'Ray Huggins of course!'  A brother cadet of mine, having committed some misdemeanour on parade was asked his name by Ray, the then Academy Sergeant Major, to which he replied 'Portman'.  Ray retorted 'any relation of Eric Portman, the actor?' (The Forsythe Saga was gripping TV audiences at the time). The tremulous answer was 'No' to which Ray responded 'That's a good thing, we don't want any actors around here'. This was an ironic remark as most Warrant Officers at Sandhurst were just that: actors!

Raymond Pearse Huggins was born in Stockport, a good Grenadier recruiting area, in 1928 when King George V was on the throne and Stanley Baldwin was Prime Minister. There were and are several generations of the family who have served in the Armed Forces. His father, a publican, had fought in The Great War and was called up in 1944, leaving the running of the pub to his wife and young son, aged 16. Since the age of 8 when his aunt took him to see the Changing of the Guard at Buckingham Palace he was determined to join the Regiment.  In 1944 he attempted to join up but, unluckily, the recruiting sergeant drank in their pub and well knew his age.  However in October 1945 he did join up but the war was over. However, he was destined to be the first Sergeant Major of the Regiment not to have served in the War.

He went to Caterham to be trained at Fox Lines (so named on account of the pub of that name next door) adjacent to the Guards Depot, and in 1946 he joined the 4th Battalion in Hamburg and had the unpleasant task of cleaning up the concentration camp at Neuengamme.  His Company Sergeant Major was Norman Mitchell who one day would be one of his closest friends at the Royal Hospital.  However his platoon officer at the time was The Hon Ian Erskine (later Adjutant of the 1st Battalion) who was fastidious in dress and in his duties as platoon commander by interviewing each Guardsman in turn and making notes.  This left an indelible impression on the young Ray who in future years would model his image of a good young officer on him.  In 1947, by now a Lance Corporal, he joined the King's Company and was in the Guard of Honour for the wedding of The Colonel of The Regiment, Princess Elizabeth. Ray was 6' according to his records and in that year the average height of the Company was 6' 3" so not surprisingly he sized into the middle of the Guard. He served in Palestine in the same year and in the next he was a Lance Sergeant which gives a lie to his meteoric rise through the ranks so that by 1955 he was a Company Sergeant Major at the age of 27 and Sergeant Major of the 2nd Battalion at 37.  He served in British Guiana, Tripoli and Germany.  In 1952 he married Sheila Vaughan and she was to be his 'strength and foundation' for almost 60 years.  They were a happy family with three daughters and a son. It is probably not well known that Ray never drove a car so Sheila was also his driver.  Apparently he was quite a liability with any machine including his smart electric wheel chair at the Royal Hospital.  Ray was a great sportsman enjoying boxing (light heavyweight champion in the battalion), rugby (Army Team) swimming, water polo and the 120 yards hurdles.

In 1965 he was appointed College Sergeant Major of Old College and so started his love affair with Sandhurst.  After just 18 months he was sent to be Sergeant Major of the 2nd battalion in Wuppertal but in 1970 he was back at Sandhurst as The Academy Sergeant Major, the apogee of his life. It was here undoubtedly he became a household name in the Army.  His influence as a wise counsellor was legendary.  During the sensitive merger of Mons with Sandhurst his advice was crucial to the successful amalgamation. His word of command was described as being like that of Homer's Stentor 'as powerful as 50 voices of other men'. There is a wonderful description by a journalist of Ray in an old Sunday Times Magazine in the 1970s which sums him up:



I caught sight of the one-man army that consists of Academy Sergeant Major Huggins. To describe him as being correctly dressed and turned out would be inadequate. He was like a man who had been dipped in starch, pulled out and sprayed with lacquer and then buffed with velvet. He stood bolt upright and looked as if he had just come back from the laundry. I extended a tentative hand towards him as we were introduced and it was like shaking hands with an unexploded bomb!


The stories of Ray at Sandhurst are legion. Robert Corbett was the Adjutant in the 1970s and he recalls:



I was commanding my first Sovereign's Parade. The Cadets were lined up on the Old College parade ground awaiting the imminent arrival of the Sovereign's Representative. I was with the Academy Sergeant Major beside me facing the parade when he said to me out of the corner of his mouth, 'Sir. Have you seen what is approaching from the right?' And there, sure enough, tripping daintily along from the Approach Road past the Adjutant's house came three extremely pretty Bunny Girls, fluffy tails at the high port and all the rest of it. 'Goodness, Sergeant Major. What are we to do about this?' to which came the immortal reply, 'Don't you worry, Sir. I will deal with it'. This he proceeded to do with his usual calm aplomb. The young ladies were spirited courteously away, doubtless to the disappointment of many of us, and not seen again. Moments later the Reviewing Officer arrived at the saluting unaware of the competition.


Ray always had a wonderful sense of humour although he may not always have showed it at the time. His mantra was 90% fun 10% character building. Another well remembered prank was the appearance of a pantomime horse on a Sovereign's Parade rehearsal when Ray apparently apoplectic ordered the horse off to the guardroom and to be put on hay and water for the rest of the day.  He was in fact much amused.

Ray was Academy Sergeant Major for nigh on ten years and left an enviable reputation. Whilst there he was made MBE in 1973 and was awarded the Meritorious Service Medal in the same year. In 1976 he was presented with the Cross of Recognition by the French Army for his fine liaison work with the French Officer Academy at St Cyr. In September 1980 as he left the Academy he was presented with a magnificent Georgian silver tea set which had been arranged by the 5471 cadets who had passed out under his eagle eye. Ray was often asked why he never accepted the Commission he was offered in 1967. He believed he could achieve more for mankind by being the Academy Sergeant Major and he was undoubtedly right.

After his long tenure at Sandhurst, he went on to be the Deputy Administrator at Blenheim Palace where Sheila supported him.  In his spare time he acted as toastmaster where his Stentorian voice was put to further use. Sadly, Sheila predeceased him and this prompted him to move to the Royal Hospital. Ray was an understated man who certainly later in life did not take himself too seriously and conversations were invariably recollections of past times interspersed with hilarity.  He was always good company and with the late Norman Mitchell, also a Grenadier In Pensioner, they made a fine double act. He is survived by his three daughters and son, Tim, who gave the eulogy at the Royal Hospital.  He was indeed a Great Grenadier who will be much missed.