Obituaries
Major Sir Lyonel Tollemache Bt DL JP
Late Coldstream Guards
by Neil McCorquodale
formerly Coldstream Guards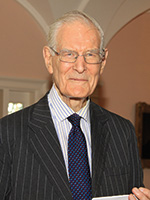 Sir Lyonel Tollemache, who died on 7th October 2020, aged 89, was a lifelong Coldstreamer who served for 12 years but continued to support the Regiment as a Vice President of the Leicester Branch of the Association throughout his long life.
He was born on 10th July 1931, the son of Major General Sir Humphry Tollemache, a distinguished Royal Marine Commando. The family had a typical nomadic life moving from posting to posting, which was the norm for Service families at that time.

Lyonel was sent to Amesbury Prep School in Surrey. The Headmaster was Tom Reynolds who was a good friend of Field Marshal Montgomery, and some of the D Day plans were made there, and Monty was a regular visitor when Lyonel was at the school. In 1945 Lyonel went to Uppingham School, where he enjoyed his time, while developing his natural ear for music which drew him to the arts.

National Service beckoned in 1950 and rather than joining the Royal Marines, Lyonel chose to be the 12th generation of Tollemaches to join the Coldstream Guards. The Royal Marines loss was the Coldstream's gain and he went to Sandhurst in 1951 and was commissioned in 1952. By now he had grown into a very tall young man, and at 6ft 8inches he was one of the tallest men in the Regiment. As a new officer he was a little shy, had perfect manners, and was considerate of others. With his dry sense of humour, he immediately fitted into regimental life.

One of his greatest friends, was Christopher Willoughby, who by contrast, at 5ft 6 inches was one of the shortest men in the Regiment. They would try to do Queen's Guard together so they could patrol the forecourt at Buckingham Palace much to the amusement of the tourists watching the Guard Mount through the railings. It was with Christopher, on a skiing holiday in Kitzbuhel, that Lyonel met Mary Whitbread who was later to become his devoted wife.
Lyonel served in the 3rd Battalion until 1958. He narrowly missed being deployed to Suez in 1956 when the Battalion was mobilised, but the operation was halted at the last minute before they arrived in theatre. In 1959 he took up the post of Adjutant at Mons Officer Cadet School at Aldershot. One can only imagine the fear in the hearts of many young officer cadets when they saw the very impressive figure of Captain Tollemache marching onto the square for Adjutant's Drill Parade.

Lyonel and Mary were married in 1960 and he was posted to HQ British Forces in Cameroon, where Mary soon joined him with a 6 month old baby, Katheryne. The 1st Battalion Grenadier Guards deployed to the Cameroons in May 1961 to oversee the transition of power, and was commanded by the redoubtable Lieutenant Colonel David Fraser, later General Sir David Fraser. Three months earlier, the British (Southern Cameroons), administered by the British as a province of Nigeria, had overwhelmingly voted to be united with the French Cameroun Republic (the Northern Cameroons had voted to remain in Nigeria). The Battalion returned home on 1st October 1961 when British responsibility ceased, as did the Tollemache family. Lyonel would have been an ideal Liaison Officer at a tricky political time: loyal, discreet, polite and trusted by the High Commissioner and David Fraser.

In 1962 Lyonel retired from the Army to take up running the Buckminster Estate in Leicestershire. He enrolled at Cirencester Agricultural College where he excelled at the end of year exams, winning a gold medal for excellence. He then moved to Welbeck Estate in Nottinghamshire to gain further experience in land management.

He and Mary, together with their children at the time, Katheryne and Thomas, then moved in to the magnificent newly built house at Buckminster Park. They now had somewhere they could call home and raise their growing family. Two further children followed, Richard and Henrietta. Tragically Thomas was killed in 1996 in an accident while walking in the hills in Ireland, and it is hard to imagine the devastation the family would have felt at the time. Lyonel is now buried next to Thomas at Buckminster.

Lyonel was not one to stand still for very long and he threw himself into many aspects of country life. He soon became an active member of Leicestershire County Council and Melton Mowbray Borough Council, including being Mayor of Melton in 1981. He was also a Justice of the Peace for 23 years, High Sheriff of Leicestershire in 1978, and a Deputy Lieutenant.

He was the president of many local organisations such as Rainbows Hospice for Children, which he started, the local branch of the CLA, the Rutland and Melton Conservative Association, and the Leicestershire Wildfowlers Association, to name a few. Nearer to home, he was President of Buckminster Cricket Club, Buckminster Gliding Club, and Buckminster Playing fields Association. He was also a Trustee of a number of other charities, including the Star and Garter in Richmond.

There were two organisations in Leicester that were particularly close to his heart. He and Mary were regular attenders on Saturday afternoons to watch the Leicester Tigers play rugby at Welford Road. He was also a much loved and respected member of the Leicester Branch of the Coldstream Guards Association where he was Vice President for many years.

Lyonel was a larger than life figure (literally) to many of us. He was a true gentleman, modest about his many achievements, and someone who always had time for people of all ages and from all walks of life. He will be greatly missed by his family and all those who were lucky to know him.