Obituaries
Captain R C Bucknall
Late Coldstream Guards and 1st The Royal Dragoons
by his son Lieutenant General Sir James Bucknall KCB CBE
Coldstream Guards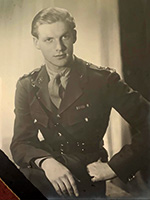 Robin Bucknall was one of a number of Guardsmen who joined their regiments at the end of the war and subsequently transferred to the Cavalry in the restructuring following the disbandment of the Guards Armoured Division. He lived a wonderfully full life and died peacefully at home on 27th December, aged 94, the last man standing of his January 1945 intake at the Guards Depot.

Robin was born on 16th December 1926. He attended West Downs Preparatory School, as did his father and his three sons, before going to Winchester. He thrived there, representing the school at cross-country running and playing Winchester Football for the Old Tutor Houses XV.

His early life was not easy. He did not see much of his parents for long periods, partly because his father was posted to the Canadian Staff College in the 1930s, taking his mother and sister with him, and partly because of the war; his father commanded 5th Infantry Division in Sicily and Italy and 30th Corps on D-Day and in the early months of the Normandy Campaign. He and his brother, Jeffrey, were brought up to a large extent by their grandparents. His mother died when he was 17; he subsequently lost his brother, killed in action in Korea.

He reported to the Guards Depot, Caterham in January 1945 and was commissioned into the Coldstream in September, joining the 1st Battalion then serving as part of 5th Guards Brigade near Cologne, subsequently moving to Schleswig Holstein. This was an army of occupation, in the twilight zone of war and peace, guarding prisoners of war and governing local regions, a very different experience from the hard fighting of only a few months before. On a combined live firing exercise with the 5th Battalion, Robin recalled the evident reluctance of the veterans to dig in following an assault; so, the decision was taken to bring in mortar fire to within yards of the position which soon had the Guardsmen burrowing like miners. His service with the 1st Battalion included a deployment to Berlin where the officers were a little surprised to be descended upon by an audit team to inspect the mess accounts, which at that time comprised a blackboard, some illegible chalk work, and a number of IOUs stuffed in a drawer.

Robin had many close friends in the Coldstream but had always harboured a penchant for armoured soldiering, and he transferred to the Royal Dragoons in 1947. Much of his service was again in Germany: in Wolfenbüttel, Wesendorf, near Celle, and latterly in Herford. He deployed to the Canal Zone with the Regiment in 1951, the Regiment's armoured cars being impounded by customs on arrival at Cairo docks following the discovery of copious supplies of whisky concealed in the ammunition bins. He served as the Regimental Gunnery Officer and as Adjutant of the Fife & Forfar Yeomanry in Fife. These were happy days with great friends, but he decided to retire in 1958.

He was a soldier through and through. If the Coldstream were his head, the Royals were his heart. He remained very close to the Royals and was a leading light for many years on its dining committee. He was hugely proud that his sons and grandsons followed in his footsteps, Charlie into The Blues and Royals and the remainder into the Coldstream, five in all. Diana simply observed that all the family had ever done was to breed cannon fodder for the front.

On leaving the Army, Robin joined British Seagull, based in Poole, as overseas sales director, selling their iconic outboard engines across the world. He subsequently joined the Game Conservancy based in Fordingbridge. Serving as its Membership Secretary for many years, he drummed up support and funding for a cause he believed passionately in, doing much to restructure and galvanise the organisation.

Robin fitted a huge amount into his life. He fenced and played Polo in the Army, skied, hunted with the Ledbury; he shot and latterly had many happy years picking up; he loved his Labradors and they only had eyes for him; he fished for salmon in Scotland, painted remarkably well, had a passion for steam railways, and for sailing. He was an ocean racer, completing the Fastnet race many times. Every summer, the family would spend a fortnight sailing in the Solent. This was always an adventure, including running aground in virtually every port on the South Coast, once off Brownsea Island on the highest tide for 300 years, stuck on the mud for 12 hours, after which Diana, of a non-seafaring persuasion, famously pronounced: 'I don't care if I never see you or your bloody boat again!'

Robin was enormous fun; he had an extensive fund of jokes and stories, which usually had him laughing uncontrollably well ahead of the punchline. He was always engaging, always interested, always with a twinkle in his eye. He loved a party: a dance, a hunt ball, a regimental dinner, or a long, well lubricated, family lunch. Things were done in style, generally glass in hand. He and Diana organised many happy trips with their friends to Egypt, India, Africa, taking boats down the Danube or the Rhine.

Diana was the rock in his life. He fell in love after meeting her at a party for the Queen's Coronation in 1953, proposing three weeks later ('I will think about it' came the shrewd, hard-to-get reply). She was the perfect foil for him for 66 happy years, perpetually by his side, keeping his feet on the ground, challenging gently, leading and supporting him. Together they were a wonderful team.

Robin was proud of his family, his grandchildren and great grandchildren. He loved sharing in their successes, supporting in their disappointments, and rehearsing some of his oldest jokes on them. He was not one to show emotion, he never talked about his mother, and he simply bottled up the grief for Charlie, his eldest son, who died in the saddle as Master of the Percy three years ago.

Robin lived his life to the full; a doer, with immense flair and enthusiasm. He was a gentleman, even when dementia set in and his memory started to let him down. A wonderful grandfather, father and husband; a great friend to many.