Obituaries
Major Giles Vivian Inglis-Jones
Late Grenadier Guards
by Captain G J Rocke
formerly Grenadier Guards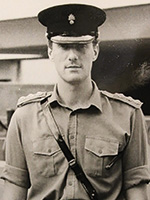 They say that you only see 10% of an iceberg above water and this certainly applied to Giles Vivian Inglis-Jones, who died on 22nd June 2020, aged 53. This may seem strange as he was physically a giant of a man, being 6 foot 8 inches in his bare feet. But the fact that occupants of Buckingham Palace, 10 Downing Street, a former head of the Royal Air Force and over five hundred of his friends and colleagues took it upon themselves to write to his widow after his death, highlights how much more was going on under the surface than most of us had any idea about.

Giles was born on 4th April 1967, scion of the Inglis-Jones family, son of Julian David Vivian Inglis-Jones, and his wife the former Mairi Lennox Owen.

He went to Stowe where he was head boy. Probably the tallest pupil from the day he arrived, he gloried in catching the opposition's lineout ball. Water was an even more natural environment for him and the water polo team he led was unbeaten. Giles also surprised many, including himself, as a noteworthy actor. His performance as Lenny in Of Mice and Men is still remembered. Stowe became the crucible for developing his undoubted leadership talents.

He made a lasting impression on Brigade Squad 45 in the summer of 1986 before going up to Exeter University where he was close to two future Grenadiers, Rupert Villiers-Smith and Robert Fanshawe. His car was a Volvo Estate with a bespoke seat rail so that he could get in and out, but it meant that no one could sit on the back seat behind him and rather impressively when he stopped to talk to anyone he would wind down the back window to speak to them. In their third year Robert, Giles and Rupert lived together in a small farm worker's cottage outside Exeter. It had low ceilings except for one room which had a lean-to roof which was Giles' bedroom, otherwise he would have to crouch in every downstairs room. They had a Coutts & Co house bank account called the "3rd Battalion" with a company sized cheque book, which always seemed to baffle the local supermarket checkout attendant as it was too big to go into the conventional cheque section of the till. A big cheque book for a big man.

In 1995, he married Arabella Lennox (now Arabella Kincaid of Kincaid, Chief of the name and arms of Kincaid), daughter of Denis Peareth Hornell Lennox of that Ilk and of Woodhead, and his wife the former Jane Logan Batters.

He served with both Battalions and was Temporary Equerry to HRH The Duke of Edinburgh. He spent most of his time in the 1st Battalion, in The Queen's Company, as Adjutant, and then in command of No 2 Company for the 1996 tour in Northern Ireland. His Commanding Officer, David Hutchison, from his time in Ballykinler wrote:

Not much time was spent in camp as he was frequently away, patrolling mainly in South Armagh, the most dangerous part of the province. He was a perfectionist who planned operations meticulously and looked after his soldiers with real care and compassion. His Christian faith shone out in his work, and he was hugely respected throughout the Battalion. I valued his loyal support enormously. Together, he and Arabella were a magnificent team.

There was an episode in Ireland which I shall never forget. The annual Portadown Marches, where the Protestants delighted in marching through a staunchly Catholic area, and the Army's job was to be a rather thin piece of ham in the sandwich, keeping the two sides apart. We went in at 3am to catch the locals unawares and sure enough we found a crate of petrol bombs all ready to go. The march went off fairly peacefully thanks to our presence, but at the end of it Giles was leading his company back to their vehicles when a youth emerged from the crowd next to him and hurled half a concrete block at Giles. It hit him on the chin with considerable force. The cameras of the world were on him and if Giles had retaliated then the edited broadcast would only have shown a 6'8" British soldier in full riot gear laying into an 'innocent' bystander. At that moment Tony Blair's peace process hung in the balance. Giles swayed back with the impact but then carried on walking as if nothing had happened. It was as if David's slingshot had bounced harmlessly off Goliath and the giant had said, 'Is that all you've got, little man?' He never mentioned it but that night Giles could hardly speak because of a swollen jaw.

Giles had a lifelong love of water. On 20th August 1991, he swam the English Channel which he conquered in 15 hours and 59 minutes. In his own words 'at the 11th hour I could see Cap Gris-Nez quite clearly but the sun was beginning to set. After another hour of swimming there were three miles left to go. I was then told that the tide had swept me to the north of the Cap which meant two more miles on top of the three already left. This was depressing news and from this point on I was searching for a good reason to give up….' He did not and this is testament to the legendary determination that characterised the warrior that he was at his core.

Giles was selected for the Army Staff College and would have had a very successful future career in the Army, however, he chose a different course and left the Army to undertake an MBA at Warwick Business School (where he achieved a distinction). Subsequently leading a corporate turnaround at British Nuclear Fuels, he carried out a major restructuring, which developed his expertise in the world of Human Resources, which became his speciality and something he excelled in.

He had a strong desire to serve his country and was the Conservative candidate in the 2004 election in Ashfield, a former mining constituency, standing against Geoff Hoon the Labour Defence Minister. From day one he launched his full energy into the campaign aiming for every single constituent to have a hand-addressed envelope with the information inside. He wanted to cover the whole area, down the mines, every street, into the hospitals, schools and usually with a baby or child accompanying along with a group of supporters. By the time of election day he had lost every toenail from the pressure of pounding the streets relentlessly. He received letters even from those in opposition in recognition of his sheer goodness of heart and determination to be an advocate for Ashfield. His heart was in politics and the wellbeing of the nation. He would have dearly loved to serve as an MP but it was not to be.
If he was not to serve in the Palace of Westminster then he would serve his party and he became Director of Human Resources for the Conservative party after its third General Election defeat in 2005. Of his time in politics, it is most fitting to quote former Prime Minister David Cameron who wrote:

The Conservative Party is the most unusual of 'organisations' and thus, I suspect, a HR nightmare! I was therefore blessed to have had Giles take charge of this area of Party management throughout my eleven years as Party Leader and six years as Prime Minister.

Managing personnel in a political organisation must be an unenviable job at times (politics has a knack of attracting the odd ego!); I know that staff quaked in their boots when an e-mail dropped in their inbox from Giles with the subject heading, 'Restructuring', or even worse, simply 'Can we have a chat?'! But despite the difficult and often delicate conversations he had to lead, Giles was universally respected, hugely admired and very much liked. He was such a kind, decent, courteous and gentle colleague, who could find humour in any situation. Of course, as well as the trickier aspects of dealing with HR, there is also the humane side, and Giles was perfectly suited to this compassionate, nurturing and encouraging role.

Throughout it all, he was such a wonderful source of sound, friendly advice for me and my team and helped our office get out of several professional fixes! Calm under pressure – all that military training coming to the fore – and willing to find a solution to any problem we threw his way.

When I set-up my new private office on leaving government in 2016, Giles was one of the first calls we made for help and advice. I just can't believe he is no longer with us.

Giles was a towering figure in so many ways – both literally and metaphorically – who had led such a full and fascinating life. While he might not have been a household name, for those who worked in and around Westminster and the Conservative Party over the past two decades, his legacy is very much a part of all we achieved during those years.

He never ceased to wield his influence serving behind the scenes, after finishing as Director of Human Resources for the Conservative Party he set up on his own as an HR Consultant. This allowed him to deal with increasingly delicate situations both inside and outside the political realm. Sir Lynton Crosby AO amongst others valued and trusted Giles: 'Giles could always find the solution to a problem no matter how seemingly intractable'.

It was not however just at work where Giles made an impression. He was a much loved President of the Shropshire branch of the Grenadier Guards Association where he served with dedication and gusto. At home he picked up the family nickname 'The ladder' as he was always able to help people get to where they wanted to get to.

He tackled his cancer diagnosis and subsequent operations with his typical and unwavering commitment to overcoming. After his first major operation he had a view of the Long Mynd and Shropshire hills that he loved and said that he wanted to run in them once again. Not too long afterwards he did just that and completed a 50 mile walk/run through the night which turned out to be just before he discovered he would need another major operation. As he came out of the last major op a kindly nurse leant over him asking him if he was OK at which point Giles replied 'Yup, totally fine!'. I don't think she had ever had that reaction before!

He was immensely strong, tough, wise, kind, and had an encyclopaedic knowledge of history, battles, strategies, victories and defeats. In short, Giles Inglis-Jones has left a legacy that will not tarnish or fade. He laid foundations in the lives and hearts of his family, friends, businesses and politics that will stand the test of time and bear rich and bountiful fruit for the years to come. He was a devoted husband to Arabella and father to five children.
He will be much missed.