Obituaries
Major Nicholas Boggis-Rolfe TD
Late Grenadier Guards
by Major General Sir Evelyn Webb-Carter KCVO OBE DL
formerly Grenadier Guards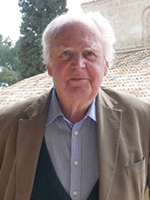 In 1963 Nicholas Boggis-Rolfe was a subaltern in 14 Company at the Guards Depot and whilst he was there a television series on the Brigade of Guards was being filmed. In one scene a sylphlike Nicholas is seen doing the rounds of an evening parade in the barrack lines. This immaculately turned out officer in Service Dress and Sam Browne examines newly-arrived recruits on their knowledge of regimental matters. 'What is the regimental motto?' asks Nicholas of one recruit. 'Honey sweet and quills makes pens' was the answer and Nicholas, as ever urbane, replies; 'well that's one way of putting it', before the superintending sergeant 'Cheyenne' Walker rifts the poor boy. It's a wonderful clip of a past age.

Nicholas died unexpectedly in hospital on 20th December 2020. The family had celebrated his 80th birthday in fine style in February, days before lockdown.

Nicholas's parents divorced when he and his sister, Amanda were very young. Their mother was Juliet Macleod, an accomplished equestrian artist. He went to Pinewood preparatory school where he found it difficult to cope with reading as he had, as we now know, dyslexia. He got into Radley on account of his musical skills, not just for his then treble voice, but also on the piano and violin. When his father moved to Rhodesia he remained in England and was looked after by a series of relations and so in a way he had a rather feral childhood. From an early stage it was clear that he was a talented sportsman running for Radley and later for the Regiment, notably in the 800 yards. He also later boxed for the 2nd Battalion. He went on to McGill University in Quebec, Canada reading engineering, a profession he never pursued but accounts for his interest in the engines of both cars and boats, which sometimes surprised his Grenadier friends. During his time at school and university his talents went beyond sport and he acquired a reputation as a very fine deep bass singer, 'basso profundo' as it is known as in opera circles. He attended the Italian Conservatoire in Milan. Such bass singers are rare and Nicholas was able to have a lot of fun using his voice. It was of such a high quality that one of his teachers commended him for his 'beautiful organ', much to Nicholas's mirth. He enjoyed entering singing competitions but because he had considerable talent he did not always rehearse as much as he might. On one occasion at the Oxford Festival , his accompanist on the piano, Caroline Blois, recounts that when he was singing a Russian operatic aria he forgot the lines and so repeated the words 'dry biscuits' in Russian over and over. So surprised were they when they won First Prize that Caroline Blois went over to the judges to enquire why they were so impressed. It soon became clear however that none of them understood a word of Russian! One of the notable memories of Nicholas in the Regiment recounted by his friends was the sudden breaking into song in the middle of a boring dinner party, much to Caroline's embarrassment.

He joined the Regiment in 1962 in Caterham and served with the 2nd Battalion in British Guiana, a tour he much enjoyed owing to the freedom offered to young platoon commanders, often based in isolated sugar plantations. Later when serving with the 2nd Battalion, then commanded by Peter Prescott, in Wuppertal he along with several other officers were invited to an evening with the local Bundeswehr engineer battalion. It was to be an evening of epic beer drinking and competitive singing. It was clear that the battalion officers were going to be no match for them at either ....until Nicholas entered the fray and sang the Volga Boatmen. The German officers fell silent in awe at the quality of Nicholas's voice, so much so that he was forced to sing the song about a dozen times. He was the hero of the evening.

Added to his talents was a natural ear for languages, something he was unaware of at school which in his view taught him little. He was already conversant in French and Italian and learnt Russian at Beaconsfield with a view to joining The British Commander in Chief's Mission to the Soviet Forces otherwise known as BRIXMIS . His extended language training entailed living with a Russian émigré family in Paris, which proved an entertaining interlude to military life.

He married Caroline in 1968 and thereafter and throughout his life she was his rock and foundation in the many appointments he held and the homes they lived in. At the time Caroline's parents Brigadier Mick and Betty O'Cock were living in Bonn and they were able to see a lot of each other visiting the vineyards of the Moselle and Rhine. Nicholas's time in Berlin as part of BRIXMIS was both challenging and great fun for them both. As a young family they enjoyed the whirl of life in a very enlightened city still in the shadow of war. Based in Potsdam outside the city, his job entailed touring East Germany known as 'The Russian Zone' observing Soviet Army movements, a hazardous and sometimes dangerous occupation. He is remembered by BRIXMIS veterans as a cool and professional intelligence officer and one contemporary described him as 'the bravest man I ever knew'. His most alarming experience was hiding with his car and driver in some bushes close to an autobahn. He found it very odd that this usually busy road was completely devoid of traffic in either direction. After several hours of suspicious silence he became aware of a low rumbling sound and a vibration through his car which became louder and louder. Suddenly, he saw a vast armoured column of Soviet tanks spread out across both carriageways coming straight towards him with all their lights on. He and his driver started to count and kept counting for 24 hours until they were able to escape during a break in the column. They were face to face with a Soviet tank division.

In 1973, after a brief period at Regimental duty and RHQ, Nicholas went to the Italian Staff College in Civitavecchia, after which he was appointed Assistant Defence Attaché in the British Embassy in Rome. This was a particularly happy time for Caroline and Nicholas with the many opportunities to travel, invariably with Edward and Camilla in the family campervan, to the cultural centres of Italy. Peter Prescott's niece, Nicola Prescott, was the au pair and was very much part of the family. After five years in Italy the family returned to England and Nicholas to the 1st Battalion as Senior Major and he went with the battalion on the demanding 1978 South Armagh tour. One young officer remembers him as being particularly supportive to the young and another as a great diplomatist with his good humoured approach, oiling the wheels of Battalion HQ. Not long after this he left the Army.

His experience and linguistic talents did not to go unnoticed and so he spent the next 20 years working for the Ministry of Defence. He also joined the TA Intelligence Corps and it was in that capacity I came across him at an evening drill night in 1998 rather to our mutual surprise. He was then commanding 22 Intelligence Company and was awarded the Territorial Decoration.

In latter years the family moved to Devon and there Nicholas entered in to the spirit of the community, running the local church accounts and becoming a trustee for a local charity looking after disadvantaged children, a sure mark of his kind and generous nature. He became a member of the twinning associations of Plymouth and Exeter with cities in Russia, Novorossiysk and Yaroslavl. He helped organise annual exchanges for several years and sometimes was the tour leader. He was still working at his Russian online from his bed shortly before he died.

Throughout his life he was able to enjoy his talents. Nicholas loved sailing and was a fine yachtsman and he had, to some, a surprising knowledge of navigation and marine design. Nor did many people know that he had a Private Pilot's licence, although he did not make as much use of it as he might have. Perhaps we all remember him best for his charm, sense of humour and sense of the ridiculous. He was an awful tease and would say to friends 'I hear such and such', something which was quite untrue or much exaggerated and lots of giggles would follow. Above all he was wonderful company, saw the best in people and had an abidingly kind outlook on life.

Having had to have a very small funeral because of the Covid situation, Caroline, her son Edward, daughter Camilla and son-in-law Ed, and granddaughter Sophie are hoping to be able to welcome Nicholas' wide circle of friends and relations at his Service of Thanksgiving at midday at the Guards Chapel on Friday 9th July.