Obituaries
John Malcolm
Late Welsh Guards
by Paul de Zulueta
formerly Welsh Guards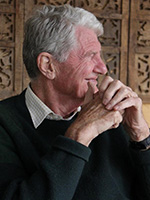 John Malcolm was one of only a handful of men who could say with a straight face that 'he boxed with a man who boxed with a man who boxed with Muhammad Ali.' John was serving in Berlin as a National Service officer and had been 'volunteered' by his company commander, Sam Gaussen, to fight in the Battalion's intra-company boxing 'booth.' His opponent was Lance Sergeant Bray, the Army's heavyweight champion. Halfway through the second round, John found himself looking up at the ceiling barely aware of the shrieks of delight from the sell-out crowd of Guardsmen. Bray went on to fight Henry Cooper, the British and Commonwealth heavyweight champion, in the finals of the inter-regimental competition narrowly losing on points. Henry Cooper achieved enduring fame by putting down Muhammad Ali for a count of six in the world championships in 1963. Never one to shirk a challenge, John had kept true to the Malcolm family motto, Ardua Tendo (Attempt Difficult Things).
John was educated at Eton where he was a champion high hurdler holding the Eton record for many years. He was academically gifted and won a place to read 'Greats' (classics and philosophy) at Magdalene College, Cambridge. Before he could take up his place at Cambridge, John completed his National Service. John was always destined to be a Welsh Guardsman. He was the younger son of Billy Malcolm who joined the Welsh Guards in 1923 on the suggestion of his uncle, the Earl of Gowrie VC, one of the Welsh Guards founding fathers. Billy Malcolm, unusually, went on to command three Welsh Guards battalions as the Second World War drew to a close. John's elder brother, James, was a regular officer who later commanded the First Battalion ending his career as a much-liked Regimental Lieutenant Colonel.
Many national service officers expressed their dislike and frustration with the boredom of National Service. But whether it was good fortune in his postings to Egypt and Berlin, or his naturally optimistic and adventurous temperament, John much enjoyed his time with the Regiment. The Welsh Guards, less constrained by provenance than other Household Division Regiments, has often attracted an eclectic mix of officers. John found many kindred spirits who shared his flair for excitement.
Whilst in Egypt, the Commanding Officer had become concerned about camp security; local Egyptians would cover themselves in thick grease to crawl through the barbed wire to nick anything they could find including rifles and ammunition. John was ordered to 'test the system' in the early hours along with Company Sergeant Major Greenstock, a steely veteran of the Normandy campaign with a taste for mischief. 'Sir', Greenstock remarked to John, 'so far we have been testing the security of the Guardsmen's tents, let's see if the officers are keeping their loaded revolvers under their pillows as laid down in the Battalion's Standing Orders'.
John, too green to demur, went along with Greenstock's suggestion and with some success as they removed any number of revolvers from underneath the pillows of slumbering subalterns. Ironically it was the Adjutant, Newton Webb-Bowen, an officer never known for his gladiatorial qualities, who awoke, his high pitched voice ringing out, 'halt! who goes there? Hands up or I fire'. Greenstock slipped away into the shadows leaving John to face the wrath of the officers' mess and a month's extra duties for 'exceeding his remit.'
The incident was quickly forgotten as John, on the Battalion's return to London, was selected to carry the Queen's Colour at the celebrations to commemorate Her Majesty's Coronation at Westminster Abbey in June 1953. John, who was 6ft 7 in his stockinged feet, was joined by Ian Mackeson Sandbach, 6ft 8, carrying the Regimental Colour. As they approached the Abbey, well over 7ft in their bearskins, they drew gasps of delight and applause from the public.
John went up to Cambridge in September 1954. He won a Blue for Athletics and took part in the World Student Games. One of his favourite stories from his time at Cambridge was when the combined Oxford and Cambridge team beat the much fancied US Harvard and Yale team by pretending to stay up all night carousing. The US team lulled by what they considered to be 'Limey laziness' were comprehensively defeated.
After Cambridge and the Army, John remained true to his family motto to 'attempt difficult things'. He joined Royal Dutch Shell but spent little, if any, time with the 'suits' in Head Office. Instead, he worked in Yemen, Malaysia, Iran and Kenya. It was in Kenya that he met his future wife, Bini, with whom he had three sons, Robert, David, and Skander.
John's mother, Mary, was Australian from Victoria, and in 1972, in his 39th year, John and Bini decided to emigrate to Australia as 'ten pound poms'. They arrived in Perth where they bought a Land Rover, a tent, a shotgun, and provisions for their 3500 kms trip across Western Australia and the Nullarbor Plain to Victoria. The Malcolm family motto, once again, was a guiding principle for the way he wished to conduct his life. Victoria may have been a wonderfully pleasant and benign place to bring up a family, but John's working life continued to take him to places where lesser men would fight shy of, particularly in the 70s and 80s. By then he had left Shell to take up a position with the well-known Australian firm of merchants, Burns Philp. This took him to the South Pacific, Vietnam, Cambodia, Georgia, and Kazakhstan.
John's retirement was as unconventional as his career. He and Bini divided their time between Australia, Scotland, and Marleshwar on the Deccan plateau in the State of Maharashtra, West India. John was drawn to Marleshwar because his distinguished antecedent, Sir John Malcolm, a former Governor of Bombay (Mumbai) and panjandrum of the East India Company spent his summer months there. The Deccan Plateau, at 3000 ft, was noticeably cooler and more agreeable than the furnace of Bombay. Like many men and women as they grow older, John sought the solace of learning more and writing about his ancestors. Marleshwar was also home to an old-fashioned club, redolent of the Raj at its zenith but spartan in its food and furnishings, where John and Bini would stay. He would devote his time there to researching the life of Sir John Malcolm. It was a project with a limitless scope, a means to an end, the end to keep his mind busy and his brain sharp.
John always attended the Old Etonian Sub-Continent Association where he more than held his own amongst the various maharajas, nabobs, moguls, and businessmen who had been to Eton. The reunions were invariably grand affairs. On one occasion the reunion was held at the Ahilya Fort in Madhya Pradesh owned by the Old Etonian Prince of Holkar. A regatta was organised on the nearby river where John's skiff proudly flew the Malcolm Coat of Arms.
In his 83rd year, John ran the last 24km lap of a 100km relay with his three sons along the Victoria surf coast. Four years later he was diagnosed with pancreatic cancer. He decided against any treatment taking the sanguine view that he had been blessed with a full and happy life which had now run its course.