Obituaries
Major Jollyon Coombs
Late Welsh Guards
by Paul de Zulueta
formerly Welsh Guards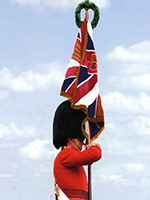 Shortly after the Turkish invasion of Cyprus in 1974, Jollyon Coombs, commanding No 2 company was warned off with the rest of the Battalion for an emergency UN tour of the island. A fortnight before the Battalion deployed, Jollyon was asked by a recently married non-commissioned officer if he could remain in the UK on the rear party. Jollyon listened sympathetically before saying in a deadpan voice, 'we're all having to make sacrifices and I, for one, am having to give up what promises to be an exceptional partridge and pheasant shooting season'. It was a measure of the affection in which Jollyon was held by his guardsmen and officers that his response attracted general merriment.
Jollyon wore three different cap badges during his army career but, in his heart, he was always a Welsh Guardsman. It was with the Regiment that he made his life-long friends, and they in return repaid his friendship with loyalty and great warmth. He was one of the most brightly plumed officers of his generation, a mosaic that saw him as a platoon commander, intelligence officer and company commander in the Welsh Guards, a pilot in the Army Air Corps, a squadron commander in the 16/5th Lancers (now the Queen's Royal Lancers); and, later in civilian life, as an estate agent, never venturing further than Kensington and Chelsea, and the clerk to one of the great livery companies.
Jollyon was educated at Pangbourne Nautical College, a school to which he was temperamentally ill-suited, but where he excelled at sports, particularly shooting, winning the Trafalgar Shooting Cup in every year that he was there, a record that still stands today. After Pangbourne, Jollyon tried his hand at photography at Bournemouth College of Art, attracted by the racy lives led by the fashionable photographers of the 'swinging sixties', David Bailey, Tony Armstrong-Jones and Terence Donovan. But one day, with time on his hands, Jollyon stepped into an army recruiting office where the recruiting sergeant, taking one look at his broad 6ft 2 frame and fine, untroubled presence, remarked to Jollyon that he knew a potential Guards officer when he saw one.
Jollyon had Welsh blood and a connection to the Regiment through his mother's family, the Lewis's of Llanelli, who owned the popular Felinfoel brewery; his father's family owned a hugely successful sweet firm, Clark, Nichol and Coombs in London. Jollyon's first car, aged 17, a British racing green 3 1/2 litre Bentley was, therefore, well within his grasp. An interview was arranged with the Regimental Lieutenant Colonel, Vivian Wallace, whose only question to Jollyon was if he could manage £500 a year extra to keep his head above water.
Jollyon was commissioned in the autumn of 1966 towards the end of the Battalion's tour of Aden. The Regiment, short-sightedly, did not send him to Aden for the last ten weeks of the tour and, instead, he was posted to the Guards Depot. It was a decision that Jollyon much regretted. An operational tour, albeit a brief one, would have allowed him to understand better the lives of the Welsh Guardsmen he was to command. He spent the next five years no more than an hour from Hyde Park Corner.
The Troubles in Northern Ireland and the Battalion's deployments to Belfast in the tense and perilous days of 1971/2, the worst two years for British Army casualties, gave Jollyon his first proper taste of soldiering. He was made intelligence officer, an appointment he carried out in the full knowledge that any intelligence worth having was under lock and key with Special Branch and MI5. He nevertheless brought his own unique style of soldiering to the task with fifteen pegs outside his office for his 'intelligence gathering hats': flat hat, Trilby, French beret, baseball cap, Fez, Fedora, Homburg etc. The brigade commander, the peppery and laconic Frank Kitson and master of subversion in the Mau Mau uprising, was not amused.
The Battalion's deployment to Cyprus in the autumn of 1975 on behalf of the UN was the perfect backdrop for Jollyon's leadership style. Commanding No 2 Company, Jollyon was responsible for 32 kms of the Attila Line, held by the Turks in their standoff with the Greeks. He immediately replaced his standard issue UN Land Rover with a dark blue MGB GT. One of Jollyon's platoon commanders, fresh out of Sandhurst, has never forgotten his first evening with Jollyon. 'I was keen to make a good impression as we had been invited to dinner with the Finnish contingent where a number of Turkish officers were present. The dinner ended with everyone firing their pistols into the ceiling to carve out their names followed by a sauna onto which Lakka (a liqueur derived from cloudberries) had been thrown. I walked outside into the cool scented air and immediately passed out'.
Jollyon had the additional role as British Liaison Officer, a task well suited to his natural charm and gift for friendship. There was only one minor setback when he made the Turkish brigade commander cross a river to meet him as he did not want to ruin his bespoke pair of Lobb shoes.
At the age of 30, Jollyon realised that commanding the Battalion was not within his reach, not helped by his tendency to bawl out senior officers with whom he had a disagreement, usually over something which affected the Guardsmen's welfare, with his customary refrain, 'now look here, buster'. Given his love of speed and ability to fly by the seat of his pants, it was only natural that Jollyon should apply to join the Army Air Corps. His final test at Middle Wallop was to fly blindfolded for 20 minutes and then, unmasked, tell the instructor exactly where they were. By sheer chance, He ended up within half a kilometre of a friend's house and told the instructor his exact position.
Fortune continued to shine brightly on Jollyon with his first posting to command the 16th/5th Lancers Air Squadron in Germany. It was a happy period of his life. A Welsh Guards friend rang Jollyon one day, only to be told by the Air Squadron Sergeant Major that he was unavailable. 'Ah, he must be flying', remarked the friend to which the response was, 'no sir, Major Coombs is away skiing, he doesn't fly in the winter'. The Commanding Officer, Nick Vivian, was an old friend from Cyprus and eventually persuaded Jollyon to transfer to the Regiment, first commanding a squadron and then the Gunnery School at Lulworth in Dorset. Jollyon was always much in demand for shooting weekends as he remained to the end a very fine shot. His game book made for good reading: '20 partridges with 20 shots on one drive in Northumberland; 25 grouse with 27 shots in Aberdeen; 30 pheasants in 30 shots in Hampshire'.
Jollyon left the army on his 40th birthday. It was a tricky period. His marriage to Sarah had come to an end; he had married aged 22, and they were blessed with three children, Arabella, Daisy and Charlie. But London was on the up, the baby boomers were making money, and flats and houses had to be found for them in the better parts of town. Jollyon joined the upmarket firm of Chesterfields, sold 62 Chester Square three times in three years for 2.5m, 3.25m and 4.5m and the whole of the north side of Edwardes Square to a developer for 16m. He found great happiness in his second marriage to Ruthie Owen-Thomas, Welsh to the core. Once again, fortune was on his side.
Jollyon was soon to tire of selling the same properties half a dozen times and a chance meeting led him to accept the role as Clerk to the Worshipful Company of Feltmakers. It was a job to which he was well suited as it required social and physical stamina, an ability to master a seating plan, a notorious minefield in livery companies, and a commitment to charitable work. Jollyon raised £125,000 personally through various adventures designed as much to keep his expanding waistline in check as to raise funds. He made many friends there and was widely admired. He handed over as the Clerk just a week before he died.
When Jollyon received his diagnosis of terminal cancer, the sense of optimism and sang-froid which he had borne throughout his life did not desert him, remarking to a friend, 'the day of reckoning is fast approaching but I should get one more shooting season in'.
After Jollyon died, a former platoon commander of his wrote, 'Jollyon was a man of style, elegant, a bon viveur, amusing, charming, witty and warm. It was always a pleasure to be around him'.