Obituaries
Captain Garry Daintry
Late Irish Guards
by Barry Dinan
formerly Irish Guards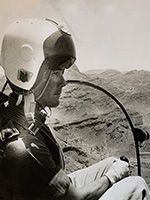 Garry Daintry died on 8th January 2021, aged 82, in Garside House Nursing Home, Westminster.
At the start of the Second World War, Garry's father, Commander Michael Daintry, was on the aircraft carrier HMS Courageous, the first Royal Navy ship in the war to be sunk. He was invalided out of active service and was transferred from their home in East Sussex to Dartmouth, to work in the on-shore office of Vice Admiral Arthur Strutt. He and his family were also billeted there in Admiral Strutt's house. At the age of 5, Garry set fire to the hedges around the Strutts' house and nearly burnt it down.
After Copthorne prep school, Garry went to Winchester College where from his first term he demonstrated exceptional athletic ability, specifically for endurance races, winning every event for which he was entered. In his last two years he was Captain of Athletics, Captain of 1st XI Soccer, a Senior Prefect and head of his house.
After leaving Winchester, Garry joined the Irish Guards in 1957 as a National Serviceman. Once commissioned, he signed on as a regular officer. He had a natural affinity for getting on with all ranks, without undue informality; and the Guardsmen held the greatest respect and lasting affection for him. He maintained a lifelong relationship with many of the Mick non-commissioned officers he knew while serving.
Garry was a leading member of the Irish Guards Athletics team which regularly won the inter Brigade Lawson Cup; and in 1963, the Irish Guards team won the All Army Athletics competition in Berlin.
In the Spring of 1958, whilst based in Shorncliffe Barracks in Kent, Garry undertook military duties in the mornings and after lunch changed into a track suit for athletics. In the evenings, in spite of the distance to London, he changed into white tie and tails and went to debutante dances. This idyllic life came to a sudden halt in the middle of Ascot Week when a loudspeaker in the Royal Enclosure summoned all Irish Guards Officers to return to barracks immediately. A few days later, they were in Cyprus chasing terrorists for the next five months.
Public duties in Windsor and London followed, before the Battalion went to Hubbelrath Barracks in Germany in 1962. Garry thrived on travel and danger, so guard duties in London and Windsor did not appeal to him. He was keen to find a secondment to a more adventurous part of the Services and was interviewed by the Special Air Service, the Foreign Office, and the Army Air Corps.
In 1963 Garry was seconded to the Army Air Corps. He qualified as a pilot for light aircraft and then for rotary wing and for eight years Garry was seldom in one place for more than six months. He lived in ten different countries, wherever there was trouble or danger, small wars in Indonesia, Malaysia and Aden, attached to the Irish Guards, Welsh Guards, the Gurkhas and other active service regiments, flying them on low level border patrols, in jungle warfare and occasionally on civilian rescue operations. Once he had to rescue 15 Malaysians from the roof of a house on the verge of collapsing under torrential floods, in a helicopter designed for four passengers, something that was regarded as an impossible task!
At one stage Garry was posted to Middle Wallop as a flying Instructor where his role included aerobatics with the Blue Eagles Display Team, the helicopter version of the Red Arrows, consisting of an elite cadre of the most skilled flying instructors. On one occasion, due to a technical failure, the helicopter in front of Garry crashed into him; both pilots coolly managed to guide their badly damaged helicopters to land safely.
Garry's bravery was legendary, and he merited an award on many occasions. Captain Kit Maunsell, The Gurkha Rifles, who was awarded the Military Cross in Indonesia, was being flown by Garry when they came under artillery fire. To his astonishment Garry offered to swap seats as Kit was on the dangerous side! Kit wrote: 'Garry thoroughly deserved many a gong for bravery as he undertook a prolific number of different military and civilian rescue operations; but there was never a senior commander on the spot who could have put forward a case for an award' .
In 1968, Garry was posted to Kluang, near Singapore, to instruct Gurkhas in jungle flying techniques. Whilst taking part in free fall parachuting with them, his chute got twisted and failed to open. Typically cool in a crisis, Garry managed to pull the ropes down low enough to untangle them with seconds to spare and he landed hard but in one piece.
In 1971, after 14 years in the Army, he resigned to join a private helicopter company in Hong Kong. Six months later, he was approached to join the London Stockbroker W I Carr in their Hong Kong office, W I Carr Overseas (WICO). In 1973 he transferred to their Singapore office to research the Malaysian Plantations companies. Whilst there, he managed to sell a rubber plantation to Jardine Matheson and was thereafter sent by WICO to open an office for them in Manila. This proved a significant move for them and for Garry, as no other London stockbroker had an office there. He was fêted by all the major Philippine company chairmen and bankers, and WICO were appointed brokers to President Marcos and many of the leading Filipino families. All visiting bankers and industrialists from Europe, when visiting Manila, would call on Garry first, as his hospitality was legendary and his advice on the Far East markets was invaluable.
Perhaps burning the candle too much at both ends, Garry had the first of his many mini strokes in 1974. His doctor told him that he should not continue to work under such pressure, so he left stockbroking and returned to flying helicopters commercially, in Hong Kong, Sumatra, the Middle East, and the North Sea. In 1977, he gained his full American flying licence in Texas, enabling him to fly larger aircraft.
Whilst in the Middle East one night in 1978, during a high force typhoon, a mayday call came from an oil rig that had broken adrift in raging seas with three engineers on board. None of the pilots on duty in Heli Rescue would accept the call, as the risks were too high. Garry picked up the signal, persuaded someone to support him as the winch man, and flew out to winch all three off the rig before it was destroyed by the storm, saving them from certain death. A year later, he performed a similar 'too dangerous' rescue in the North Sea but on that occasion he and the rescued passengers were lucky to survive, as his gear box jammed as they were landing and the helicopter crashed in pieces. He decided then to leave the North Sea and only to do occasional freelance flying in order to spend more time on sporting pursuits.
In 1979 Garry decided to enter the Honolulu Marathon and aged 41 he finished in under 3 hours. This encouraged him to take Marathon running more seriously and eventually he finished the London Marathon in 2 hours and 36 minutes. In 1982, he returned to Hawaii to take part in the Hawaiian Ironman Triathlon, entailing a 2.4 mile swim in the ocean, a 112 mile bike ride through the hot lava fields, and then a 26+ mile marathon. Garry had never been a swimmer, so was last of the contestants coming out of the water but managed to come 117 out of 850 at the finish, in 11 hours 36 minutes, a remarkable time for someone aged 44, particularly as very few contestants that year finished in under 11 hours. He competed again in 1984 but was stung and poisoned by a jellyfish whilst in training and ended up in hospital, where he nearly died.
He was a keen cyclist and never thought twice about cycling from London to Greece, or Bangkok to Singapore; and even taking part in Etape du Tour, a tortuous stage of the Tour de France, open only to a limited number of proficient amateurs. Garry completed it successfully in 2006 and 2007, aged 69!
In 1983, the opportunity arose to work with the Toboggan Club in St Moritz to look after the riders on the Cresta Run. As an accomplished skier and Cresta rider himself, this was an ideal opportunity, as it became his main source of income from December until March; and it enabled him to follow his sporting activities for the rest of the year. He continued to be employed by the Club in St Moritz until 2007.
After a lifetime of smoking 30 cigarettes a day, in 1993 he began to have serious heart trouble and for the next five years he was unable to take any serious exercise. After a heart bypass, matters improved slightly but he continued to get angina and by 1998 was hardly able to walk. A further operation proved necessary but it turned out that he also had lung cancer and a problem with his liver, which had been aggravating the heart condition.
For relaxation, very rare for Garry, he had a house on the Greek island of Paxos. He subsequently gave this to his daughter Natasha, the joy of his life, who is now a celebrated ceramics artist. In 1998 he bought a cottage near Toulouse in France, where he was able to recuperate from his health problems and recover his fitness. He also bought a small apartment in Thailand, which he used as his base for training for the Etapes. When he finally retired to London in 2012, he bought a flat in Kensington.
Garry had a flair for making loyal and lasting friendships. A testament to this is the impressive number of his friends who visited him at the nursing home where he spent his last 15 months. In spite of his debilitating health and rapidly failing eyesight, he never grumbled nor complained and he welcomed all visitors with his characteristic enthusiasm. During that dreadful time, although hampered by the myriad Covid-19 restrictions, his daughter Natasha excelled in looking after him; and Garry, knowing that she was by his side, passed away completely at peace.
In 1963 Garry married Brigitta Cooper and in 1966 their daughter Natasha was born. The marriage was dissolved in 1967. In 1969 he married Ellie Grant. The marriage was dissolved in 1973. A funeral service for Garry was held at The Guards' Chapel on 1st February 2021.