Obituaries
Sir William Macpherson of Cluny
Late Scots Guards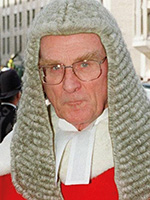 Sir William Macpherson of Cluny and Blairgowrie died on 14th April 2021, aged 94. Clan chief, high court judge, Scots Guardsman, SAS reservist and Commanding Officer, and rugby player, he led the public inquiry into the murder of 18-year-old Stephen Lawrence.
Macpherson's appointment to lead the inquiry faced opposition from the outset, however his meticulous report, completed in just one year and published in 1999, was to confound all observers by its far-reaching conclusions. He will be particularly remembered for his forthright judgement of the police: their 'professional incompetence, institutional racism and a failure of leadership'.
Stephen Lawrence was stabbed to death in Eltham, South East London, on 22nd April 1993 by a white, racist gang. The police conducted an investigation, arresting a number of suspects, but failed to gather sufficient evidence for a trial to take place. In 1996, a private prosecution brought by the Lawrence family also failed, on the grounds of insufficient evidence, while the jury at the inquest into Stephen's death in 1997 returned a verdict of unlawful killing. Such was the general outcry in the failings of the judicial process that in 1997 the newly elected Labour government commissioned an inquiry. Sir William Macpherson, aged 71 and recently retired as a high court judge, was telephoned by the Lord Chancellor, Lord Irvine, and asked what he was doing the following day. Macpherson replied that he was playing golf to which the response came 'No you're not, you're coming to London to head up the Stephen Lawrence inquiry'. Before agreeing, Macpherson sought advice from his wife, Sheila, who told him 'It's your duty to do it'.
The inquiry began taking evidence in March 1998, and reported just a year later, with conclusions that were to defy the early criticism that a judge who was clearly an establishment figure (both white and in his 70s) would never wish to seek the truth nor make recommendations aimed at real systemic change. The report had a seismic impact on the Metropolitan Police and wider public opinion. The Macpherson Inquiry led to changes to police recruitment, retention, and promotion of black and Asian officers, and to the creation of the Independent Police Complaints Commission. The recommendation to abolish the rule of 'double jeopardy' by which suspects cannot be tried twice for the same offence was a fundamental change in the law, leading finally, in 2012, to two convictions in the case of Stephen Lawrence's murder.
Following the publication of the report, Macpherson was attacked by some right-wing commentators: 'I get awful letters from people who say they are going to come and murder me, and that Enoch Powell was right, and that I ought to have said they all ought to be sent back'. While some ridiculed the notion of an old judge suddenly becoming a liberal reformer, Boris Johnson, editor of The Spectator, offered the view that this was misleading, adding that 'The laird of Cluny is no loony'.
William Macpherson was born in Blairgowrie, in 1926, the only son of Brigadier Alan Macpherson, 26th hereditary chief of the Clan Macpherson, and his wife, Catharine. He was educated at Wellington College and joined the Scots Guards in 1944. After the war, he completed his studies at Trinity College, Oxford (PPE) and was called to the bar in 1952. On leaving full-time military service in 1947, he joined 21st SAS, going on to command the regiment in 1962. When not at the bar or soldiering, he kept fit by playing rugby for London Scottish, and was their captain in 1954. He was also a member of the Royal Company of Archers, and a keen golfer.
Appointed a QC in 1971 and a recorder the following year, he became known for his succinct legal opinions and, as a lawyer with 'great charisma, charm and humour'… and also for his 'rigour and deep dislike of institutional wrongdoing'. He was knighted in 1983, becoming a high court judge. He conducted high-profile trials at the Old Bailey, including murder trials. He retired in 1996, in the same year that the Macpherson clan celebrated their association's 50th anniversary. As Clan Chief, Macpherson took his responsibilities seriously, referring to his position simply as 'first among equals'. In 2017, leading 150 of his clansfolk on to Edinburgh Castle Esplanade for the Tattoo in August, he turned down an invitation to sit in the royal box: 'Thank you, but I shall sit among my people'.
Interviewed on the 20th anniversary of his report into Stephen Lawrence's death, Macpherson said modestly: 'I couldn't work miracles about making the police behave better or improving the relationships between black and white people. But I hoped that the inquiry might assist'. He remained in touch with Stephen's mother, Doreen (now Lady) Lawrence, and after his death, she was quoted as saying that he had 'the decency and integrity to listen carefully to what was overwhelming evidence of racism infecting the investigation into my son's murder'. It is a tribute to the man himself, and perhaps also to those who select judges for public inquiries, that these appointments can often surprise detractors from the rather predictable conclusion that it's all an inside job to maintain the status quo. Sir William Macpherson was determined to do the job properly and fairly and without fuss. He politely declined a car and driver, and the security that he might possibly have needed. Instead, he travelled by public transport from his flat in Islington to Elephant & Castle, where he conducted the inquiry. He had an air authority about him, perhaps reminiscent of his days as a Guardsman, SAS commanding officer, and rugby captain. The Right Reverend Dr John Sentamu (later Archbishop of York), an adviser to the Lawrence inquiry, later commented that during the hearings Macpherson was 'very disciplined . . . even the way he walked was fast, as if on parade'.
William Macpherson married Sheila Brodie in 1962. She died in 2003 and their eldest son, Alan, died in 2007. Macpherson is survived by his partner, Hilary Burnham; his son, Jamie, who succeeds him as 28th chief of the Clan Macpherson, and his daughter, Annie.