Obituaries
Henry Stilwell
Late Coldstream Guards
by Anthony Bird
formerly Coldstream Guards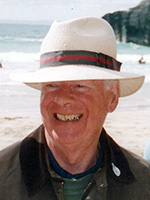 Henry Stilwell died on 13th April 2021 aged 94. He was born in Lisbon, Portugal, in 1926, into a long-established Anglo-Portuguese family. Like his five elder brothers he was sent to The Oratory School initially at Caversham and then at Woodcote, Berkshire, from where he followed four of those brothers into the Coldstream. Whilst he was still at The Oratory, his mother, Maria Ferreira Pinto Stilwell arrived in England, with the war still on, and was lent a house in Oxfordshire by friends for her and all six sons to spend Christmas together. The trip to England from Lisbon entailed a long journey out into the Atlantic, in a stripped-down bomber, a stopover in Ireland, and finally landing at Filton, Bristol. That Christmas proved to be the last time the brothers would all be together. Peter was killed in May 1943 in North Africa whilst serving in the 3rd Battalion, and Tony, also serving in the 3rd Battalion, died of his wounds in Italy in December 1943.
During the war, Henry's mother had been among the first people to be able to get food parcels from Portugal through to British prisoners of war in Germany, several of whom had been at school or served with her sons. Others referred by family and friends included Gris Davies-Scourfield, who served in The Rifle Brigade and famously escaped from Colditz, Peter Hanbury, Welsh Guards, and Julian Warde-Aldam, Coldstream Guards.
Henry joined the Coldstream in 1944. Following training he joined the 2nd Battalion in Italy, where his brother John was already serving. The Battalion eventually returned to London for Public Duties and he volunteered to join the 3rd Battalion in Palestine where his brother Michael was a company commander. While in Palestine he was appointed ADC to the General Officer Commanding Palestine, General Sir Richard Gale. He returned to the 3rd Battalion when the Guards Brigade went to Jordan, then called Transjordan. The Battalion later returned to Palestine and then back to England.
Henry much enjoyed telling the story that when ADC to General Gale in Palestine he had accompanied him to a meeting and then took the General's car back to headquarters. Henry's elder brother Michael, seeing the car approaching, ordered his men to present arms. Much to Michael's annoyance when looking into the car he saw his youngest brother in the back seat happily taking the salute.
When in Trieste Henry, accompanied by a sergeant and a few other men, had an altercation with some partisans. Henry always praised the sergeant's initiative who, pointing at the Cross of St George in his Coldstream Cap Star, said 'Red Cross'. The tension immediately went and the partisans waved them on.
After the war he returned to Portugal to work in the family businesses. Following the revolution in Portugal on 25th April 1974, when the country faced some serious communist challenges, Henry moved to England with his family initially to Gloucestershire and then to London. This was not an easy decision but his old friends and family were very supportive. Freddy Burnaby-Atkins, who had been Military Attaché in Lisbon, helped him obtain employment in London with the Ministry of Defence and he carried on working in that field until his retirement in 1994. Following that he retained a strong interest in international and security affairs regularly attending events at RUSI as well as being a keen reader of history particularly relating to the Peninsular Wars on which he was very knowledgeable.
He retained a strong link with his family and many friends in Portugal, and visited his family's estate, Quinta de Fôja, twice a year. There he was able to have his large family and friends to stay. He also much enjoyed staying with his sister, Elizabeth Symington, in the Douro Valley during the vintage each year, helping entertain her many guests.
A nephew, Anthony Bird, is a trustee of the Coldstream Guards, and a great-nephew, Captain William Bird, is the Adjutant of the 1st Battalion.

Henry's wife, Bridget, daughter of Brigadier Humphrey C T Stronge CBE DSO MC, pre-deceased him. He is survived by six of their seven children, and many grandchildren and great grandchildren.