Obituaries
Major Richard McCormack MBE
Late Coldstream Guards
by Major Harry Bucknall
formerly Coldstream Guards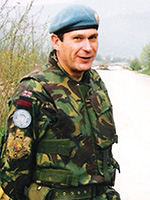 Dick McCormack, who died of a heart attack aged 67 on 9th March 2021, not only rose to be Academy Sergeant Major, traditionally the senior Warrant Officer in the British Army, but also had the unique privilege to be appointed Regimental Sergeant Major of both the 1st and 2nd Battalions respectively; a happenstance occasioned by Options for Change when, in 1993, all Foot Guards 2nd Battalions were placed in suspended animation.
Anthony Biggs, 2nd Coldstream's last Commanding Officer, commented on the immediate impact Dick made when he took over as Regimental Sergeant Major in February 1993, just as the effects of draw-down began to pinch across the Household Division. With eyes already focused on the Battalion as it prepared to troop its colour for the very last time, these were difficult days requiring strong leadership and rigorous discipline to ensure standards were maintained. As sentiment ran high, so manpower ran low. Within a few weeks, the 1st Battalion Grenadier Guards were warned off for an emergency tour of South Armagh while, in Germany, the 1st Battalion began gathering up the leviathan organisation required to keep an independent Armoured Infantry Battlegroup operational in war-torn Bosnia. Days later, Charlie Lomer, then Brigade Major, asked that the Battalion find a third guard for the Queen's Birthday Parade.
After collective blanching, on our side, some rushed sums and sucking of teeth, we replied that we probably could manage it – if the Quartermaster agreed to do barrack guard. Positive, unflappable and ever good-humoured Dick McCormack was always at his best when faced with the seeming insurmountable – his skill, a deep-seated understanding of soldiery as he formed the dwindling Battalion close round him in preparation for the great day. There were no 'Men in Readiness' or 'Spare Files' and, giving his final talk, the evening before the parade, Dick made an impassioned, simple and heartfelt plea to the Guardsmen, 'please be here in the morning'. Nonetheless, it was with our hearts in our mouths that we retired – with every man taken, we would not have been able to fill a single gap the following day; no one let the side down.
Andrew Johnston, one of Dick's former platoon commanders, observed that he was not an archetypal Foot Guards non-commissioned officer; a private character, he was a man of great integrity with a highly developed sense of humour and quick wit which reflected a considerable intellect. As such, Dick was an inspired choice to take over as Regimental Sergeant Major of the 1st Battalion, a matter of weeks later. Again, he was presented with the familiar herculean task, this time preparing for war while at the same time amalgamating two battalions into one. Not the moment for petty rivalries, Dick's unambiguous leadership style was clear from the outset, echoing the message of Peter Williams, the Commanding Officer, that we were now 'of one company', the battle cry with which he deftly forged the new battalion together.
'He never told me about a problem without also telling me that it was either already sorted or that he had the solution in hand', Peter said. But perhaps Dick's greatest talent was his understated approach; humility was his gift. Always firm but fair, former Guardsman, Adam Rewcroft, spoke of the great effort Dick took to rescue him from an interminable vortex of trouble, mishap and misdemeanour, and the dream posting to Kenya which followed as a result. Arriving in Germany that summer of 1993, former Coldstreamer Darren Smith recalls Dick addressing the Sergeants' Mess, 'Your loyalty, I demand … Your respect, I will earn.
A year later, in 1994, it was little surprise that Dick should be appointed to take over as 'top dog', the Academy Sergeant Major at Sandhurst. General Sir Jack Deverell, Commandant at the time, remembers him as a soldier who was as at home in the field as on the drill square with a shared enthusiasm for mischief. During a final exercise in Germany, he and Dick went to visit to that dream of retail utopia, the 'PX' on a nearby US Air Force base. Greeted by a sea of denim, there was much wailing, gnashing and grinding of Sergeant Majorly teeth at the vision of 'devil's cloth'. As the pair came across yet another aisle of interminable blue, so Dick turned to General Jack and said 'it's no good sir, we must do something about this'. He made as if to set light to a pair of the cursed trousers, only for two large security men to appear at either end of the aisle and, in a little known incident not recorded elsewhere, the hapless duo in the shape of a senior general and the British Army's number one Warrant Officer were escorted off the premises like naughty school children, laughing like teenagers and breathing a sigh of relief that 'Commandant and Academy Sergeant Major arrested for attempted arson' never made the headlines.
Richard Hedley McCormack was born on the Isle of Man on 10th February 1954. One of nine children, with his father serving in the Royal Air Force, travel and adventure were a feature of family life from the outset, growing up in places as far afield as Aden, Germany, and Aldershot. Dick spent his teenage years in Weston-Super-Mare, where he helped run donkey rides on the beach. He trained as a chef and so began a life-long love of cooking although, much to his chagrin, he never quite managed to master the perfect roast potato.
In 1971, Dick enlisted into the Coldstream Guards and, after training, joined the 1st Battalion in Berlin. Paul Horniblow, who has sadly died since, flew out in a later draft from the Guards Depot, and reminisced that joining a Battalion as a fresh faced Guardsman was a galling experience fifty years ago. 'Dick took me under his wing from the moment I arrived", he told me, "he was a very good friend, one of the best'. By Paul's own admission, they did not fit the norm as Guardsmen, eschewing the more traditional drinking haunts favoured by their comrades for music venues like Chelsea's Drug Store and the pioneering Troubadour, developing an enduring passion for the bands of the time and attending gigs by the likes of Deep Purple, The Sensational Alex Harvey Band, and Manfred Mann's Earth Band.
It was not long before promotion beckoned as Dick's talent, ability and leadership qualities were recognised. After a posting to the Guards Depot as a platoon sergeant in the Junior Guardsmen's Company, he returned to the 1st Battalion for a tour of South Armagh in the winter of 1982. Clive Forestier-Walker, commanding 2 (Patrols) Company at the time, wrote of Dick's outstanding level of professionalism on demanding close observation tasks that were nuanced and highly sensitive in nature. Dick was Mentioned in Despatches, gaining experience during the tour that stood him in good stead when appointed as Operations Warrant Officer in Bessbrook Mill for the 2nd Battalion's subsequent tour in 1991. His quick-thinking, upbeat and calm manner were a great asset during a tense tour complicated by Operation BRONSKI, a brigade-level operation to refurbish the Golf towers along the border.
Leaving Sandhurst, Dick accepted a commission and was deservedly awarded the MBE in the Queen's Birthday Honours List of 1998. Four years later, as Quartermaster, when the 1st Battalion was stationed in Londonderry, the NAAFI bar was failing as all ranks were becoming increasingly frustrated at the lack of opportunity to let their hair down in a safe environment, it still being unsafe to do so outside. Greville Bibby, then commanding, described Dick as a 'tour de force' when he persuaded the NAAFI to hand over management of the bar to the Battalion. Following a week-end of frenzied activity involving paint, brushes, and a glitterball, the TUCAN Club was born. Success was instant. Within six months it was the largest outlet for Grolsch beer in Northern Ireland.
As Nick Henderson prepared the 1st Battalion for deployment to Iraq in 2004, so it was his suggestion that Dick take over command of Headquarter Company, where his experience, knowledge and understanding proved invaluable. Two years later, in 2006, Dick retired from the Army. He then had more time with Wendy, his wife, whom he had married in 1977, and a chance to indulge in favourite past times like camping and walking. Never one for indolence, within a year Dick had taken a role at Prince Khalid Abdullah's Fairlawne Estate in Kent; not unexpectedly he soon became the lynchpin of the operation and he and Wendy a cornerstone of village life, living across the green from the pub until the day he died.
Dick McCormack will not only be remembered for his ability, but his humility, compassion and understanding. A good man, blessed with a modest and unassuming manner, he was a dear friend to many who achieved a great deal and more than made his mark on life; it was my great privilege to have marched alongside him. We offer our deepest sympathies to Wendy, Simon and Kelly.