Obituaries
Captain Richard Tristram Combe
Late Coldstream Guards
by Colonel D D S A Vandeleur
formerly Coldstream Guards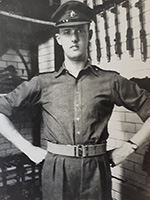 Captain Richard Combe died on 13th April 2021, shortly after his 83rd birthday, following a bad fall nine days earlier. He was the second tallest officer of his generation in the Regiment at over six feet eight inches. Richard was educated at Heatherdown and Eton College. He joined as a guardsman in 1956 and following a two-year National Service commission was granted a regular commission in June 1960. He served with the 1st and 2nd Battalions in Krefeld and Iserlohn in Germany, including Aden in 1964 with the 1st Battalion where he was a company second in command. Major Tom Wills reports that they shared a tent together for six months. And finally back in London where he worked in Regimental Headquarters as the Assistant Regimental Adjutant and Recruiting Officer. He retired in 1967 in the rank of captain.
Richard enjoyed his time in Germany, where one of his friends and a fellow officer was Ian Spofforth, allegedly the tallest man in England at seven feet and four inches tall. Like many other officers of their generation, before and since, they were cruising down the autobahn, and managed to collide with a truck which pulled out in front of them. The angry German driver de-bussed from his cab, in pugnacious mood; Richard eased himself out of the car and drew himself up to his full height which caused the truck driver to stop and think. Ian Spofforth, the car driver; stepped out. The story has no doubt been embellished, but the terrified truck driver was back in his cab and on his way in seconds.
Richard was a quiet man with a dry sense of humour. He inherited Earnshill in Somerset early following the death of his father Robert Combe, a Coldstreamer, who had been killed at Dunkirk in June 1940, whilst serving with the 2nd Battalion. The Combes built Earnshill between 1716 and 1726 and have lived there ever since. After the Army, Richard threw himself into his responsibilities as a local landowner. He became a JP and served on the bench for 50 years, becoming Chairman of the Somerset Board of Magistrates; he was on the Hambridge Parish Council; he was President of the Yeovil and Taunton Branch of the Coldstream Guards Association, which, with his wife Bridgett, he led and supported loyally for many years.
But possibly the greatest love of his life, and the activity which most consumed his time and energy, was as Master of the Taunton Vale Foxhounds which, under him, attained a reputation throughout the foxhunting community as the best hunting pack in the South West. Richard led by example, and if you wanted to know where Richard was, he was always at the head of the field in the role of Field Master, usually on his favourite hunter 'Goblin'. Richard had bought him for a song in County Waterford, where, shortly after he had been broken, had jumped out of a field and landed badly on his knee in a narrow road. He was about to be put down when a passing tinker asked if he could try and heal the young horse. After an hour holding the injury in his hand, 'Goblin' was able to stand and made a full recovery, but with a large lump on his kneecap. He was never lame again and completed many successful seasons. Richard was also a keen polo player, despite his great height, with a four handicap, and played regularly at Smith's Lawn and the local Taunton polo club. He had an encyclopaedic knowledge of the Somerset countryside, and the histories of the many families that lived there. For many years he worked for a Bristol firm in estate insurance and financial management.
In the 1980s Richard met Bridgett and they were married in 1987. She took devoted care of him, and he of her, until his untimely death. Sadly, there were no children, but there are Combe nephews and it is hoped that Earnshill will continue to have a Combe living there for future generations to enjoy.