Obituaries
Roderic Bullough
Late Coldstream Guards
by Major Charles MacFarlane
formerly Coldstream Guards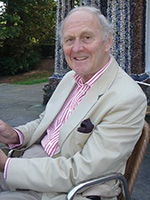 Following Brigade Squad in January 1958, Roderic served less than two years as a Coldstream National Service officer. He was posted initially to the 3rd Battalion in Germany not long before its disbandment. He finished with 2nd Battalion in London and Caterham. He would be the first to admit that the time he spent in the Coldstream was short and not particularly notable; however, from a relatively uneventful tenure, it is extraordinary how much he loved the Regiment and contributed to it greatly throughout his life.
His choice of regiment stemmed from his father Ian, an unusual Coldstream officer. Ian's first two wives were beautiful actresses/Vaudeville girls. Maudie Darrell sadly died within a year of their marriage, and he then married Lillie Elsie in 1911, who soon became the toast of London theatre land. As a sign of the times, Ian had to resign his commission as it was not considered respectable for a Guards officer to marry an actress! In 1914, he was welcomed back, later winning an MC before being severely wounded on the Somme. He and Lillie drifted apart and divorced. Ian then married his third wife Irene, Roderic's mother, but sadly, they only spent 6 years together; his wounds contributed to his early death, aged 50, in 1936. This left Irene as a young widow of 33, to bring up two young sons, Alexander, the eldest, and Roderic, with the help of trustees.
Alexander, unlike Roderic, loved the sea and had Naval ambitions. He, and by default Roderic, were educated at the Royal Naval College, Dartmouth. They were different but close. Tragically, Alexander was killed, aged 14, in a freak accident at Dartmouth, leaving Roderic as the sole beneficiary of his father's estate, originally created by his great grandfather who built up a textile machinery business, Howard & Bullough, during the Industrial Revolution.
A naval career normally followed a free education at Dartmouth, however Roderic defied significant pressure by managing to persuade the Navy he wanted to do his National Service in his late father's regiment following a degree in modern history at his father's college Brasenose, Oxford.
Roderic started at Oxford in 1953. On his 21st birthday, his trustees asked him what he would like as a present, and he bravely asked for a Jaguar XK140. To his delight the trustees agreed, and the Jaguar appeared (in British racing green) causing quite a stir amongst the undergraduates. What the trustees delayed telling him was that on reaching 21 he had technically inherited his father's significant financial legacy and the Inverawe Estate where he was born; later he was also offered the Scottish Isle of Rùm from his late uncle's estate but turned it down on commercial grounds and it was sold. Roderic was thus, perhaps sensibly, on a reasonably tight lead until he was a little older! The Jaguar became somewhat legendary both in Oxford and, latterly outside the officers' mess. Indeed, years later Roderic met Jilly Cooper who had been part of the Oxford scene. He asked her if she remembered him. She replied 'no, but I do remember your car'. Ironically, later in life, Roderic's taste in cars was an embarrassment to his children as his choice was always practical and rather understated! The Jaguar clearly got it out of his system.
He loved Oxford. Experiences included speaking at the Oxford Union and witnessing Roger Bannister run the first 4-minute mile, while the nearby secretarial college provided a constant supply of female interest. He was particularly proud to have been involved in a prank whereby he and two friends scrambled through a bathroom window from a boat on the river and stole two taps in St Hilda's, a ladies' college. The truth was never uncovered, and the 'mystery of the missing taps' even featured in a London newspaper.
Roderic had a formidable sporting prowess and was proud of his many successes. At Dartmouth he won the Devon Junior Squash Championship and his racket skills were honed further at Oxford. He achieved a half blue at badminton and played squash and tennis for the university. After Oxford he regularly played tennis at The Queen's Club and the, now extinct, Vanderbilt Club where he won the highly competitive club mixed doubles with Jenny Hopkirk, wife of racing driver Paddy Hopkirk. He played squash at the Lansdowne Club where he formed a friendship with Tommy Steele and Jonah Barrington (the then world champion). Roderic was also a low handicap golfer and particularly enjoyed playing regularly as a member of Swinley Forest Golf Club. His only hole-in one was at Thurlestone, which he also loved. He won the Boodles Singles Matchplay Knockout competition twice and regularly represented the Regiment in the Colonel-in-Chief's Cup team. In short, he was a terrific all-round sportsman and extremely competitive.
Roderic's interest in good food, and particularly wine, began at Oxford. Roderic got on very well with his tutor Stanley Cohn, who loved wine, and tutorials would end early to discuss and sample vintages. Boodles and the Coldstream Guards should be grateful to Cohn as Roderic was not only responsible for the substantial Boodles wine cellar but also for the purchase and maintenance of the Nulli Secundus Club wine investments. The Regiment is indebted to him for starting a wine fund taking £10 from each member in the mid-1960s . This inspired investment is still benefitting the Nulli Secundus Club today.
While at Oxford Roderic developed his eclectic love of music, from jazz to opera. This interest was sparked by Sir Malcolm Sargent, who lived next door to Roderic's mother, in Albert Hall Mansions, when Roderic was a teenager.
On leaving the Coldstream, Roderic spent a few months at Quilters, the stockbrokers, the only time in his life that he was a paid employee. It did not last long as his itch to travel needed scratching. It did, however, give him an insight into how to manage not only his own financial affairs but also those of other organisations with whom he voluntarily became actively involved. His good fortune gave him the unique opportunity to contribute, which he did with energy and enthusiasm. He was Chairman of the Salisbury & South Wiltshire Museum, Vice Chairman of Friends of the Elderly, Vice Chairman and Treasurer of St Clare's College, Oxford, Vice Chairman and Treasurer of The Russian Refugees Aid Society, Finance Committee member of Oriel College Oxford, Senior Trustee of the Bullough Tompson Trust and Sarven Charitable Trust, and a Pratts Committee member, to name a few. He was also a longstanding and highly respected Chairman of Trustees for the Coldstream Guards Charitable Funds.
In January 1963, Roderic and Coldstream contemporary Richard Carew-Pole drove a Land Rover to Singapore. It took several months with adventures too many to mention here. They sold the Land Rover and then flew around the Far East ending up in Bangkok where fate played its hand, cementing Roderic's future happiness. The pair booked a temple bus tour picking up tourists from several hotels. At the smartest, an extremely attractive blond American girl entered the bus and sat just in front of them. Her name was Durie Desloge, the daughter of a well-respected and successful American family hailing from St Louis, Missouri. They immediately engaged her in conversation and, with Richard's encouragement, Roderic asked her out to dinner. They quickly uncovered many shared interests, particularly travel and culture. In short, they were smitten and married in the USA, two years later, with Richard as best man. They remained devoted to one another producing three children, Melinda and twins Ian and Fiona. They loved their London and Wiltshire homes before eventually selling up and settling in Guernsey, in 2010. Roderic was happy to have sold the London house to Jenson Button, the racing driver.
Very sadly, Durie died suddenly on a skiing holiday in Austria in 2014. Roderic considered returning to England to see out his life with his children and club friends but this never materialised. Mercifully, he died peacefully, if unexpectedly, in the company of Margaret (Meg) Sparks on a trip to the UK to visit friends and family. Following Durie's death, Meg was re-introduced having not seen Roderic since Oxford days. They provided each other with much needed companionship over the last years of Roderic's life. Durie would have been delighted.
Roderic often acknowledged that he had just been lucky. This may be so, but he shared that luck in so many ways with his family and an eclectic and wide-ranging group of friends and organisations. He will be sadly missed by them all.