Obituaries
Major Robert Woodfield MBE
Late Grenadier Guards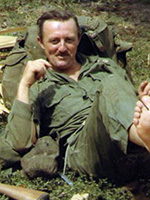 Bob Woodfield, who died on 27th August 2020, enlisted in the Regiment in 1948. After a posting from the 2nd Battalion in Krefeld to the Guards Depot as an instructor, he re-joined the Battalion for public duties in Chelsea where he was involved in the Coronation prior to appointment as Motor Transport Sergeant and a two-year tour in Egypt. He then served as an instructor at Sandhurst in 1957-58 before joining the1st Battalion as a Company Quartermaster Sergeant.
In 1959, Bob found himself in Ghana on a six-month secondment preparing the Ghanaian Army for the country's Independence ceremonies. This involved various drill courses and two Presentation of Colours parades. He returned to the 1st Battalion in time for a tour of the Cameroons as Company Quartermaster Sergeant of No 2 Company. He was then promoted to Warrant Officer Class 2 and posted as a Company Sergeant Major at Mons Officer Cadet School prior to being posted to the Guards Independent Parachute Company from 1963-66, deploying on a short tour to Cyprus and two tours in Borneo where the Company worked as an SAS squadron during the 'confrontation'. From 1966-69 he held the appointment of Assistant Drill Sergeant with the 2nd Battalion and, on promotion to Warrant Officer Class 1, he was posted to the Army Apprentices College at Arborfield.
Bob was the first Special Regular Commission officer to be commissioned in 1971. Major General Sir Evelyn Webb-Carter remembers that 'we had a problem with not enough officers for ceremonial so when it came to needing half section commanders of street liners for the State Opening of Parliament, I resorted as Adjutant to make Bob one but of course he had to wear a bearskin. This caused a hiatus with Peter Lewis, our wonderful QM and the eminence grise of such matters. He said it was quite improper for an officer commissioned from the ranks to wear a bearskin. In sentiment Peter was right and I was technically wrong. Anyway, we were so desperate that Bob wore a bearskin and Peter refused to speak to me for the next week!'
Bob was then appointed Motor Transport Officer of the 2nd Battalion before a posting to Belize as Inkerman Company Group and Garrison Administration Officer for 15 months. As Evelyn Webb-Carter recalls, 'I took it upon myself as Adjutant to carry out a 10-day patrol on the border, the patrol consisted of myself, the Sergeant Major, Bob, a signaller, LCpl Kyme, my orderly, the Sergeant Major's batman, and there must have been a couple of others. Anyway, we had our adventures and Bob, having been ex-Parachute Company, was the man who got us out of scrapes getting lost and inadvertently crossing the border into Guatemala. It was in fact a very tough 10 days and Bob was our mainstay throughout'.
Prior to retiring in 1983, he did two tours in Belfast: in 1973 commanding a special patrol group working in the Ardoyne where he was the lynchpin of the intelligence system, and in 1978 in Londonderry. He then served with the 2nd Battalion in Hong Kong and 8 UDR as the Training Officer; and as the Recruiting Officer at RHQ for his final regimental appointment. He will also be remembered for his time with the 1st Battalion in Berlin in 1979-81. His last posting as a serving officer was to the Army Cadet Force Training Centre at Frimley Park.
From 1983-1996, Bob was employed as the Cadet Executive Officer for Shropshire Army Cadet Force. Throughout his career, he showed a keen interest in sport, particularly athletics, fencing, football, cricket, and squash. Naughtily, when competing in Army Athletics competitions, he was happy to connive with his fellow Grenadiers in packaging the best team by cross-posting from one battalion to the other. The Micks, always the staunchest opponents, never found out! For many years he was heavily involved as an Army football referee and boxing judge. In 1996 he was appointed an MBE for services to the youth of Shropshire. He was twice mentioned in despatches for his services in Northern Ireland.
He retired to Alcester in 1999, the town of his birth, and was an enthusiastic Vice President of the Shropshire Branch (and also the Worcester and Hereford Branch) for many years. He also worked tirelessly for the Alcester Branch of the Royal British Legion and wrote a history of the Alcester soldiers who had died during the First World War. In the early 2000s, he was the Regimental Archivist at RHQ and succeeded Barry Double in expertly framing and re-framing the medals in the Regimental collection. He is survived by his wife Joan and their children Martin and Nicola and three grandchildren.