Obituaries
Viscount Runciman of Doxford
Late Grenadier Guards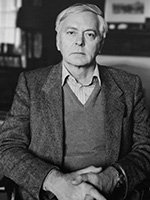 Garry Runciman, born in London in 1934, was the only child of Leslie Runciman, 2nd Baron Runciman, who had inherited the Anchor Line shipping company which his great-grandfather had founded in 1885; and Katherine Schuyler Garrison, whose family were prominent figures in New York society. Garry was shipped off to the United States during the Second World War and on return followed the family route to Eton and then on to Trinity College, Cambridge. However, before this, National Service intervened and he found himself embarking at Liverpool for Egypt with the 2nd Battalion, which had just returned to England after nearly seven years in Germany.
Before sailing, his father arranged for the Battalion to entertain its many old Liverpudlian friends by hosting a splendid lunch on board the troopship. Arriving in Egypt at the end of March 1952, the Battalion took up station in St. Pierre Camp in Fanara and began routine duties of training and guards, including participating in the Queen's Birthday Parade on Moascar polo pitch.
Having completed his National Service, Runciman returned to Cambridge as an undergraduate where he gained a First in both Classics and History. As a Harkness Fellow, he then went to Harvard and returned to Trinity as a Research Fellow in 1959. Four years later, he joined the family shipping business and went on to become president of Walter Runciman plc.
In parallel to his business career, he continued in academia and although his discipline was sociology, he wrote a number of books and articles that ranged widely across the humanities and social sciences, publishing papers on topics such as the origins of states in ancient Greece and accelerating social mobility in Anglo-Saxon England.
A third strand to his life was public service. At different times, he was treasurer of the Child Poverty Action Group, a member of the board of the British Library, and Deputy Chairman of the Securities and Investment Board. In 1991, the Home Secretary asked him to chair a Royal Commission on criminal justice in England. The most important recommendation of the Runciman report was the creation of the Criminal Cases Review Commission to investigate future potential miscarriages of justice.
Elected a fellow of the British Academy in 1975, he served as its president between 2001 and 2005, overseeing its centenary celebrations. He also edited a British Academy occasional paper examining the events, controversies, and legal issues surrounding the UK's invasion of Iraq in 2003. The report explores the inner workings of the Blair government at the time and the deeper themes of trust between government, the governed and the news media.
Known as 'the cleverest man in Trinity' and surely by default in the Grenadier Guards as well, Runciman died aged 86 on 10th December 2020. His widow, Dame Ruth Runciman DBE, is an eminent public figure with special interests in mental health and prison reform, and his son David Runciman an eminent Professor of Politics in Cambridge.