Obituaries
Captain Bill Palmer CBE DL
Late Grenadier Guards
by his son Howard Palmer QC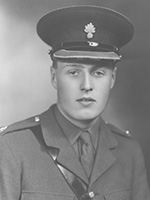 William Alexander (Bill) Palmer was born on 21st May 1925 in Down Street in London. He died at home on 31 October 2020, the last survivor of the fourth and final generation of Palmers to serve as directors in the firm of biscuit manufacturers, Huntley & Palmers of Reading. The firm had been founded by Bill's great great uncle, George Palmer, in partnership with Thomas Huntley, in 1842, and they had been joined soon afterwards by George's brothers William Isaac and Samuel Palmer, the latter being Bill's great grandfather. Bill's grandfather, Howard Palmer, had been Chairman of the company during the First World War and his father, Reginald Palmer, took on that role in the aftermath of the Second World War. It was therefore almost inevitable that Bill would join the firm and equally certain that, having joined, he would become a director.
The first Palmers who founded the firm were Quakers and pacifists, as was the Huntley family. It was therefore remarkable that Howard Palmer was praised personally by Lord Kitchener for his role in helping recruitment in the early period of the First World War, and furthermore turned over part of his manufacturing facility to the production of munitions. His son, Reginald, was commissioned as an 18-year-old into the Grenadier Guards and fought in France from 1917 until the end of the War.
Bill went to Eton in 1938 and his war there was uneventful other than a stray bomb falling on an empty building close to where he was undertaking a tutorial. In 1943 he went to Mons from where he was commissioned into the Grenadier Guards in March 1944. After a signals course in Scotland, he joined the King's Company in April 1945 just before the end of the war in Europe.
His son once asked him whether he had ever 'seen action', to be told that the nearest he had come to it was when his driver ('silly arse') had got lost at night on a particular route close to the front line. They had stopped to consult a map when a German soldier came up to them offering to surrender with a hundred or more comrades who were 'just over there'. Bill rapidly weighed up the pros and cons of accepting the offer and decided that discretion was the better part of valour; at least the approach of the soldier demonstrated how far off their intended route they were, and they made a rapid exit in the direction from which they had come.
At the end of hostilities in Europe, Bill was posted to the 3rd Battalion to Palestine which formed part of 1st Division engaged on internal security. He quickly learnt not to discriminate between the Jewish rebels and the Palestinians; both sides seemed equally keen to kill him. He spent a challenging two years in the Middle East in peace keeping operations in Acre and then Lydda until he was demobilised in 1947.
On his return home, he was immediately apprenticed into the family firm. This was rather like being subjected to the power and wrath of the Sergeant Major during training, in the knowledge that he would soon graduate as an officer/director. Menial and distasteful jobs on the shop floor were thrust at him and he undertook them with cheerfulness and good will. In due course the apprenticeship was over, and he soon became a director, involved in production. The science of producing and baking biscuits always fascinated Bill.
In 1948 and 1949 he courted and won his bride, Cherry Gibbs, whose father had also fought in the First World War (being a founder member of the Welsh Guards) but who had sadly died in 1945. Their life in Berkshire, close to the Reading factory, was interrupted in 1955 by a call to oversee the construction and commissioning of a new factory in Huyton, Liverpool. This venture was designed to take advantage of a post-war boom in biscuit consumption; sweet biscuits were on the ration book until 1950, and when they came off ration the floodgates opened.
When the new factory opened, the family moved to Cheshire where many new friends were made and kept for life. They remained there until 1963, and during this period the group saw a merger between Huntley & Palmers and W & R Jacob Ltd, famous for its cream crackers, whose English base was in Aintree, Liverpool. In 1963 Bill and his family returned to Berkshire to a house near Newbury, and a daily commute to the Reading factory, where he became Production Director for both the Reading and Huyton factories.
By the mid-1970's, biscuit consumption in the UK had stagnated, and the business sought to expand into snacks, chocolate and confectionery, as well as seeking overseas growth to increase their market share. In March 1982 the group, which then employed some 14,000 people in the UK, was targeted by the American giant Nabisco Brands Inc, which had a negligible share of the UK biscuit market. In spite being referred to the Monopolies and Mergers Commission, the takeover was concluded in early 1983. At that point, the Huntley & Palmer brand was discarded and all remaining members of the Palmer family left the company.
Bill's interests in the science of food manufacturing continued and he became Chairman of the Flour Milling and Baking Research Association in 1970; his services were recognised by the award of the CBE in 1983. That year, he was also made an Honorary Fellow of the UK Institute of Food Science and Technology. Huntley & Palmers had been the proud holder of a Royal Warrant since the early 1890s and Bill became President of the Royal Warrant Association in 1976. He continued to attend its annual events, including the Coronation Festival of Royal Warrant Holders' stands in the grounds of Buckingham Palace in 2013.
Without a job in Reading, Bill turned his attention to local causes. A local district councillor in West Berkshire (then Newbury District Council) and a Berkshire county councillor, he was also invited to become a member of the Council of Reading University, whose foundation had owed much to the generosity of George Palmer and his relations in the 19th Century. At the end of his tenure, he was offered an honorary doctorate. He chose law, so as to outdo his lawyer son, who was merely BA. In 1992, he became a Deputy Lieutenant of Berkshire.
Bill's parents and grandparents had been passionate collectors of fine Chinese jade and porcelain and, upon his mother's death in 1981, Bill inherited a fine collection, which he cared for with a passion and added to from time to time. Although naturally reticent, if he could be persuaded to show and discuss pieces in the collection, he would display a deep knowledge of the quality and history not only of the art itself (and how it was made) but also of the way in which the collection was built up over the years dating back to the early 1900s.
Bill was a great shooting man. Until he was 80, he ran two shooting syndicates, which operated on alternate Saturdays. Both of them involved Cherry in supplying traditional lunches for 10 or 12 guests every week during the season. He continued to shoot until he was 87. He also loved a small sporting estate in Caithness, which his father had bought immediately after the war. Here, in August or September every year, he would walk up grouse, over pointers, requiring a degree of fitness he was able to display until he was well into his 80s.
As well as a keen shot, he was an avid gardener and party loving host. He managed to display all his passions in one fell swoop when a granddaughter persuaded him to serve champagne and show parts of the Chinese collection to her and a group of friends. In the middle of a discussion about Chinese jade, interspersed with instruction on the correct etiquette for drinking champagne in polite society, he suddenly spotted a rabbit on the lawn attacking his prized roses. He made swift excuses, dashed up to an upstairs window, from which he shot the rabbit with a .22, and returned to continue the conversation as if nothing had happened.
He remained a passionate supporter of the Grenadier Guards and made huge efforts to attend celebratory dinners of The Queen's Company even after his mobility was much impaired by old age. His conversations at home, especially any form of reminiscence, would inevitably return to an anecdote of service with the Regiment, whether recounting his experience in post-war Berlin or an incident involving 'undesirables' in Palestine.

Bill is survived by his wife Cherry, their four children, eight grandchildren and 12 great grandchildren.