Obituaries
Robert Nicolle
Late Grenadier Guards
by his daughter Fi Norbury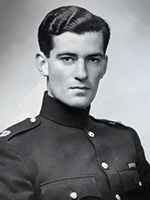 Bobby Nicolle died peacefully at home on 3rd February 2021, aged 86, after a prolonged period of poor health. Originally from Jersey, he was educated at Eton College, where he was Captain of Boats, and then on to Trinity College, Cambridge to read Natural Sciences before joining the Regiment in April 1957 as a National Service officer. He spent just over a year with the 3rd Battalion in Cyprus during the Emergency, for much of this time in dispersed company groups covering a large area surrounding Nicosia, employed on internal security operations.
In 1958, he joined the merchant bank Kleinwort Sons & Co and was a director of Kleinwort Benson Ltd from 1973–89, mainly working within the investment management division, and subsequently worked for Matheson Investments Ltd from 1989 to 2000. Other financial and trustee positions included being a Director of Colonial Life Insurance (1987-96), a trustee of St Thomas' and Guy's Hospital, adviser to the Worldwide Fund for Nature in Switzerland (formerly World Wildlife Fund), a treasurer for both HOST (Hosting for Overseas Students) and the Iris Fund, as well as promoting and fundraising for the Nightingale Fund and the Countryside Alliance. In 1998 he became Master of The Worshipful Company of Tallow Chandlers.
In retirement in Gloucestershire, he continued to pursue country sports and was an active fundraiser for this as well as his local church St Lawrence Didmarton, where he was a church warden. He was a keen gardener and in later life developed a love of painting, a skill he honed during numerous art trips with friends to India, where his father worked for many years as a civil engineer. With Carolyn he had three children, Darcy, Fiona, and Harry, and five grandchildren. A principled man with a fine mind and a love of the natural world, he will be remembered by those who knew him for his kindness and unfailing courtesy.