Obituaries
Michael MacKinlay-MacLeod
Late Grenadier Guards
by Malcolm Shennan
formerly Grenadier Guards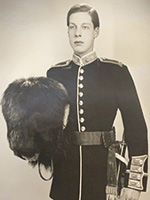 Michael died at home in Somerset with his close family around him on 11th December 2020 after a short illness. On leaving Eton, he was commissioned into the 3rd Battalion as a National Serviceman, and this was followed by Pembroke College, Cambridge, where he read economics. University didn't suit him and, failing to complete his degree course, he returned to Scotland, living in Renfrewshire where he worked for the family shipping line on the Clyde and entered wholeheartedly into life with A Squadron, The Ayrshire Yeomanry, based in Paisley.
In 1967 he married his second wife Dawn and moved to Gloucestershire. Michael had an interest in and wide knowledge of many things, not least 18th century English furniture. He was a countryman in every sense and owned a mixed farm near Broadway. From there he moved to Overbury and then Herefordshire, at all times remaining closely involved with the CLA. He much enjoyed game shooting, was a great companion and generous with his hospitality. He had a wide circle of friends whom he entertained with considerable humour; he loved people and was always interested in what they were up to and always had time for the younger generation.
A proud Grenadier, standing tall and immaculately turned out, I never remember seeing him without a tie, and his collection of ties was second to none. In the early 1970s, he went on a safari holiday to Kenya with Dawn and another couple. When I met him at the airport prior to departure, he was certainly dressed for the occasion, attired in shorts, long socks, desert boots, a boating jacket with Brigade tie and clutching his pith helmet.
We will all miss him, his generosity, his friendship, his humour, his wisdom, and interest in life.