Obituaries
Michael Giles
Late Grenadier Guards
by his son Peter Giles
formerly Grenadier Guards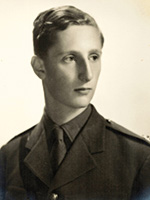 Michael Giles sadly succumbed to Covid-19 on 10th January 2021. Born in 1925, in Tonbridge Wells, the only son of William and Dorothy Giles, he spent his formative years at Radley College, where he kept wicket for the First XI. With the Second World War looming, his father, a highly respected officer in The Oxfordshire and Buckinghamshire Light Infantry, 'opened' a few doors for him with the result that Michael joined the Grenadier Guards. Sent to occupied Germany in late 1945, one tale of high jinks goes that, with a few friends, he stockpiled some German small arms with a view to selling them on return to the UK. However, upon arriving in Windsor, they realised how difficult this would be, so opted to dump them in the Thames. Twenty or so years later, while dredging the Thames along the Windsor waterfront, the authorities found a mysterious German cache of guns. At the time they concluded that there must have been a German secret sleeper cell based in Windsor!
Commissioned as a regular officer in 1945, he spent a large proportion of his career in Germany. He used to regale his family about his exploits, including his great love for hunting in the Black Forest and the shooting of wild boar. He also visited the remains of the Reichstag and made much of how he had spent time in Hitler's office. In 1948, he was seconded from Germany to Palestine to help administer the creation of Israel, although his family are not sure how long he spent there with the British Forces. He used to remark it was not much fun being shot at by both the Irgun and the Palestinians.
In 1951, after two years in the Guards Training Battalion he was dispatched to the 4th Guards Brigade in Germany as a GSO3. He spent a further two years with the 2nd Battalion in Berlin and Hubbelrath before attending Staff College in 1956, after which he was based at the War Office. In 1959 he once again returned to Hubbelrath to take command of a rifle company in the 2nd Battalion. His last position was as a Chief of Staff in HQ Libya. He left the Army in 1962 but still kept up his connection with the Regiment and was Vice President of the Essex Branch of the Association for many years.
On leaving, Michael found employment with the Ford Motor Company where he would remain a loyal employee well beyond his retirement age. His primary responsibility was in European sales, and as a result, managed to sustain a close connection to Germany. Climbing up through the ranks of Ford, he was eventually awarded the position of Europe Sales Manager. Such was his dedication to the company that upon reaching his retirement age he continued to work for Ford and was still a consultant for Jaguar and Mazda, who were at the time part of the umbrella company, until he was 85.
Upon retiring from Ford, he threw himself into charitable work, in particular Maldon MIND, where he was on the executive board of the Essex branch, and also Essex Churches. He continued to be involved in both of these until he entered Stowlangtoft Nursing Home at the age of 90. It is also worthy of note that from his 80s onwards, until the time he entered the nursing home, he volunteered at one of the Farleigh Hospice charity shops in Chelmsford, where he was apparently the life and soul of the party.
Michael's family life began when he first met Dominica Browne, who in the late 1950s already had a daughter Sarah from a previous marriage. In 1964 Dominica and Michael were married and the following year they had their first child Peter. Arrabella would follow three years later. Until the late 1970s the family lived in Chelmsford, Essex. Michael retained his interests in all things relating to sport and was a keen golfer and cricketer. Later he would become a member of the Essex County Cricket Club. In the late 1970s the family moved out to a small village on the outskirts of Chelmsford, where he remained until 2012, when he moved into rented accommodation.
He was a private man for the most part and it was only in his later years that he divulged some of things that he had got up to when in the Army. A grandfather, a father, and a dear friend, he will be sadly missed by his entire family. Such was his love for all things mischievous, that it only seems right by ending this obituary by saying 'Bop the Bird'.