Obituaries
Lieutenant Colonel Richard Seymour Corkran OBE
Late Grenadier Guards
by Lieutenant Colonel R G Cartwright LVO
formerly Grenadier Guards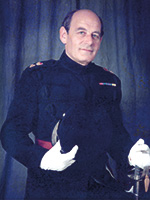 Richard Corkran was the last of several generations of Grenadiers in his family, including his maternal great grandfather, Colonel Horace Ricardo and his grandfather, Major General Sir Charles Corkran. However, Richard's passage into the Regiment was not a conventional one. In 1952 he left Bedford School and went to the Army Apprentices' College at Arborfield. Championed by Grenadier friends of his grandfather, Arborfield was followed by officer training at Eaton Hall and then Sandhurst.

Richard's military service was particularly varied. Commissioned into the Grenadier Guards in 1956, he joined the 2nd Battalion, followed in 1957 by the 3rd Battalion stationed in Cyprus during the EOKA emergency. In 1960, after a spell in the Guards Training Battalion, Richard re-joined the 3rd Battalion as their Signals Officer. In 1962 he volunteered for service in the King's African Rifles in Kenya. It was quite an experience as he was often the only British officer in a remote station, but it was one that he loved. He served with 5th Battalion King's African Rifles, the Military Training School and, after Kenyan independence, 3rd Kenya Rifles. He acted in a variety of roles: Administrative Officer, Training Officer, and Adjutant. He threw himself into this secondment heart and soul, initially becoming a colloquial Swahili speaker and then graduating to linguist, which led to him instructing in Swahili at the Military Training School; Idi Amin was one of his pupils. Richard, on his retirement from the army in 1991 was, for some 15 years, the Honorary Secretary of the King's African Rifles and East African Forces Association and is credited with a long overdue modernisation of the Association. He organised their reunions and started 'Rhino Link', their newsletter. 'Rhino Link' drew an increasing following and generated considerable correspondence. It still does and is now a glossy biannual magazine with a circulation of 300.

Richard returned from Kenya to the Regiment in 1965 and completed a staff appointment in 4th Guards Brigade in Germany in 1967, before returning to the 2nd Battalion in Wuppertal. 1967 was a significant year for Richard as, in October, he married Jane Paget, a marriage that was to be a source of great happiness to him for the next 53 years. Jane gave wonderful support to Richard in all his accompanied postings, even in the difficult conditions of Northern Ireland in the late 1970s. In Wuppertal, to Richard's delight, the Army quarters in Germany had cellars and it was only then that Jane discovered his interest in railways. Knowledgeable about the history of railways around the world, he had an extensive library on them. In Wuppertal he very quickly set to and built a model railway and Jane, realising that if you cannot beat them, join them, rapidly became adept at building miniature stations and villages for his layout. At dinner parties all the men would often disappear to the cellar after their port to 'play trains'.

Having attended the Staff College at Camberley, Richard returned to the 2nd Battalion and command of the Inkerman Company which was to go to British Honduras as an independent company group in 1971. Soldiering with Richard was interesting, demanding, and great fun. The small garrison in British Honduras did not know what to expect of the Grenadier Guards. Richard had given me the nickname of 'Killer' after a battalion exercise in Otterburn, a nickname that was not earned but was sufficiently incongruous to have stuck. With his mischievous sense of humour, Richard entered 'Killer' in the 'Name - Known as' column of the list of names that preceded our arrival in British Honduras. How disappointed the expectant members of the Garrison were!

While in British Honduras Richard, an Open University Foundation student, studied earnestly during quiet periods. He had a sharp mind and a flair for maths and technology. The tour ended with a threat of invasion by neighbouring Guatemala and a dramatic deployment to the border. Fortunately, nothing came of Guatemalan sabre-rattling, but it was certainly dramatic at the time. Richard's rifle company was happy, wonderfully trained and returned to England having benefited enormously from the experience.

From British Honduras Richard and Jane went to Singapore where Richard had a key job in the British Army Staff working under another Grenadier, Colonel Peter Thwaites, in the tri-nation ANZUK headquarters. Richard was in his element there and it was a job that became even busier when the British Army Staff was disbanded and Richard became the Brigade Major of 28 Infantry Brigade, a formation that was started from scratch with unknown staff and poor accommodation.

Richard, Jane, and a 13-month-old Claire returned from Singapore at the end of 1974 when Richard became the Senior Major of the 1st Battalion. In 1975 he gained his Open University BA Honours Degree, an interdisciplinary degree which covered all manner of subjects. His love of technology was on display at their home in Berkshire where the family lived for 34 years. He constructed a swimming pool entirely by himself (apart from digging the actual hole). The walls were reinforced by earth and embedded bottles – many wine bottles amongst them! He devised a method of heating the pool water by painting old radiators black and passing water through them and what seemed like miles of black hosepipe heated by the sun, thence into the swimming pool – remarkably like modern ground source heat pumps.

Alexandra was born in 1976, the year in which Richard attended the National Defence College at Latimer before being selected for promotion and command of the 8th Battalion of the Ulster Defence Regiment based in Dungannon, East Tyrone, arguably one of the more difficult commands in the British Army. He made a great success of his command and transformed the Battalion, deservedly earning their respect.

The family returned to England and Richard to a series of staff jobs in London at the Ministry of Defence, Headquarters London District, and with the National Employers' Liaison Council (NELC). Above all, it was with the secretariat of NELC that he made his mark. The Council was a new organisation and key to getting employers to understand the Territorial Army and the reserves. Richard was awarded an OBE for his work in 1991, the year he retired from the Army.

On retirement, Richard worked part time for the Foreign Office for a few months and then was appointed Chief Executive of the Berkshire County Blind Society (now Berkshire Vision), a job that he absolutely relished. His tenure there has been described as a veritable tour de force, when he focused on bringing as much comfort, companionship, and care to the Society's individual members as he could. He also built up the activities and outings for visually challenged children. On retiring to Sussex, Richard ran the Saltdean and Peacehaven Blind Club and was, for a spell, a Trustee of the Sussex Blind Society. He always enjoyed helping others and bringing plenty of laughter into their lives, with his slightly eccentric sense of humour.

Richard died in March aged 84 having suffered from Alzheimer's disease for several years. Many of his characteristics are summarised by the words displayed in a frame on his desk at the Blind Society and then at home in his study:

'The Glory of Life is to love, not to be loved, to give, not to get, to serve, not to be served; to be a strong hand in the dark to another in their time of need, to be a cup of strength to any soul in a crisis of weakness; this is to know the Glory of Life'.