Obituaries
Captain Robert Campbell
Late Royal Horse Guards
by Lieutenant General Sir Barney White-Spunner KCB CBE
formerly The Blues and Royals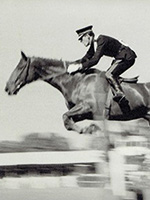 Sitting in the mess at Perham Down, where The Blues were temporarily based during the winter of 1968 as they converted to tanks from armoured cars prior to amalgamation and deployment to Detmold, three officers gloomily contemplated life without hunting. Bill Stringer, then Quartermaster, Richard Wilkinson, and Robert Campbell hit upon the idea of forming a pack of bloodhounds which, given that proper hunting had been banned in Germany by Goering (on the somewhat surprising premise that he found it cruel) would hunt a 'clean boot', the trail laid by a runner. Robert, being the most junior officer, spent the next weeks, when he should have been concentrating on his fire orders, driving instead around the British Isles collecting bloodhounds. After an uncertain night on the cross-channel ferry with him, three bloodhounds with uncertain stomachs and the physically robust Trooper Wildgoose all sharing one small cabin, Robert was relieved finally to arrive in Detmold. The Weser Vale Hunt went on to give enormous pleasure to generations of Household Cavalrymen and German friends and it was lovely that Robert, by then the only survivor of those founding masters, was able to come out to celebrate its 50th anniversary in the 'Nieheim Vale' in 2019.

Robert was born in what was then Rhodesia, where his father was farming, in 1942. Subsequently brought up in Sussex, he was sent to Ampleforth, which he loved ,and which gave him the two disciplines that would guide his life. The first was his unshakeable faith and accompanying respect for the Roman Catholic church and love of its ritual; the second was his love of hunting. It would be fair to say that his mastership of the Ampleforth Beagles was more distinguished than his academic record. He was also becoming a superlative horseman and from Ampleforth, in 1963 he joined The Blues. Initially posted to Herford, he was soon back at Windsor where he was able to concentrate on his horses. The Blues at that time had a wealth of equestrian talent: Jeremy Smith-Bingham, Pat Connolly Carew, and Mark Darley were all riding at international level and Jock Ferry, who went on to coach the Irish team, was Riding School Corporal Major. For the next few years at Windsor and later with the Mounted Regiment, then housed in Wellington barracks, Robert enjoyed an idyllic life eventing and show jumping, the latter very successfully on Kenbane Castle. His equestrian skill allowed him to escape the worst of Colonel Mark Darley's wrath even when the then Commanding Officer found the Queen's Life Guard still on the square long after they should have departed. Furiously demanding an explanation from Robert who, as the Orderly Officer had inspected them, Robert replied that he had been told not to despatch them until he had checked with Tim (Tim Gooch, the Life Guards Squadron Leader) who was nowhere to be seen. In icy terms Colonel Mark explained that Tim was the speaking clock.

The third pillar of Robert's life came in 1969 when he married my sister Charlotte. It was a superbly happy marriage and they were seldom apart for the next 50 years. They started married life in Detmold, where the newly amalgamated Blues and Royals were posted, sharing a tiny down-town flat, there being no quarters available, with one of the Weser Vale hounds who objected to living in kennels. Life on tanks in BAOR was, however, an acquired taste and what Robert really wanted to do was hunt hounds. Leaving the Army in 1970, he took on The Garth & South Berks country in a joint mastership with David Black who had also just left The Blues. Five very happy years followed, living at the kennels at Burghfield Common, and with Robert showing great sport in what was becoming a difficult country to hunt as roads proliferated and towns expanded. He had long held a fascination for hound breeding and he was able to work with the old Garth lines to breed a pack who began to perform as well in the show ring as in the field, although he would joke that he was one of the few masters who would compete show jumping on the same horse on which he had been parading hounds.

In 1976 he and Charlotte, now with Hamish and Emily in the family, moved to run his uncle's estate at Ankerwycke Priory, at Wraysbury between Windsor and Heathrow Airport, a wonderfully old-fashioned island in suburbia and which still had the yew tree under which Henry VIII was supposed to have wooed Anne Boleyn. Farming was a challenge, although Robert would remark that the end of Heathrow's runways made very good hay. In 1988 the family sold Ankerwycke and Robert and Charlotte bought Swell Buildings Farm between Lower Swell and Guiting Power and, most importantly for Robert, on the borders of the Heythrop and North Cotswold countries. His grandfather had hunted the North Cotswold during the war and he had always wanted to live in that part of the world. For the next 40 years they had a wonderful life farming, hunting and raising the family.

Life at Swell Buildings Farm was not perhaps as is usually portrayed in Cotswold magazines and my sister's priorities were books and dogs rather than creating the idealised Gloucestershire home; Robert's were farming and hunting, and increasingly National Hunt racing and thoroughbred breeding in which he acquired a hugely detailed knowledge. He also became a pioneering farmer, seeing very early the medicinal and culinary potential of rape seed oil, particularly as a British alternative to olive oil, and founding the highly successful company R Oil. Hunting was part of the pattern of his life, and although he would not hunt another pack of hounds, he got enormous pleasure from the Heythrop, who would regularly draw his reliably productive coverts. Never one to stay with the field, he was knowledgeable enough, and a sufficiently large landowner, always to do his own thing which meant that hunting with him was tremendous fun if, just occasionally, resulting in rather a long hack home.

This second half of Robert's life allowed him to live according to the values that were so precious to him: devoted to his family, besotted by his animals, dedicated to his farming, caring of nature, guided by the Roman Catholic church and absolutely true to the standards he had set himself as a boy. His friends would tease him about his apparent disorganisation and lack of punctuality but there can be few people in this world who knew as clearly as Robert what he wanted from life and then achieved it so successfully. His faith carried him through the all too early loss of Charlotte in 2015 and sustained him though his own mercifully short illness. He was still hunting last December but was taken by cancer in April 2021 aged just 79. The most decent, honourable and fulfilled of men, St Peter will have had an easy choice when Robert arrived, although he will now also know a lot more about thoroughbred breeding.