Obituaries
Brigadier Jack Thomas, CBE
Late The Life Guards and the Royal Military Police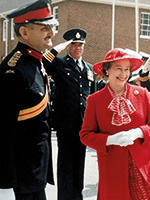 Brigadier Jack Thomas died on 29th January 2021, aged 94. He was born at Margam, Port Talbot in 1926 and educated at Port Talbot County School, where the actor Richard Burton and the trade union leader Clive Jenkins were contemporaries. Known as Jack, he followed his father into The Life Guards, serving as a trooper. A good fighter, on one occasion he dealt with the barrack-room bully, and finding himself in front of his squadron leader, was given the option of jail or a transfer to officer training. He chose the latter and was commissioned into the Welch Regiment in April 1945. Volunteering for the Army Commandos, he trained at the Commando Basic Training Centre at Achnacarry Castle, near Fort William. On one exercise, he abseiled down a rock face to help a Canadian commando, who jumped for Thomas's rope, causing him to fall almost 100 ft, fortunately without serious injury.
Following the disbandment of the Army Commandos, Jack Thomas transferred to the Parachute Regiment, and broke both ankles on one of his early jumps when his parachute failed to open. While in Palestine, in the tense period prior to the British withdrawal in 1947, Thomas's Jeep drove over a landmine during a raid on an airfield near Tel Aviv by the Zionist paramilitary organisation Irgun. He was the only survivor in the Jeep, and it was six months before he was able to return to his regiment and a year before he was able to speak, this time with a changed voice that earned him the name 'Squeaky Jack'.
In 1949 Jack Thomas transferred to the Royal Artillery, serving in Germany, England and later Hong Kong. He married Dorothea (Myfanwy) Williams in 1953 before seeing active service in Korea, where he was shot in the shoulder, which had to be wired together, leading to alarms being set off when he passed through airport security. After his time in Korea, he served again in Hong Kong and Germany and then, in March 1959, transferred to the RMP. He then served in Kenya as Deputy Assistant Provost Marshal during the Mau-Mau emergency. While in East Africa he sat on the selection board that recommended Sergeant Major Idi Amin for a commission, something he later regretted, believing that he may have been partly responsible for Amin's later rule as a despot.
In Germany, he commanded a provost company, before becoming an instructor at the All-Arms Junior Leaders Regiment at Tonfanau, North Wales. In 1970, he was promoted to lieutenant colonel, overseeing the RMP in its new civil role. With the introduction of internment without trial in Northern Ireland, and the increase there in attacks against the security forces, there was a requirement for more military police. Thomas recommended the formation of the first RMP regiment and became its first commanding officer. Appointed an OBE in 1972, at the end of his tour in Northern Ireland, his citation records his leadership during a period of escalating violence. His next posting was as Assistant Provost Marshal at HQ South East District, Aldershot. In those days, the RMP had a mounted section, and with his early cavalry experience with The Life Guards, Thomas was often seen mounted.
In 1980, as a brigadier, Jack Thomas was appointed Provost Marshal (Army). In 1982, a year before his retirement from the service, he became CBE, in recognition for his contribution as the Army's most senior military policeman. In 1985, he became director of security with a diamond mining company in Sierra Leone, and later served as a defence consultant.
Jack Thomas was a tall man, with a broken nose and cauliflower ears, gained in the boxing ring and on the rugby field. He had charisma, he was strong leader, a problem solver, a tough task-master, and someone who had the respect and affection of those around him. Honed as a 'teeth-arm' soldier with an almost unrivalled experience as a cavalryman, infanteer, commando, parachutist, gunner, and finally military policeman, he knew about soldiering from the sharp end, and could lead from the front. In retirement, he enjoyed family life, his horses and dogs, windsurfing, and The Daily Telegraph cryptic crossword. His wife, Dorothea, worked throughout their married life, specialising in remedial and dyslexic education. She survives him with their son, also a brigadier, and two daughters.
With acknowledgment to The Daily Telegraph