Obituaries
Miss Sybil Grant MVO BEM
by Major General Sir Evelyn Webb-Carter KCVO OBE DL
formerly Grenadier Guards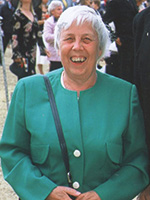 Sybil Alexandra Grant was born on 26th October 1935 and died on 12th April 2021, following a short illness. She had been PA to no less than fourteen Major Generals covering a period of some 40 years. She arrived in Horse Guards in about 1951 as a young 15-year-old working in HQ Brigade of Guards when Dickie Bird was the Superintending Clerk and Julian Gascoigne was The Major General. At some stage the PA to The Major General was away and Sybil was asked to step in for a few days. She later recalled that it was not an experience she enjoyed. However quite a few years later she took up the appointment on a permanent basis, probably when George Burns was the Major General. Thus, she became the legendary and faithful gate keeper of successive Major Generals until she retired in 2000. To quote a comment made on the online version of The Daily Telegraph obituary 'she was the Miss Moneypenny of the Household Division'. The current Major General remembers her well when he was a boy as his father John Ghika was the Chief of Staff at the time. Sybil was invited to Christopher's wedding.

Sybil was known as 'Miss Grant' by most of the officers in Horse Guards, although in later years she softened her approach and we were permitted to call her 'Sybil'. When I first arrived in Horse Guards in 1997, I called her 'Miss Grant' until the ADC told me that Sybil was upset, I didn't call her by her Christian name; I soon put that right. She was a fount of knowledge and advice to me as she knew just about everything that had ever happened in The Household Division and in Horse Guards. She was a powerful force in the Headquarters and jealously guarded the Major Generals with a ferocity which took some senior Guardsmen aback. One of my ADCs confessed he was more in awe of her than he was of me! However, she invariably bailed out grateful ADCs. She was a very private person and seldom opened up except it seems to the wives of Major Generals. There are many stories which bring a smile through the mists of time, as an ADC recounts:

'On one occasion I was in a particular hurry to change from a suit to uniform and I asked Sybil if she would mind if I changed in the office and she said: "No, as long as you haven't got anything different, as I have seen it all before!"'

Another ADC:

'She had a deep distrust, suspicion and dislike of computers; that first white boxlike monitor was kept firmly unused on the shelf for at least six months after delivery in favour of her beloved electric typewriter'.

And one of my ADCs had the temerity to ask her if she had been doing the job long….'I was PA to The Major General before General Evelyn even joined the Army!' That set him straight and she was right.

She was a close friend of Shirley Orford who was the long-term PA to the Chief of Staff and they were a formidable team. Shirley's daughter was Sybil's god daughter. They were neighbours around Cheam and at Shirley's instigation she took up bowls and this became a favourite past time for Sybil over several years. She was, however, an absolute stickler for adherence to the dress code; woe betide a newcomer who arrived in the wrong kit. She was churchwarden at St Alban's Church, Cheam, and, having moved on retirement to a bungalow in Ashtead, she regularly attended the local parish church.
She was also a supporter of the local Conservative branch and later became a member of the Grenadier Guards Association London Branch and was a faithful attender at their annual dinners. She shared the bungalow in Ashtead with Leone Pocock who was something of a celebrity as she was the owner/keeper of three dogs that had appeared on the Blue Peter BBC television programme. Sadly, she died a few years ago.

Sybil retired in 2000 and to mark this she was honoured by The Queen with the MVO; she already had the BEM and the Silver Jubilee medal and on retirement she received the Imperial Service Medal for long term service in the Civil Service. I remember jesting with her that she had more medals than I. She was well known in Buckingham Palace and had been invited to the Queen's Christmas Dance and was a guest of The Duke of Edinburgh's Household at two Buckingham Palace Garden Parties. My wife and I held a dinner party in 8 Cadogan Gardens for her to mark her retirement and ten of her Major Generals attended. All her 'boys' as she referred to the ADCs came for a drink; it was a very jolly occasion during which she was presented with a fine Household Division brooch.

Sybil was a wonderful lady who was such a support to many in Horse Guards but principally the Major Generals. Although she ruled the office unequivocally, she was loyal, discreet and held in great affection by many in the Household Division. Her passing will sadden many but her memory will live on with those who knew her.