Obituaries
Lieutenant Colonel Simon Fordham OBE
Late Welsh Guards
by Paul de Zulueta
formerly Welsh Guards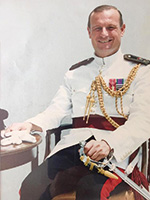 It was a measure of the respect in which Simon Fordham was held as the Commandant of the Military Corrective Training Centre (MCTC) in Colchester that he would often receive postcards from former 'detainees' letting him know how they were getting on in civilian life. These gave Simon great pleasure. He would point to his two years at the MCTC as the most rewarding time of his career. Simon was awarded the OBE for his tireless work and leadership during this period.

At the age of seven, Simon was sent to the preparatory school of Stonyhurst College, Hodder, in Lancashire. He showed early signs of a gladiatorial spark by winning the 'victor ludorum' and representing the school at rugby and boxing before moving on to the more imposing main school. Stonyhurst was founded by Jesuits, the college as austere in its appearance as the Jesuits who taught there. Amongst its eclectic former alumni are three saints, several Latin American presidents, and seven holders of the Victoria Cross.

Simon had no family connections with the Welsh Guards and joined the Regiment because RSM Stokes of the Stonyhurst College CCF, a man he had grown to admire, was a Welsh Guardsman. It was while playing rugby for the school that Simon acquired a noticeably chipped front tooth, something he kept throughout his life, and which gave him a faintly piratical appearance. The boy who gave him his chipped tooth later became his best man at his wedding to Suzie in the Guards Chapel in 1968. Stonyhurst not only left a physical mark on Simon; his unswerving Catholic faith sustained him throughout his life, particularly after he suffered a debilitating stroke in 2008.

As a young officer, Simon learnt his trade on a gruelling but successful operational tour with the battalion in Aden. A further demanding operational tour in Northern Ireland at the height of the Troubles in 1972 where he played a part in the capture of Ivor Bell, the IRA'S Belfast commander, and a period as chief instructor of the anti-tank course at Warminster, gave Simon the depth of experience he needed to build a successful career.

Simon made his mark as the Battalion's Second in Command in BAOR in 1984-6. It was a challenging period for the Welsh Guards, and personally challenging for Simon. The Regiment had suffered the tragedy of losing 32 men on the Sir Galahad during the Falklands campaign in 1982. Its Welsh hywl was at a low ebb. The Battalion's leadership as it prepared itself for BAOR and deployed to Hohne as part of 22nd Armoured Brigade was well intentioned but insensitive to the campaign's emotional trauma. As Second in Command, Simon worked hard to balance the conflicting demands of operational effectiveness and building back the Battalion's self-confidence. His integrity and competence shone through. He earned a well-deserved promotion to lieutenant-colonel.

Simon's selection as Commandant of the MCTC was an inspired choice. In 1987, it was a dire collection of Nissan huts which had not been upgraded since its time as a prisoner of war camp. Simon oversaw the centre's rebuild and the introduction of a tailored rehabilitation programme of physical exercise, academic and practical trade study, and specific counselling. Reoffending rates were 8% compared to 25% in civilian prisons. He firmly believed that if men were to be locked up, then helping them to lead worthwhile lives afterwards should be the MCTC's overriding priority.

On one occasion, a soldier went on strike refusing to wear anything but a blanket. Several senior non-commissioned officers were called in to 'straighten him out' but to no avail. Simon went to talk to the soldier and after five minutes the soldier agreed to step back in line. Simon never let on what he had said to the soldier nor, apparently, had he cause to raise his voice. But those who knew Simon well would not have been surprised. Beneath a gruff exterior, Simon was a man of great humanity, warmth and understanding.

Simon's next appointment as defence attaché to Cameroon on the Gulf of Guinea in West Africa was a stark contrast to Colchester. But it was a change that Simon and Suzie and their four children willingly embraced. Simon always had a healthy sense of the absurd. Cameroon has 250 native languages where pidgin English is the only common tongue. Its cultural heritage derives from both France and Britain. Twice the size of the UK, its geography is arresting, comprising coastal plains, desert, mountains, rainforest, and savanna. The posting played to Simon and Suzie's sense of adventure and gift for getting on with people from every walk of life. They were also able to welcome the Welsh Guards 'Roof of Africa' expedition led by Captain John Warburton-Lee whose team climbed every African peak over one year. It was during The Prince and Princess of Wales's trip to West Africa, which Simon orchestrated, that he was awarded the OBE by the Prince for his work at the MCTC.

Simon got on particularly well with the British ambassador who recommended that Simon should be the next Governor of St Helena. He was amused by this suggestion and put it down to some implausible link between Napoleon's incarceration on the island after the Battle of Waterloo and his experience at the MCTC. The Foreign Office did not take up the ambassador's recommendation.

Simon recognised that the best of his Army years was now behind him and with Options for Change casting a shadow over the Army's future, he decided to take up voluntary redundancy. He left in 1992, and Simon and Suzie put down their roots in Mells in Somerset, a village with a small tight-knit community, a grade 2 listed war memorial by Lutyens, and a fine 14th century church.

Simon and Suzie were a welcoming and gregarious couple who gave much to their local community. Simon led the campaign to keep the village post office going. He invited Mary Berry, star of the Great British Bake-Off, to open a new village shop and café. He also became a director of the Royal Society of Arts for the West of England and Wales, leading many initiatives to promote the arts and good environmental governance.

In 2005, Simon ensured that the 400th anniversary of the Gunpowder Plot was marked by a robust debate in the village barn and the raising of glasses to the memory of Guy Fawkes and his fellow Catholic martyrs. He also organised a commemoration for the 90th anniversary of the Battle of the Somme.

In 2008, Simon suffered a severe stroke. He was unable to speak and remained in a wheelchair for the rest of his life. He learnt to live in his own world and in himself, none of which he would have been able to achieve without Suzie who cared for him beautifully. He was a devoted pilgrim to Lourdes each year with Stonyhurst and the Catholic Association. Every day, he went to Mass in the village said by his old friend from Stonyhurst, Bishop Crispian Hollis. On his way home in his wheelchair, he would always pause for quiet reflection at the war memorial with its moving inscription:

'We died in a strange land facing the dark cloud of war
and this stone is raised to us in the home of our delight'

Bishop Crispian, who gave the homily at Simon's funeral, spoke of his final years of suffering as 'contemplative' where he achieved a rare nobility of spirit.