Obituaries
Major J W Oakes
Late Irish Guards
by Brigadier Christopher Wolverson OBE DL
formerly Irish Guards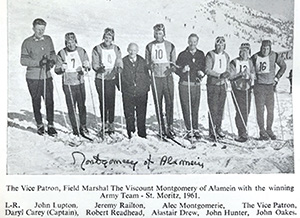 Major John Oakes was born on 23rd September 1932 in Bury St Edmunds and died on 23rd May 2021 at home in Gloucestershire. He was educated at Downside and the RMA Sandhurst. He was commissioned in February 1953 and joined the Battalion.

John was appointed ADC to General Dick Hull, GOC British Troops Egypt in 1954 and subsequently was Assistant Adjutant at Sandhurst. He was on active service as Regimental Signals Officer with the Battalion in Cyprus in 1958. His final posting was in Hubbelrath in Germany commanding No 2 Company with the Battalion, which I joined in 1962. He retired from the Army in 1962.

Besides his military service he had a distinguished skiing career. He gained his first Army colours in 1955. He was Captain of the Army Skiing Team in 1957. He was Combined Services Alpine Champion in 1959 and 1960. He was a Captain of the British Olympic Games Alpine Team in Squaw Valley USA in 1960. The team's Austrian trainer paid tribute to 'Oakes's fighting spirit which made up for his rough slalom technique'. He was the best placed of the British team in the Giant Slalom. He was the Army Downhill Champion in 1961.

He joined the Kandahar Club in 1955 and was its captain from 1958 to 1960. He competed with some success in Murren's Annual Inferno Downhill, a long-distance race over unprepared snow with few control gates. This was at a time when Field Marshal Montgomery took an interest in the race.

Besides his skiing success on the slopes, he found love there. The Irish Guards uncle of the present Chief of the General Staff suggested to his then girlfriend, Annette Swire, the daughter of an erstwhile Commanding Officer of The Royals, that she should invite a brother officer, John Oakes, to join her chalet party that winter. She had no idea of his skiing prowess. On the first day she told him that the rest of the party were good skiers. John was at the bottom of the run before the rest had started! She returned engaged to John Oakes.

After John left the Army he worked mainly in the City and at Lloyds. In retirement, he held senior appointments as a Non-Executive Director and Vice Chairman in the South West Mental Health Trust. He was the High Sheriff of Warwickshire in 1996.

He will be remembered for his gentle, modest, kind, honest and understanding manner. There was ever a twinkle in his eye. There was nothing he enjoyed more than playing the piano and entertaining his grandchildren.

Sadly, Annette died just as this edition was going to print. We send our deepest sympathy to their three children.