Obituaries
Major E J A Vaughan
Late Coldstream Guards
by Colonel D D S A Vandeleur
formerly Coldstream Guards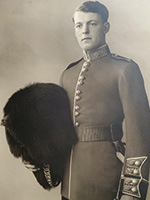 John Vaughan died on 4th July, aged 92, after a struggle with dementia latterly and, since 1964, long-term disability, following a traffic accident which occurred as he was about to take up the post of Brigade Major at Horse Guards. He was an able officer who had a promising military career ahead of him until cruelly struck down. His talents were then put to good use in the City where he forged a successful 20-year stock-broking career.

Born in London in 1928, John was an only child of quite distant parents who emigrated soon after the Second World War. Educated at Scaitcliffe and Eton, where he excelled, especially at mathematics; during the war he was enrolled to help teach the younger boys due to a shortage of teachers. His housemaster, F J A Cruso, wrote to the Regimental Lieutenant Colonel of the day saying, 'He is a very sound, responsible boy, hard-working and well liked. He is not a star performer at games but recently he came on a great deal at rowing and was a member of Hartley's House four. I always found him a most likeable and friendly person and I am sure that he will make a good officer'.

John ought to have gone to university but his father decided that a military career was the way forward and following National Service in 1946, John entered Sandhurst in 1947 and commissioned top of his intake in 1948. Four cadets were accepted into the Regiment from his intake, from 25 candidates. In his own words, he wrote, 'I was posted to the 3rd Battalion, which was engaged in Junior Leader training for the Army. We lived in Royal Pavilion, a temporary wood and paper building erected in the 19th century to house Queen Victoria when inspecting troops. It was the dampest, flimsiest building in which I have ever lived; the best part was the extensive brick-built stables'.

In 1949 the Battalion moved to Victoria Barracks, Windsor to find public duties in Windsor and London. In early 1950, the Battalion moved to Wellington Barracks in London, where John was selected as the Ensign for the Escort on the King's Birthday Parade. In November he embarked on the troopship Empire Test for Libya, where the 3rd Battalion replaced the 1st Battalion. Based in Gialo Barracks, Tripoli, the Battalion exercised in the desert whilst fitting in a Birthday Trooping on the outskirts of Tripoli.

At his own expense, John flew home from Tripoli to be married, on 12th July 1951, to Susan Moore, a childhood friend. In those days, there was no allowance provided for officers who were married at the age of 22 years. The honeymoon was truncated, but so began a happy marriage which was to last for 70 years and produced two sons, Rupert and James, neither of whom were to follow their father into the Coldstream.

John's regimental CV continues to read impressively: 1952-54 Transport officer responsible for 90 vehicles; 1954-56 Adjutant Eaton Hall Officer Cadet School; 1957 promoted to major; 1957-58 company commander in the 1st Battalion and posted to BAOR; 1958 student at the Army Staff College Camberley, where he excelled; followed by a posting as GSO2 Ops in Headquarters 2nd Division in BAOR; 1962 company command in the 2nd Battalion; and 1963-64 appointed Regimental Adjutant, commanding the Regimental Headquarters staff and the band, responsible for the records and postings of 1,500 Coldstreamers. The Regiment at that time was twice the size it is today. And ahead of him his career was mapped out as Brigade Major, promotion to lieutenant colonel, instructor at Staff College, command of a Coldstream battalion. Sadly, this was not to be, following a dreadful traffic accident on the London Road, which left him in a coma for two weeks on death's door and with a permanent disability. He was medically discharged from the Army in November 1967.

The Regiment's loss was the City's gain. John joined the City firm of Grieveson Grant. In modern parlance, he would be described as 'Head of Compliance'. One feels certain that Grieveson Grant would have been fully compliant with all the new regulations following 'Big Bang'. He prospered in the City for 20 years, managing the firm's takeover by Kleinwort Benson, retiring at the age of 60 in 1988. In 1993 he and Susan moved to the lovely village of Sutton Montis in Dorset before a final move into Sherborne in 2011.

His final decade was a tough one, where his disability combined with old age made life difficult, for both him and Susan, who cared for him loyally. But John was a fighter, believing that no situation could not be improved by greater effort. It was not in his nature to 'go gentle into that good night', to quote Dylan Thomas. He remained a loyal Coldstreamer to the end and was a regular and generous donor to Regimental Charitable funds. He was the Regimental Adjutant's most regular telephone caller for many years, never failing to remind the author of his time as Regimental Adjutant. No week would go by without a telephone call from John, asking about what the Regiment was up to. He remained positive, challenging and interested in all about him, until very sadly dementia got the better of him.