Obituaries
Colonel Martin Maxse LVO DL
Late Coldstream Guards
by Colonel H M C Havergal CVO OBE
formerly Coldstream Guards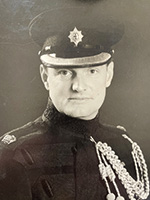 Martin Maxse who died on 20th April 2021, was the son of a Coldstreamer, Grandson of Lieutenant General Sir Ivor Maxse, Commander of the 18th Division and the 18th Corps in the Great War, Great Grandson of Admiral Frederick Maxse who had been ADC to Lord Raglan in the Crimea and whose elder brother Sir Henry Fitzharding Maxse was, as a young officer, ADC to Lord Cardigan and the only Guardsman or infantryman to ride in The Charge of The Light Brigade.

Martin was born on 5th January 1935, the second son of John and Dorinda Maxse who were then living in London, where John Maxse was serving in the Coldstream. Two years later John Maxse retired from the Army and the family moved to Little Bognor the home of General Ivor Maxse, John's father. Here, with his brother Anthony, Martin led the life of wonderful freedom enjoyed by country children in those far-off days, but were very frustrated that, during the Battle of Britain, they had to take shelter while the battle raged overhead rather than stand outside and watch the action with their grandfather. In 1943, Martin followed Tony to Amesbury School at Hindhead. The owner and Headmaster was Tom Reynolds, a great friend of Field Marshal Montgomery who after the war kept Monty's caravans at the school. Martin went on to four happy years at Eton where he made lifelong friends.

Martin joined the Brigade Squad at Caterham three days after the Coronation in 1953. He was commissioned into the 3rd Battalion at Pirbright in 1955. His grandfather delivering him to the Orderly Room and, looking glumly at the Pirbright black huts, remarked 'Good Lord are they still using those, I condemned them in 1907'.

Martin's life then followed the normal cycle of a young officer in a Foot Guards Battalion: Public Duties in London and Windsor, Germany during the Cold War, a final hurrah for fun colonial soldiering in Kenya, and a taste of action in Aden and South Arabia as the sun set on the Empire.

On 19th September 1959, Martin made the best and wisest decision in his life when he married the beautiful Penelope Chichester. So began that wonderful partnership which was to last for 59 years and would take the Maxses all over the world as Penelope selflessly and happily followed the drum until, many years later, they would arrive safely back at Hall, Penelope's ancestral home in Devon.

In 1968 Martin underwent a year at the Army Staff College which he did not particularly enjoy. To his surprise and delight he was then appointed Adjutant of the Royal Military Academy at Sandhurst. This was a position to which he was ideally suited, in which he excelled and his example was much respected by cadets and staff alike, despite serving a controversial Commandant. He left Sandhurst in 1970 to command No 3 Company, 2nd Battalion with responsibility for the notorious Lower Falls area of West Belfast.

Under the command of Colin Wallis-King, the Battalion did not fire a shot in anger and did not have a single casualty during a highly volatile four-month tour. The Battalion's discipline kept this hostile area calm, using firm sympathy, constraint, humour and a refusal to over-react. This achievement made a deep impression on Martin. During his next three Northern Ireland tours, all of which were in the Springfield Road area of West Belfast, he strove to follow the Wallis-King doctrine, a position he would stoutly defend years later in the face of disagreement with his superiors during his final tour in Belfast commanding the 1st Battalion.

In 1973, Martin joined the staff in Hong Kong as the staff officer for discipline and ceremonial. Among his duties was the organisation of The Queen's Birthday Parade of 14 Guards, including the very Maoist and reluctant Hong Kong Fire Brigade. In 1976, Martin became Assistant Adjutant General at London District, being responsible for ceremonial in London, along with the Brigade Major. In 1977, he planned The Queen's Silver Jubilee Procession from Buckingham Palace to St Paul's which he then led on horseback. In recognition of the key role he had played in ensuring the success of the celebrations, he was made an LVO.

Later in 1977 he achieved his ambition when he was appointed to command the 1st Battalion. Stationed in the relentlessly competitive world of the British Army of the Rhine, the perspicacious Divisional Commander was greatly relieved at last to find one of his most able Commanding Officers not consumed by his own ambition and one who was also an experienced and thoughtful expert on soldiering in Northern Ireland, where Martin was to take the Battalion for a further four-month tour.

On relinquishing command in 1981, Martin was appointed Regimental Lieutenant Colonel, a post his grandfather had filled eighty years earlier. This was a position which gave him considerable satisfaction and which he much enjoyed. In 1982 he had the honour of commanding The Queen's Birthday Parade, an occasion memorable for the drenching deluge which soaked all those on parade and filled the brim of The Queen's tricorn hat and the lap of her habit with water. As President, he entertained The Queen to Dinner at the 200th Anniversary of the Nulli Secundus Club. In 1987, having returned to the General Staff, he retired.

He and Penelope settled at Great Fisherton where Penelope had been farming since 1972. On her father's death in 1995, Penelope inherited Hall in unexpectedly straightened and difficult circumstances and so began the daunting task of modernising and restoring this ancient estate which had belonged to Penelope's family since the early part of the 14th century, decades before King Edward III's great victory at Crecy, and over a century before the birth of Leonardo da Vinci.

With great determination, Martin worked out how best he could help Penelope and over the years he became recognised as a skilled and resourceful estate manager. His fine brain accepted what he did not know and in these respects he was very well served by his chosen expert and trusted advisers. As he had done in the Regiment, he took great pains to know and understand Hall's tenants and staff, by whom he would have been greatly surprised to learn he was held in much affection. For services to Devon he was appointed Deputy Lieutenant. With great justification, Martin was very proud that during Penelope's life, themselves living plainly and simply, Hall's fading fortunes were restored as they were to leave this glorious property not only intact but expanded.

As a young officer responsible for the Brigade Stables at Hyde Park Barracks, Martin attended the Long Equitation Course at Melton Mowbray where his great great grandfather had been a founding member of the Melton Hunt Club. As part of the syllabus he went hunting in High Leicestershire which he thoroughly enjoyed but rarely pursued thereafter.

Martin had taken up polo in Germany in the mid 50s, a game he loved. He was a founder member of The Guards Polo Club at a then wonderfully informal and friendly Smith's Lawn. Pick up chukkas on Thursdays and matches at the weekend, children played on the grass a safe distance from the play. He would later serve on the Committee for many years and as a Vice Chairman of the club. Martin would also play polo at good middle goal level in Kenya, Aden and Hong Kong A teammate remembers him being only slightly less noisy on the field than his oft times opponent and long-time polo friend Prince Philip. With Raoul Robbin, he won the Inter Service Real Tennis Championship in 1961, the only year the tournament was held.

Martin enjoyed London. Having left The Cavalry and Guards Club, objecting to being addressed at a public meeting by a too noisy Vice President, he made his way to Boodles where he felt at home, as he did at Pratt's where he was a member for almost fifty years. Best of all he enjoyed the Something Club of which he was a founding member 64 years ago and whose company is greatly diminished by his departure.

Martin read voraciously and was well informed. He loved poetry, knew much by heart and was able to recite long passages. He also had a rare gift for making friends with all sorts and conditions of men as with the cabmen with whom he used to share tea, wads and stories, in their shelter in Eaton Square.

In these later years when Penelope was very unwell, Martin devoted his whole life to her care and comfort. Sadly, Penelope died in 2018; thereafter he contended bravely and cheerfully with his own infirmities.

Martin is greatly missed by us all and our heartfelt sympathy is with their children Clare and Charles.