Obituaries
Lieutenant Colonel Oliver Breakwell LVO MBE
Late Coldstream Guards
by Captain Richard Clowes DL
formerly Coldstream Guards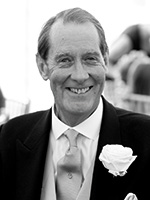 Oliver Breakwell died on 25th May, aged 75, after a long illness, bravely born. He was a popular regimental officer who was Commandant of the Guards Depot 1987-89 and, in a successful second career, was Secretary of the Turf Club and Pratt's.
Born in Wiltshire, Oliver was educated at Bryanston School followed by Strasbourg University where he learnt French. Initially, he wanted to join the Royal Air Force, however he quickly saw the light and followed his uncle, another Oliver, who was killed in North Africa in 1943 while serving with the 3rd Battalion, into the Coldstream Guards.

After Mons he was posted to the 1st Battalion in Tidworth, part of the Allied Command Europe Mobile Force. This involved much winter warfare training, and Oliver was to become a very proficient skier. He also achieved his ambition to fly by training on Sioux helicopters, later converting to the Gazelle and completing a tour with Army Air Corps based in Netheravon. Following a Grade 3 staff job he returned to the 1st Battalion as No 1 Company Commander in Fallingbostel, then to Caterham which involved commanding the Escort on the Queen's Birthday Parade in 1982, a company exercise in Belize, and a four-month tour of South Armagh. After the latter he was awarded an MBE for his outstanding leadership with an eclectic mix of officers that included a future Major General (Bill Cubitt), a future leader of Guildford Council (Stephen Mansbridge), and a future charismatic vicar (Willie Pearson-Gee).

After a Grade 2 job at Warminster he was appointed 1st Battalion Second in Command in Caterham and Hong Kong. On return, he was promoted to lieutenant colonel and appointed Commandant of the Guards Depot. He cared greatly about all those he commanded and it was a happy place whilst he was in charge.

He served for a further eight years with staff appointments in Wilton, Warminster and at PS 12 in the Ministry of Defence, retiring in 1999.

Post the Army, Oliver became Secretary of the Turf Club for 13 years followed by 6 with Pratt's. He was a great success and much respected by both staff and members. He was brilliant at the job and ran the Turf Club tents at Goodwood, Ascot, and Cheltenham with charm and military precision. His great success was staying in the background, whilst running everything with a light touch. A former Chairman of the Turf Club said he ran the Club superbly as he was far more of a gentleman than most of the members.

Soon after leaving the Army, he was also appointed a Gentleman Usher to Her Majesty, a role that well suited his personality. He was appointed an LVO for his 15 years of loyal service.

Oliver was one of the smartest officers of his generation, tall, good looking and with a fine posture. He commanded with gentle authority and light humour, caring for everyone he was responsible for with great loyalty towards his subordinates. He had tremendous charm with natural honesty and integrity. He always brought great fun and enjoyment to his soldiering, even on the grimmer days. In 1986, when stepping up to command the 1st Battalion on the Hong Kong border with China, with Johnnie Wardle, the Commanding Officer, on his R&R break, Oliver had to deal with an onrush of illegal immigrants late one night in the No 2 Company area of responsibility. An agitated Deputy Brigade Commander arrived on the scene to oversee the company commander, Simon Vandeleur, who was trying to deal with the chaos, as hundreds of illegal immigrants emerged from the darkness. Oliver arrived shortly afterwards and dealt with the high-level visitor in his normal charming way, defusing the situation, thus allowing No 2 Company to restore order as best they could.

In 1973 while training with the Army Air Corps in Cyprus, he met Suzie Heal, from Norfolk, at the Harbour Club. They were engaged within two months and married within nine. It was an outstandingly happy marriage and produced Sophie and Henrietta who, in turn, married Rupert and Harry. He was 'Golly' to their children, Freddie and Arthur, and Grace and Toby, all of whom he was immensely proud. They made their home in the Wylye Valley for 38 years. Unusually, they managed to live in the same house throughout Oliver's career, apart from postings in Hong Kong and Pirbright. There he loved his tennis, gardening, family holidays, racing (he had shares in several steeplechasers), and entertaining his many friends.
Oliver was the epitome of a Coldstream Guards officer and courtier, a truly outstanding representative of the Regiment.