Obituaries
Captain Ian Thorne
Late Grenadier Guards
by Major General Sir Evelyn Webb-Carter KCVO OBE DL
formerly Grenadier Guards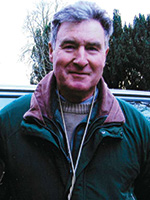 Ian Thorne died on the 17th June 2021 after a prolonged illness. He was born into a staunch Grenadier family, his grandfather being General 'Bulgy' Thorne and his father, Major George Thorne and two uncles also wartime Grenadiers. After leaving Eton, he went to Sandhurst where he passed the 'Edward Bear' parachute course but I doubt it ever crossed his mind to join the Parachute Regiment as he was always a committed Grenadier. Ian then went up to Trinity College, Oxford where he met Sir Basil Liddell Hart who inspired him to take a lasting interest in military history. That interest continued throughout his life and although he never published a book he wrote many essays and commentaries on strategic subjects of the 19th and 20th Centuries of which he had acquired an enviable knowledge. His prodigious library at Kneesall would match that of any leading military historian.

Quite soon after commissioning, in 1965, he was attached to the Welsh Guards in Aden during the insurgency and there among his operational duties he joined the Battalion choir as a worthy bass. He used to recount an occasion when on patrol he would send an instruction around the patrol and, in order to confirm their acknowledgement, he would pass his silver pencil so that when it came back he could be satisfied all had received the message. However on one occasion the pencil that returned was a chewed stub of a wooden pencil. He swiftly abandoned the practice! He served mostly in the 1st Battalion Grenadiers Guards where he tended to observe the tactics of the Battalion through the prism of grand strategy which was not always appreciated by his superiors.

During 1971/72 he served in Northern Ireland with the 1st Battalion and whilst there all the subalterns were required to write a paper called The Young Officers' Winter Essay on a subject normally set by the Senior Major. Ian submitted his one page which consisted of one sentence 'this question does not make sense; therefore I am not going to attempt to write a response'. His view was shared by us all but no one else dared say so.

In the same year he went to Oman to serve as Adjutant with the Northern Frontier Regiment so he had seen rather more operational service than most of his contemporaries. He might well have been a brilliant officer in wartime but he realised that he was not entirely suited for the Army of the 70s and left in 1972. For a short time, he applied his first-rate mind to defence policy at Conservative Central Office but in 1974, after inheriting the 4,000-acre Kneesall Estate in Nottinghamshire through his mother's family, he threw his energy into estate management and devoted the rest of his life to country affairs.

Determined to diversify the estate, he soon established a number of projects including a café, a children's nursery and an equestrian centre. He was a keen manager of woodlands and was Chairman of the Timber Growers Organisation for seven years and then Chairman of the Royal Forestry Society in Nottinghamshire and Derbyshire for three. He was President of the Newark and Nottinghamshire Agricultural Show from 1998 to 2002 and was High Sheriff for the shrieval year of 1986-87 and at about that time I stayed with him at Beauchamp Barn, a lovely home he designed himself. He was involved in many other Nottinghamshire charitable organisations.

Ian was always a generous host and held several parties in the garden at Beauchamp Barn for local dignitaries and friends. His main recreations were cricket and shooting. Known as just 'IDP' (Ian David Peel), he played for I Zingari and Eton Ramblers where he was a popular player. In his earlier days he was a keen player for the Guards Cricket Club at Burton Court. He used to say he had 30 days a year on each sport. He was a liveryman of the Cook's Company.

In 1990 Ian wrote a book, entitled Purple Patches which was charming, pithy and witty, and quite an achievement. It included his thoughts on various issues: landownership, shooting, Nottinghamshire, and military history. It epitomised his love for the countryside and its pursuits and he would do all in his power to encourage others. Above all he loved the Kneesall estate but he also had a strong affection for Thoresby, the connected estate that his cousin Hugh Matheson inherited. Hugh wrote of him:

'…for 45 years he behaved with the greatest respect and support for the Thoresby Estate and community. It is our honour that his remains will rest in his ground in Thoresby oak made by the Thoresby joiner.'

He married Paula in 1992 and leaves a daughter, Davina, who is an award-winning film producer co-directing the Channel Four hit series Britain's Abandoned Playgrounds as well as event managing for world class companies. He also leaves a stepdaughter and stepson who, in 1992, won the Olympic Silver Medal for Great Britain in the 4x400 metres in Barcelona. We convey our thoughts and sympathy to all his family.