Obituaries
WO1 (RCM) John Cowdery
Late The Blues and Royals
by David Cowdery
CEO and Club Secretary
The Cavalry and Guards Club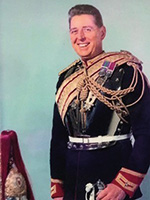 John Cowdery was born in Kingston-upon-Thames in 1931 and his early memories include spending many nights in the family air raid shelter during the wartime bombing of London by the Luftwaffe.

During the latter part of the war John spent much of his free time learning to ride and manage horses, including driving a pony and trap at a nearby stables on Kingston Hill, and he was always destined to be involved with equitation thereafter.

Leaving school in the summer of 1948, John spent a short time as a trainee electrician before joining the Army as a regular soldier in Autumn 1948. He was determined from the start to join as a regular soldier rather than waiting for a National Service call up.

His aim was always to join the Household Cavalry and he initially enquired about joining The Life Guards until he was steered towards The Royal Horse Guards by his acquaintance with ex-Blues RCM Jobson, who ran a pub near his home. On 13th January 1949 John reported to the Household Cavalry Training Squadron at Windsor and became 22205274 Trooper J Cowdery.

On completion of his training at Windsor, Trooper Cowdery moved to Knightsbridge for training in state kit and within a year of passing out he was promoted to Lance Corporal. After a short period in the troops he was posted to Windsor as a training non-commissioned officer. It was at Windsor, in 1952 that he became involved in Regimental Coaching for the first time. The story is that the then Commanding Officer, while carrying out a barrack inspection, came across the Blues' regimental coach languishing in a locked shed where it had been since before the Second World War and decided that it would be 'fun' to bring it back into use.

Lance Corporal Cowdery, with some previous experience at driving horses, was the ideal man for the job and with some assistance and a pile of very tired coach harness from the Duke of Wellington's estate at Stratfield Saye (courtesy of the Adjutant – the Marquess of Douro), he rapidly organised the coach team into a going concern. Throughout his service and beyond, John was involved in coach driving whenever the opportunity arose at home and overseas.

John married Pat in September 1954 and had four children, David, Susan, Andrew, and Debra (the latter two being born at Rinteln in West Germany whilst John was serving there).

John continued his regimental career and was promoted steadily through the ranks. He served at both the Mounted and the Armoured Regiments in BAOR, Cyprus in the EOKA years and in the UK until he reached the rank of Warrant Officer Class II (RQMC) at the Household Cavalry Mounted Regiment.

In 1969 after serving on the escort for the Investiture of The Prince of Wales, John was promoted to Warrant Officer Class I and posted as Garrison Corporal Major at HQ 1 British Corps, Bielefeld in BAOR, where he finished his Regimental service in 1972 before moving on to fresh fields and pastures new working in the Master of the Household's Department at Buckingham Palace.

Having left the Army, and still living in Windsor, John developed stables first at Flemish Farm in Windsor Great Park and then at Mezel Hill. Originally putting together, a team for coaching (having become a member of the Coaching Club in 1973), John was soon involved in the development of three-day carriage driving events, a 'new sport' at that time receiving much support and encouragement from HRH The Duke of Edinburgh.

John also found time to drive carriages in many films of the period including Taste the Blood of Dracula and for television in the drama Edward VII and others, and regularly supplied and drove carriages for the Livery Companies in the annual Lord Mayor's Show.

Carriage Driving which was to dominate the next forty years of John's life, firstly as a competitor (winning the National Pony Teams Championship in 1977 driving Ted Rowley's team of Welsh Ponies), then as a well-respected International Fédération Equestre Internationale judge, jury member and Chairman of the event he personally organised for many years at Drumlanrig Castle in the 1990s. John also played a key role in the development of the International Paralympic Equestrian Committee and carriage driving competitions for the disabled, and personally advised Prince Philip in the development of his book on Driven Dressage. John also wrote his own book on the sport of Carriage Driving, together with his later autobiography, The Memoirs of a Cavalry Coachman.

The move to Scotland had come in 1985 following his son Andrew's accident, and he and Pat lived in Dumfriesshire for the last 36 years of his life.
His involvement in coaching continued (he was made an Honorary Vice President of the Coaching Club in 2017) and for many years he organised the club's attendance at the Royal Ascot meeting. He was a National Chairman for the British Driving Society in Scotland and held various offices within the Freemasons and local community, being the Returning Officer for Tynron for a good period of time.

However, it was driving a team of horses that was to remain his enduring joy and passion. Having taught so many novice drivers over the years, including many Household Cavalry officers, his own children (both Andrew and Debra competed at national and international level in carriage driving events), and more recently those who attended his own driving school in Scotland. He was never happier than up on the Box Seat.