Obituaries
Major Sir David Black
Late The Royal Horse Guards (The Blues)
by Lieutenant Colonel R R Giles
formerly The Blues and Royals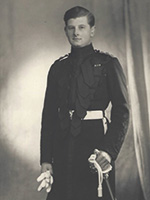 Major Sir David Black passed away peacefully on 22nd May 2021, aged 92. He was born in 1929 and educated at Eton College. is family lived at Midgham Park, Berkshire, later moving to Elverdon Priory in Woodcote. David was an only child and during his childhood he spent a great deal of time in the company of the household staff and gardeners from whom he learned much about horticulture. In his later years he could name the trees his father planted before the Second World War. He developed a passion for orchids, which he grew in his greenhouse; his home was always filled with flowers.

In September 1947 David, as a National Serviceman, joined The Royal Horse Guards (The Blues). After completing his basic training at the Brigade Squad at the Guards Depot, Caterham, he spent a short time with the Household Cavalry Training Squadron at Windsor. A little later he joined The Blues as part of the British Army of the Rhine, before being posted to Mons Officer Cadet School in October 1948.

In February 1949 David was granted an emergency commission as a cornet and was posted back to Windsor where he was initially taken on the strength of The Life Guards for administrative purposes, before he re-joined The Blues as an armoured car troop leader in Germany in March 1949.

Early in his career he was quickly identified as being equally at home in his armoured car or on a horse and by July 1951 was posted to The Blues Mounted Squadron at Hyde Park Barracks where he took command of Three Troop. He took full advantage of the unofficial leave available to hunt as he had in his troop two very good black horses, Dynamite and Golden Glory. Dynamite was a small compact horse who lived up to his name. He could jump like a stag and gallop at breakneck speed such that at times it was a test for David to control. Golden Glory was a much larger horse who was very good over fences and much easier to control. He hunted these two horses with the Quorn and Cottesmore Hunts.

After completing two years as a troop leader, David was promoted to acting captain and given command of the Household Cavalry Musical Ride. During the Lying in State of HM King George VI in Westminster Great Hall, David was one of the officers who stood Vigil on the coffin and took part in the Sovereign's Escort funeral procession from Westminster to Paddington Station. The following year at the Coronation he rode as the Escort Commander to HM Queen Elizabeth The Queen Mother, riding alongside her coach. In 1953, he was part of the Sovereign's Escort when HM The Queen presented new Standards to the Household Cavalry in Home Park, Windsor.

In January 1956, after nearly four years on ceremonial duties, he returned to the Service Regiment and was promoted to captain. He spent the next year with The Blues, on a three-year posting to Cyprus during the EOKA terrorist campaign.

He returned to the Mounted Regimented at Knightsbridge in March 1957 as The Blues Squadron second in command and commanded the Sovereign's Escort for the State Opening of Parliament in November that year. In May 1958 David was posted to the Inns of Court (The Devil's Own) as their Adjutant, a position he enjoyed and retained until February 1960 before returning to The Blues at Windsor as a major and squadron leader. By July 1960, he found himself once again in Cyprus during the outbreak of intercommunal violence between the Greeks and Turks which had flared up during the run up to Cypriot Independence. David returned to Windsor with A Squadron and attended a course on Airportability.

In December 1960 David resigned his commission and retired with effect 1st December 1961. On retiring from the Regular Army, he took up the rank of major in the Berkshire and Westminster Dragoons (TA) with their drill hall in Bolton Road, Windsor where he spent a number of happy years. Later he was appointed Honorary Colonel of the Yeomanry Signals Squadron. David was on parade in Windsor Great Park celebrating the 100th anniversary of the rising of the Yeomanry where HM Queen Elizabeth The Queen Mother took the salute.

In the hunting world, whilst living at the Old Rectory in Englefield Green, he joined the Garth and South Berks where he served for many years as Master, Chairman, and then President. After giving up the Mastership he continued to hunt with the Beaufort and the Old Berks for some seasons. In 2003 he moved into Beechwood Farm. Having demolished some cowsheds, he gave instructions for the architect to design a new house. The creation became a very attractive farmhouse in which to live and entertain. On his 90th birthday he invited 90 guests to join him in celebrating.

David loved his country sports and ran a successful shoot over Beechwood for several years. In addition, he spent three months of the year stalking on his Scottish Estate in Caithness where he entertained many friends including the Queen Mother, who lived nearby. In 1979 he succeeded to the Baronetcy on his father's death. In 1991 he was appointed Deputy Lord Lieutenant of Caithness and was also High Sherriff of Oxfordshire in 1993.

In October 1953 David married Rosemary, daughter of his Commanding Officer, Lieutenant Colonel Sir Rupert Hardy of The Life Guards. They divorced in 1972. In 1973 he married Dorothy Maureen Radclyffe,

Sir David leaves two daughters, Diana and Joanna, while another daughter, Fiona, predeceased him. The Baronetcy, created in 1922, now becomes extinct. '.....he could walk with kings nor lose the common touch'. Our deepest condolences go to his family and many friends.