Obituaries
David Bruton
Late The Life Guards
by Major The Hon Nigel Adderley
formerly The Life Guards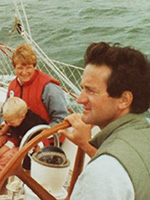 David Bruton was a robust individual, courageous in adversity and never afraid to speak his mind. His outspoken nature served him well in later life, but was more problematic in the military chain of command. Sailing the Atlantic with no previous experience and having learnt the skill simply from a manual showed both courage and tenacity. It was also these characteristics that allowed him to continue an active life despite a progressive and debilitating illness over 17 years.

Born in March 1953, to Meddon and Daphne Bruton, he spent his early years in Hockworthy, Devon. After leaving Eton, David was commissioned in May 1972 on a Short Service Commission, joining The Life Guards in the medieval town of Detmold six months later, as a troop leader in A Squadron.

Serving in Germany during the Cold War was an unrewarding experience for junior officers and the 1970s was the era of limited track mileage for the Chieftain tanks and appalling kit: woollen gloves for temperatures frequently well below zero and a complete lack of rainproof clothing. Despite being constrained by limited military budgets, The Life Guards believed in keeping their 21 subalterns busy, sending them on inventive and, on the whole, interesting courses. The Regiment was renowned for the subalterns' range of fast cars and David cut a dashing figure in his red Triumph TR6.

He Joined B Squadron for the Regiment's tour in Northern Ireland, memorable for having only four dry days in the whole four months, perhaps in preparation for the many more wet days he later spent at sea. For this tour he was detached to Londonderry where he served under command of 1st Battalion Grenadier Guards with a brief period with The Royal Anglian Regiment in Sion Mills and Strabane. On tour in Ireland, David was a competent troop leader and respected by his soldiers.

That operational tour was followed by The Long Equitation Course at Melton Mowbray and a posting to the Mounted Regiment. It was at the house in Leicestershire of the legendary 'Migs' Greenall where he met his future wife. On return to the Regiment at Windsor he commanded an enlarged troop for an emergency operational deployment to Belize. He left the Army in 1976.

With his wife, Susan Greenall, they decided that knowing nothing about sailing was no barrier to a life on the ocean waves, so instead of buying a house they bought a 42ft Ketch Adare and a shelf of books about sailing and navigation. So equipped, they soon set off on their first Atlantic crossing, becoming highly competent sailors. Five years of adventure followed mainly in their new Bowman 49 Capricho of Sark completing four Atlantic crossings, including a frightening mid-Atlantic knockdown by a freak wave washing David overboard, only saved by his safety harness. Lighter moments did occur like swopping, with another yacht, crewed by chance by a medical student friend of his brother-in-law, a few gallons of fuel for a bottle of champagne mid- Atlantic. In 1982 the Falklands conflict halted their round the world attempt in Capricho when Lloyds removed the insurance cover. For their sailing achievements both were elected to membership of The Royal Cruising Club.

After leaving the Army, David became an enthusiastic Cresta rider, riding from 'top' during the 1977 season. His outdoor pursuits continued and he went on to teach climbing and other adventurous sports. He worked passionately alongside Imperial College London on safety for children in climbing. He continued teaching until a few years ago, after which his battle with Parkinson's Disease, diagnosed in 2004, stopped him doing what he loved.

Undeterred, David's progressive illness did not stop him undertaking long distance cycling, including the 800 kms from Zermatt, Switzerland to Marges, France. He is survived by his children Natasha and Alistair.

With thanks to Dr The Hon Gilbert Greenall, formerly The Life Guards.