Obituaries
Colonel David Lewis
Late Welsh Guards
by Paul de Zulueta
formerly Welsh Guards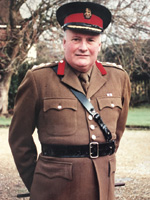 David Lewis, known affectionately as 'Scrumpy', was one of the most well-liked and respected Household Division officers of his generation. Fourteen years after joining the Army, and after only three months of marriage, David was diagnosed with diabetes. The Royal Army Medical Corps doctor who saw David said curtly that his career was at an end and that he would have to leave. The Army, however, knew David's worth and a quick telephone call from the Welsh Guards Regimental Lieutenant Colonel, Vivian Wallace, to the Director of Manning, Jerry Spencer Smith, himself a former Welsh Guards officer, saw good sense prevail. The brusque Army doctor was bowler-hatted instead.

David earned the sobriquet 'Scrumpy' as a newly joined officer after celebrating the end of a rigorous training exercise at the suitably named Plaster Down camp in Devon conveniently located near Luscombe's Cider in Buckfastleigh. As a young officer, however, he quickly showed early promise and a gift for looking after and getting on with people. This was rewarded with his appointment as ADC to the Governor of Queensland, Sir Henry Abel-Smith in 1959. He returned to England in 1961 to become Extra Equerry to The Duke of Edinburgh. These appointments also demonstrated his talent for getting things done, reflected in subsequent postings as Adjutant of the Guards Depot, and a demanding job as a staff officer in the operations branch of the Ministry of Defence. Until his diagnosis with diabetes, all seemed set fair for David's career.

Although David could no longer serve on active service or overseas, the Army, rightly sympathetic to his condition, showed great foresight in placing him in a succession of suitable jobs in which he would flourish. He repaid their trust in full. In 1977, he returned to the Guards Depot as Commandant. It was one of the happiest periods of his life because it brought him in contact with all seven regiments of the Household Division and played to his great strength in getting the best out of people. Everyone who served with him during this time felt they were the better person for the experience. He also knew the importance of having fun in the otherwise serious business of soldiering. The Guards Depot fancy dress balls became the stuff of legend with his Dame Edna Everidge impersonations the evening's highlight.

David Roger Poyer Lewis was born in Pembroke in Wales in 1936, the elder of two sons of Sir Wilfrid Poyer Lewis, a High Court Judge, and his second wife, Elisabeth Barty-King. David was educated at the local village school in Pembroke where he acquired a lilting Welsh accent. David was then sent to Eton. The family name, Poyer, has an engaging provenance. David's ancestor, Colonel Roger Poyer, was an officer in Oliver Cromwell's army charged with defending Pembroke Castle. Poyer changed his allegiance to the Royalists as he was incensed that his men had not been paid. After Cromwell had won the day, Poyer was charged with treason and sentenced to execution with two other officers. The President of the Court Martial, feeling merciful, agreed that only one officer should be executed. The three officers were to draw lots to decide their fate. They refused to draw lots against each other and asked a young girl to carry out the task. She drew the short straw for Poyer and, unaware of what she was being asked to do said, 'Did I do well?' Poyer replied, 'Yes, you have done very well'. David's family has carried the name Poyer ever since 1649. If David inherited the name, Poyer, he also inherited the quality of selflessness from his antecedent.

His greatest contributions during his military service were to the Welsh Guards, albeit in two disparate ways. His marriage to Susan (Sue) Worrall in 1970, the second daughter of the late Lieutenant Colonel Claude Worrall, Coldstream Guards, allowed him to introduce the two other glamorous Worrall daughters to Welsh Guards officers. Kate, the eldest, married Charles Guthrie, later to become Field Marshal the Lord Guthrie of Craigiebank and a former Chief of the Defence Staff, and Miranda, the youngest, married Christopher Drewry, later to become Lieutenant General Sir Christopher Drewry and a former Commander of the Allied Rapid Reaction Corps. It set in train a record of excellence for the Regiment which, over the last twenty-five years, produced more one-star officers and above than any other single battalion regiment in the British Army. David was married to Sue for 49 years until his death. They had no children but took great interest and pride in the many nephews, nieces, and godchildren they had between them. They were always generous and entertaining hosts to their many friends.

It was his appointment as the Regimental Lieutenant Colonel just after the Falklands campaign in 1982 that David's qualities shone through. The Welsh Guards lost 38 men and many severely wounded as they were attacked by the Argentine Air Force as they waited to be landed at Bluff Cove from the RFA Sir Galahad. It was a sensitive time with feelings running high, both in the Regiment and the people of Wales, as ill-informed media reports sought to attach blame. His deft touch and humanity, sense of balance and demonstrable integrity, smoothed out a difficult period uniting the people of Wales, with the Regiment subsequently being awarded the Freedom of many Welsh cities and towns.

Although it was a challenging period for David personally, and for the Regiment, he never lost his sense of good-humoured mischief. David attended a joint services presentation accompanied by Mickey Senior, the Regimental Adjutant. The day before, David had tripped over his much-loved Welsh water hound, Fennel, and was sporting a black eye. A concerned RAF squadron leader at the presentation remarked, 'Goodness me, Colonel, you've been in the wars'. David grimaced, and pointing to Mickey Senior replied, 'Yes, blame him, we were having a game of squash last night, I was two games up, when he hit me in the eye with a vicious back-hander'.

His final appointment in 1988 was as Commandant of the Royal Military School of Music at Kneller Hall in Twickenham. Although he was fond of music, particularly Welsh choirs, it was his innate understanding of the importance of music and bands to the British Army's morale that made him outstanding in the role. It was not without its challenges, as competing bandmasters sought to establish their pre-eminence. Once again, David's talent with people ensured his time at Kneller Hall was a great success.

After retirement in 1991, David and Sue settled in Munslow, Shropshire where he became a local magistrate and Sue continued with her successful travel business. David was also able to indulge his passion for the steam age, joining a society called 'The Puffers', visiting most of the steam trains left in the UK. Tiring of Shropshire dinner parties, where little else was spoken of besides hunting, shooting, and fishing, and playing to his mischievous side, he formed a bogus ensemble called the Munslow Morris Dancers where fellow guests dinner party guests would listen politely to his latest adventures. David and Sue returned every summer to the county of his birth, Pembrokeshire, to holiday with his oldest and closest friends from the Regiment and their wives.

When first being interviewed for the Regiment in 1956, David wrote that his interests were shooting, fishing, farming, rowing, basketball, and tennis. Nobody ever saw him engaged in the last three pursuits although he reputedly asked Roy Emerson, the Australian winner of 28 Grand Slams, to a game of tennis while serving as an ADC in Queensland.