Obituaries
Brigadier R A C Plummer DL
Late Irish Guards
by Colonel Sir William Mahon Bt LVO
formerly Irish Guards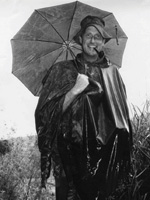 Brigadier Tony Plummer died on New Year's Day 2020, just after enjoying a wonderful ninetieth birthday with his family.
Born in Calcutta on 28th December 1929, young Plummer was schooled at Worth Abbey and then at Downside during the war. Tony was an active member of the Junior Training Corps from August 1943 until he left Downside in 1948. He did not see his parents, who were in India, for seven years.

He wanted to be a soldier, so he turned down a place at Cambridge and allowed his school background to lead him along the well-trodden path as he headed for the Irish Guards. As for so many people, this decision had an enduring happy influence throughout his life.

At Sandhurst he was noted as being very intelligent with good potential. He was commissioned on 16th December 1949 and joined the battalion in the old Chelsea Barracks. A serious young man in some ways, Tony shone on the young officers' courses and being a smart looking fellow flourished in that tall stylish public duties battalion under the experienced eye of Michael Gordon-Watson. Luckily, Tony's youthful sense of fun balanced his incipient professionalism. Hubbelrath followed, during which period the King died. Tony was one of the Irish Guards officers selected to mount a vigil at the Lying-in-State. Years later he was proud that his son John was chosen for a vigil for Queen Elizabeth The Queen Mother.

From March to July 1953 in preparation for the Coronation the Battalion sent a large party back to Albuhera Barracks Aldershot. The highlight was a gleaming Guard of Honour. It was commanded by William Harvey-Kelly, in the rain, in front of Buckingham Palace. Tony, deservedly one of the lucky few to receive a Coronation medal, was the subaltern.

The next excitements were in Egypt to which the Battalion, under Lieutenant Colonel Basil Eugster went as part of 1st Guards Brigade in December 1953. This of course was well before the Suez crisis, but the security situation was disturbed. The Battalion lived in tents, and active patrolling was combined with flawless ceremonial at the Queen's Birthday parade at Moascar. The adjutant was Tony Plummer. He also had a short attachment as Intelligence Officer at Brigade Headquarters, an early recognition of his clever analytical capability. No medal was issued for this service until fifty years later when a retrospective General Service Medal with the clasp Near East was belatedly agreed in 2003. Tony's chest which had borne only a Coronation medal during his service was at last complemented by a well-deserved and disgracefully overdue operational medal.

By 1958 Tony had done all the usual courses and had been at the Guards Depot at Caterham commanding No 5 Company. This was a stopgap, after which he went to Staff College, and prospered. He was quick on the uptake and stimulated by the exacting challenges of staff work. He then went to the staff in Northern Ireland.

By June 1963, the Battalion was back in Hubbelrath. Manpower was no problem as the economy of Ireland was at best stagnant, and the charismatic Colour Sergeant Kenny in Belfast kept the Micks constantly over strength. Meanwhile, the 2nd Battalion Scots Guards in Kenya were suffering something of a manning famine. To the delight of the Irish Guards they were invited to send a full company with its support weapons platoon to fill the Scotsmen's blank files. Plum was chosen as company commander of the re-constituted No 3 Company. He led his company marching past Stephen Langton, the commanding officer at Sennelager in the green combat kit and blue berets of the day, and away they went to a sunshine posting at Gil Gil with the Jocks. This was years after the Mau Mau, and not long before Independence: a lovely posting. Those left behind were sad it had not been their luck to go.
Tony commanded for the first half of the 3 Company tour in Kenya, and then returned to England to go to the staff. He was in charge, in bearskin and greatcoat, at Paddington Station for the ceremonial departure of Sir Winston Churchill's coffin by train after his State Funeral.

In December 1968 Tony became one of the bright pre-command members of the Directing Staff at Camberley. A kind and understanding man, he helped and prompted his students and was held in high regard for his profound knowledge, his patience and precise, if relatively placid, manner.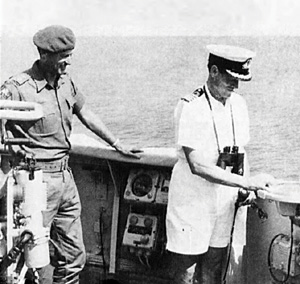 Lieutenant Colonel Tony Plummer and the Captain of HMS Intrepid, Captain William Staveley, during Exercise Quick Flip II, Lantau Island, Hong Kong in September 1971
After Camberley, which was almost his alma mater, Plum came back as commanding officer, the apogee of ambition for any soldier. Hong Kong added to the thrill. He commanded the Battalion for most of its Hong Kong tour from early 1971 to the end of 1972.

Hong Kong was not as easy as people may think. Initially, General Basil Eugster was the Commander British Forces, so no bluffing there! The battalion was divided in two locations, Stanley Fort and Lye Mun.

Nonetheless, Plum's military experience and determination that life should be fun enabled the battalion to thrive. It was all rather different: boot boys looking after the guardsmen's kit, the Battalion junk; border patrols, white uniforms ('ice cream suits') for the Birthday Parade on Her Majesty's actual birthday. The young officers found Plum to be a friendly and charming commanding officer. He played golf with them and was much liked. He loved being in Hong Kong. He became a well-known figure at Fanling Golf course when the battalion was on border duty, playing golf unconcernedly, followed by an immaculate, if perspiring, lance corporal from the Signal Platoon carrying an A 41 radio set 'just in case'.

This time the Battalion was generously augmented by the excellent F Company Scots Guards, because by now the Micks were feeling the manning pinch arising from the difficulties in Northern Ireland. F Company, like all attached companies, had terrific esprit de corps, and was always keen to show us Micks how they felt things should be done. Their forebears, X Company had done it in Normandy in 1944, and F Company did it again with style in Hong Kong. St Andrew, who like the commanding officer must have wondered whether he deserved a three-day celebration, almost outdid St Patrick.

Brigade exercises in the New Territories and on Lantau Island were fun, physical, and novel: mules from 414 Pack Transport Troop RCT, with Chinese muleteers (given Irish names of course), HMS Intrepid, landing craft, ferocious rain (with Sunray under an umbrella).

There were dramas too, Plum was standing on the roof of Sha Tau Kok police station watching as the Battalion border takeover went ahead. Before his very eyes, a Land Rover and a 4-tonner drove slowly and hesitantly straight across the unmarked border towards the Chinese wine shop. In no time the vehicles were surrounded. There followed several days of anxiety during which the small party of detained Micks became pawns in international negotiations. It was mercifully resolved. Another drama was the collapse after a typhoon of a huge high-rise block of flats in Kotewall Road, Victoria. The Battalion was involved in the rescue. The hair-raising task of burrowing precariously under hundreds of tons of delicate debris to extricate trapped residents was crowned by the award of a George Medal to the youngest officer in the Battalion.

Plum's later career was distinguished and mostly staff related. He enjoyed the Mutual Balanced Force Reduction talks in Vienna, a task not necessarily to the taste of those of more mediocre intellect. But there was a delightful distraction and an unexpected spring in his step thereafter. As the Personal Staff Officer to the Chief of Defence Staff while attending the NATO talks in Vienna, Tony met Anne over cocktails at the British Embassy. His favourite Christmas followed; they were engaged over the telephone on Christmas Eve; and he flew out to Switzerland on Boxing Day. They married four months later.

After a year at SHAPE in Belgium they returned to England. Tony thoroughly enjoyed his third stint in Camberley, this time as a full Colonel.

A final promotion and move to command 49 Brigade in the East Midlands came next, a move that would shape the next 40 years. One of his young staff officers remembers driving home after a visit, with Plum kipping gently in the back of the staff car. A pungent smell arose, and the driver was quietly told to pull over to the hard shoulder. Plum's pipe had ignited the pocket into which he had stuffed it. Just then a police car arrived, blue light flashing. Such a convincing 'bar' as would never have 'rubbed' at Commanding Officer's orders floored the apologetic constable: 'The Brigadier's pipe? Case explained.'
After life in Nottingham, they chose Lincolnshire for their 'retirement'. The unusually smart Civil Servant worked as a vetter 'flexibly' managing his diary between days shooting, golfing, or watching his children at sport. His reports to the Ministry were 'concise, crisp and to the point' and often included a wry remark. One such was: 'He reads The Sun newspaper, but not in any depth'.

The Plummer family was thrilled when their only son John joined followed his father into the regiment, and Plum and Anne began to reappear at St Patrick's days again. Then, as the icing on the cake, their daughter Lucy married Matt Collins, a close friend of John's and brother officer in the Battalion. He was amusing, gifted and had the magic ingredient, flair. Alas, to the horror of all, Matt, by then a Major commanding No 3 Company, was killed in action in Afghanistan in March 2011. This left Lucy widowed with two young children, who naturally became an even greater focus for the family's love and attention.

Then there was the ever-present devotion to golf and all the friends involved with it. Very importantly to him, he managed to fulfil his ambition of completing a round of golf in under his age.

He never did buy that dreamed of yacht and sail around the world; probably because his family would not have gone with him. But other passions were lived to the full.

At his well-attended funeral there was a special tribute; the Scots Guards very kindly sent a piper as well as one of our own. What finer salute could there be? To Anne and all the family, we all send every condolence.