Obituaries
Major Denis Grehan
Late Irish Guards
by Major Michael Macewan
formerly Irish Guards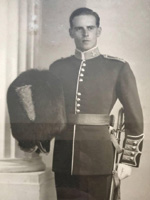 Denny, as he was known, had many of the characteristics that distinguish an Irish Guards Regimental officer. Always smart, thoroughly professional in demanding the highest standards and traditions of the Micks yet with all a light touch and through his upbringing an understanding and affinity with the Irish soldier. He was born into an Irish Catholic landowning family, educated at a leading Catholic public school. His devotion to the Regiment never wavered and until his illness he rarely missed a Regimental occasion.

He was born in Edinburgh in 1927 the second son of Major Stephen Grehan OBE MC then serving in the RHA in Scottish command; his mother was of an ancient and distinguished Irish family the Gaisford St Lawrence of Howth Co Dublin. Denny was brought up in the idyllic surroundings of the family home at Clonmeen, Banteer, Co Cork; a home nestling under Mount Hilary from where the woodcock flighted in to the demesne of Clonmeen, where bordered by the Blackwater salmon used to run in their hundreds and within the cry of the Duhallow Hounds. It is small wonder that he became an accomplished exponent with the rod and gun and a fine horseman. He was also a gifted ball games player; his eye and hand co-ordination honed locally on the tennis courts of the 'Big Houses' around Mallow in particular playing against the formidable Mrs Barry of Castlecor. She had played at Wimbledon and hated, in her old, age being beaten so she only played from one end and had her court marked out in such a way as to ensure that her opponent was always disadvantaged. She hunted side saddle in to her 80s and at the end of the day was wont to award a youngster with an apple if she considered they had ridden well during a hunt, Denny needless to say was a recipient of this favour.

As was the custom in those days, he was educated in England first at preparatory school then Ampleforth where his sporting prowess were evident playing Rugger and Cricket for the school. It was Field Marshal Alexander's suggestion to Denny's father, then serving in his Brigade in India, that Denny should join the Irish Guards. His military career was delayed by having a bad fall in the Duhallow point to point and he did not reach Sandhurst until 1946 when he joined Intake 1, the first post war intake for potential regular officers. Those in authority were clearly experimenting as to how to turn these cadets into officers and gentlemen and Denny, never averse to poking fun at authority, with his friends latched onto this dilemma and formed the 'Guinea Pig Club', whose annual luncheons survived until recently.

He was commissioned in 1948 and joined the first Battalion in Libya. The Commanding Officer, Michael Gordon Watson, saw a fellow foxhunter and immediately appointed him a whipper in to the Guards Brigade hounds, which hunted jackal in the countryside around Tripoli where the Battalion was stationed. The early 50s saw him in Germany stationed at Hubblerath near Düsseldorf where he commanded the Mortar Platoon. I can vouch for the standards he instilled when I took over this highly efficient platoon. He and Desmond Lambert, then Adjutant, were instrumental in commandeering a piece of the training area and laying out a polo field which formed the origins of the successful Düsseldorf Polo Club.

In 1952 he was rather unjustly banished to Brigade Headquarters as Transport Officer thereby missing the Battalion's return to England for the Coronation. As a young officer he had a slightly rebellious streak which ruffled few feathers in the higher echelons of the Battalion. He re-joined the Battalion in Egypt where he was fortunate to survive a tragic episode when Michael Cain and Evelyn Fitzherbert were drowned whilst swimming off the coast at Alexandria. The six-month equitation course at the Royal Army Veterinary Corps Centre at Melton Mowbray followed on his return to England. This was right up his street and he loved it and for a time we shared a hunter from Duhallow whom we stabled at the Centre in the Household Brigade lines under the eagle eye of Sergeant Urwin (Irish Guards and ex-Blue Hussars of the Free State Army) who for many years supervised the chargers at Knightsbridge.

Denny re-joined the Battalion in 1958 to command No 3 Company which had by now gone to Cyprus under the benevolent command of Lieutenant Colonel Will Berridge. On return to Windsor I handed over No 1 Company. to him. To quote one of his platoon commanders (later Colonel Sir William Mahon) 'the Company was full of potential characters where he was helped in this none-to-onerous command by the towering presence of Company Sergeant Major McComisky. He dealt with these powerful personalities of non- commissioned officers with a light touch. He liked things done precisely and properly and young officers to know all about their men. He was a relaxed and charming company commander whom everybody loved'.

Denny went to Pirbright in 1961 to take over No 5 Company at the Guards Depot. Here his gift for getting the best out of people without raising his voice was greatly appreciated and he knew just how much to get involved and how to delegate to his superb instructors. Pirbright being close to Windsor was ideal for him to develop his skills on the Polo field. Here he became a much sought after player at the Guards Polo Club, playing off a handicap of 4, and touring with the team to Argentina. In 1964 he succeeded John Ghika (late Brigadier and father of the present Major General) as Regimental Adjutant with Colonel Will Berridge as Regimental Lieutenant Colonel. It was a busy time with the Battalion in Germany and No 3 and No 4 Companies detached with Scots Guards in Kenya and Malaya. Much to his disappointment in 1967 he was 'short headed' for Commanding Officer by John Head and he left the Regiment for a career in the City in insurance. He retained his Regimental and military connections by assuming the position of Treasurer to the London Branch of the IG Association and Poppy organiser for the Royal British Legion in the Basingstoke area.

In 1968 he married Jane McCaskie; a marriage born in heaven. They were a devoted couple but tragedy struck in 1989 when Jane died of cancer. It was a devastating blow from which he never recovered. Such were the painful memories, for some time, he would not travel down the A303 even to see his great friends, the Bowens or us, as it was the route they used to take to Salcombe for their summer holidays. In 1976, on the death of his parents his elder brother Peter and Denny decided to sell Clonmeen. It was no longer viable as a farming enterprise as the 12000 acres estate had been much reduced in size by the succession of Land Acts of the late 19th and early 20th centuries.

Denny continued to live at Bramley where he had a host of friends and interests. Racing in the winter with membership of syndicates with horses trained by Nicky Henderson and Emma Lavelle, and fishing in the summer on the Kennet at Hungerford where he was a most generous and unselfish host to his many friends making sure they caught a fish. Many were the days when I have failed to do so I have watched his uncanny skill in luring the wily brownies to his fly. The fisherman's prayer should surely be his epitaph. Until his illness overtook him nothing did he enjoy more than his detailed planning for and then his annual tour of Ireland to see his relations and friends and he never failed to visit their old groom, Martin Lawlor, still at Clonmeen.

For such a fit and active man, who played tennis into his eighties, it was unjust that he had to battle cancer for the last four years of his life. As his health deteriorated, he gave up fishing. He was a delightful companion, sociable, with a mischievous sense of humour and he loved a good story or a good 'bar' as they were called. He was generous in so many ways not the least when he made a substantial donation towards the presentation of the bronze bust of Field Marshal Lord Roberts to Waterford museum. When I visited him at Christmas, he was in his usual good form and reminded me of the Denny of old as he did justice to a bottle. A deep Catholic faith sustained him to the end, which came on 6th March 2018 at Oak Lodge Nursing Home. Our sympathy goes to his nephew Duncan and his nieces Cassandra and Jessica.