Obituaries
Lieutenant Colonel Sir Malcolm Ross GCVO OBE GCStJ
Late Scots Guards
by Captain Roddy Gow OBE
formerly Scots Guards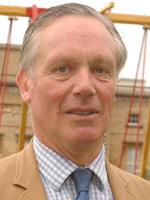 Sir Malcolm Ross died on his seventy-sixth birthday after a sudden illness at his family home. The shock of his death should not obscure his remarkable career in a number of key appointments following twenty-three very successful years in the Scots Guards. Guardsman, Courtier in the Royal Household, Lord Prior of the Order of St John, family man and friend of many he could rightly be described as a Man For All Seasons.

It is a privilege to write this obituary of my brother-in-law, Malcolm having married Susie, the eldest of my four sisters in 1969 when my father was commanding Fourth Guards Armoured Brigade in Münster. I have borrowed liberally from the eulogy delivered by his great friend Andrew Duncan at the Service of Thanksgiving held at Kirkcudbright Parish Church after the family funeral at Balmaghie Church, and those of The Viscount Brookeborough at the service in St George's Chapel, Windsor on 9th March just a few days before large gatherings were prevented because of the Coronavirus, Malcolm would have approved of both and especially the urgency of pulling off the Windsor event with which his daughter Flora and Susie were so intimately involved.

Walter Hugh Malcolm Ross was born at his maternal home Earlston, Borgue, in the Stewartry of Kirkcudbright, the eldest son of Colonel Walter Ross and Josephine, nee Cross. They moved to Netherhall, Bridge of Dee to make a home for his father before the war ended.
Malcolm was brought up at Netherhall, where he lived all his life when not in the army or on royal duties. Prep school was at Aysgarth in Yorkshire, with journeys to school and to ski and enjoy French holidays often by train from Bridge of Dee station. Then on to Eton where, ever popular with his peers, he was voted a member of 'Pop'. 'Knockout Ross' was not a reflection on his dark good looks but for his prowess in the boxing ring, with his Eton achievements made mainly on the playing fields. He was a very good fast bowler, playing at Lords in the Eton-Harrow match of 1962, although best known for hitting a starling while batting which was then stuffed and is still displayed in the 1st X1 pavilion. His father was none too pleased to get the taxidermist's bill added to that term's school fees.

After Eton Malcolm went on to Sandhurst where not only did he win the Sword of Honour in 1964 but was immediately promoted to the rank of 'General' by his local friends! He was commissioned into the Scots Guards in 1964.

Malcolm remained with the regiment until 1987 serving in Aden in command of a specially selected platoon seconded to the Irish Guards with whom he developed strong and long-lasting friendships. George Baker, son of Colonel James Baker, Irish Guards spoke movingly at the Windsor service.

He met his wife Susie in Germany in 1967. His sister was in America at the time but remembers getting a letter (he was an exceptionally good letter writer) saying that he had met this gorgeous and fantastic girl but no further details. It was only later that she discovered that Susie was the eldest daughter of Malcolm's Brigade Commander, Brigadier Sir Michael Gow. His brother remembers him saying that he and a friend were going on a trip to Holland to see the bulb fields however as this was in October, his brother Bertie smelt a rat! Love blossomed and they were married in the Chapel of The Royal Hospital Chelsea on 31st January, 1969. Three wonderful and delightful children came along; Tabitha in 1970, Flora in 1974 and Hector in 1983.

Susie taught Malcolm to ride on Patrol, a retired racehorse, kindly given by Susie's grandfather. Susie said that he kept falling off but as he had invested so much money in all the kit and paid his Subscription to the Wynnstay hunt, he persisted until he had mastered yet another skill. When they relocated to Sandhurst on his appointment as Adjutant, he was required to ride his grey charger, Alexander, up the steps, a procedure that he was now well able to accomplish. He became secretary of the Sandhurst Drag Hunt, so at dawn most mornings they rose to ride out, Malcolm leading Susie over the fences of what was formerly the Olympic Training Cross Country Course.
Malcolm was later Commandant of the Guards Depot, Pirbright, after six tours of duty in Northern Ireland where he was mentioned in dispatches. He was promoted to the rank of Lieutenant-Colonel in 1982.

In 1987 he joined the Royal Household initially as an auditor to the Household and as Assistant Comptroller overseeing the working methods throughout the Palace. His other duties included Secretary of the Central Orders of Knighthood. In 1991, He was appointed Comptroller of the Lord Chamberlain's office. In that post, Malcolm assumed control of all the ceremonial and official events which involved the Queen. These varied from the State Opening of Parliament, over thirty state visits, investitures, and Buckingham Palace and Holyrood Garden Parties.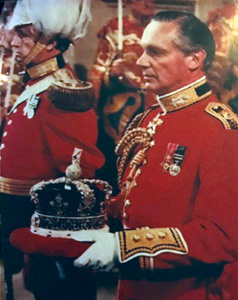 Alan Brooke, Viscount Brookeborough, recounts 'on the first morning that I went to the Palace to do a duty, I had pressed my trousers, brushed my hair and polished my shoes 'Cavalry Fashion'. I sat down in his office which was more like a drawing room with pictures of his family and his lurcher Bullet lying on a rug. A quiet briefing was to come – so I thought. First things first. under his beady eye and smiling expression, he called for Maurice and said, Please take his Lordship's shoes away and give them a quick shine. So much for Cavalry Fashion! This achieved two things. The bog trotter from Ireland was smartened up and given a lesson, and nervous as this first timer was, he could hardly run away shoeless!

This, I was to learn was Malcolm Ross – attention to detail and the diplomacy of a true leader'.

One of his most public duties was to carry the State Crown which the Queen wears at a state opening. He was one of the Queen's mounted attendants at the annual Trooping of the Colour ceremony. In 2002 he served on the steering committee of the Queen's Golden Jubilee Celebrations.

Perhaps Princess Diana's funeral was 'his finest hour' as there were so many under-currents and behind the scenes dramas to deal with, some of which the general public were aware of, some of which we were not. Malcolm's unflappability and organisational skills can best be seen that while standing at the top of the steps, a gentleman usher pointed out in horror, 'that's the ex-King of Greece just arriving, he said he wasn't coming'. 'Walk him very slowly down the aisle' said Malcolm who hurried off to reorganise the whole of the European Royalty seating plan so that when King Constantine arrived there was a seat for him in the correct place of seniority.

Placido Domingo was a particular favourite of Malcolm's so when he rang up to volunteer to sing at the service Malcolm was saddened to have to say that the Dean had already accepted a booking from Elton John. He was so good at planning such events that in 2013 he was recalled to help organise the State Funeral of Baroness Thatcher. The Queen, as her personal gift, appointed Malcolm a Commander of the Royal Victoria Order in 1994, Knight Commander in 1999, and Knight Grand Cross in 2005.

In 2006 Malcolm retired from service to The Queen, and was appointed as Master of The Prince of Wales's Household. This was at a time when Prince Charles was taking over both the Castle of Mey and Birkhall from his late Grandmother as well as cementing a long-term relationship with Camilla, so it was obviously quite a stressful period for them all.

On leaving Prince Charles's employment Malcolm took up a role as non-executive Chairman of the Westminster Group. This company were planning to float their business and boasted Malcolm as 'a member of the Royal Household' much to the press's consternation. He was a great help, seeing them through the difficult period of the Ebola crisis in East Africa, where they had many employees and gaining the respect of both staff and clients for his unswerving support and leadership.

In March 2006 Malcolm was appointed Lord Lieutenant of The Stewartry of Kirkcudbright, a position that he was immensely proud to hold, especially as his father had been Lord Lieutenant before him from 1977 to 1982. He stepped down in October 2018 on reaching the age of seventy-five. Very popular with those whom he met, his wife Susie said that 'he reckoned it was much more fun for everyone if he dressed up so he did, for a hundredth birthday, the opening of a youth club, a visit to a local school as well as when greeting a Royal visitor'.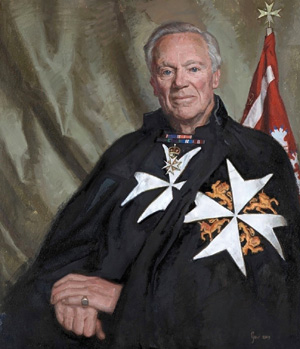 Sir Malcolm Ross painted by Andrew Gow, his nephew
In 2009 Malcolm was appointed Prior of The Order of St John Scotland and in 2016 he was elevated to Lord Prior of the Venerable Order despite pleading that he was 'too old, too poor and too ill'. He was told that made him the perfect choice. Malcolm and Susie embarked on further exhausting trips around the World visiting, making speeches, and encouraging others. Over a ten-year period, he helped strengthen the Order and made many friends.

Malcolm was also a Brigadier in the Royal Company of Archers, The Queen's Bodyguard for Scotland. Unlike many of his fellow Archers he still fitted into his original uniform and was able to march properly.

There were many strings to Malcolm's bow and many arrows he could fire. At his family funeral his coffin was adorned, not with flowers, but with his many hats!

It is almost impossible to list all the many Organisations, Societies, Individuals and Clubs that Malcolm has been involved with. No matter how grand or how humble, he gave them all his best help and advice. Because of the many contacts he made during his life he always knew who to go to get things sorted.

In 2003, at the Rehearsal for the Opening of the Scottish Parliament, Malcolm was taken very ill and he nearly died then but lived on to see his three children happily married and meet his six much adored grandchildren. Since then he and his family always knew he was on borrowed time, so Susie and he made sure that they had their family gathered round them as often as possible.

Malcolm was the rock of his family, always there for them growing up, firm but fair and loving, supporting, and encouraging them in whatever they wanted to do. Rescuing a daughter and five horses broken down on the M6 was just typical of what he readily did to help them.

If you want something done always ask a busy man.

To test this theory Tabitha and Flora both planned their weddings, six weeks apart, in 2002, the year of the Queen's Golden Jubilee Celebrations, the Queen Mother and Princess Margaret's funerals, with perhaps a Royal wedding to happen as well.

Instead of both getting walked down the aisle with one on either of their father's arm at the Guards' Chapel, they decided on one wedding in Scotland and one in London. No problem to Susie and Colonel Fix It. Two amazing, happy celebrations. Reels, Fireworks and Fanfares in Scotland. With a heavenly day in London, at the Chapel Royal and in Clarence House Gardens with a candle lit dinner under the trees at the suggestion of Queen Elizabeth, The Queen Mother, before she died. On his birthday in 2018, Malcolm finally retired from his duties and some of his commitments.

Since the Dumfriesshire and Stewartry Hunt was formed, Susie and Malcolm have been very loyal supporters and followers, with Susie hardly ever missing a meet. However attaching the horse trailer to the Discovery and being able to reverse the combination has always been something of a mystery to Susie and I warn anyone attending meets in future to beware any trailer with a red ribbon attached to its back door! A great countryman, he was also never happier than when out with his dogs and with a gun or rod in his hand.

Malcolm always looked forward, never backwards, maintaining that:

Although it was Nice to be Important, it was much more Important to be Nice.

How he touched the lives of such wide a spectrum of people, from all walks of life, can perhaps best be summed up in how two people reacted to the news of his passing.

When a Lady in Waiting told the Queen she said, 'Oh dear, another dear friend gone' and when Jimmy, the postman at Netherhall, was told he simply said, 'He was my friend, I loved him'.

If you live without making a difference, what difference does it make that you have lived?

A Man For All Seasons