Obituaries
Robert John Aufrere Carr Wallace-Turner
Late Grenadier Guards
by his daughter Sarah Forrester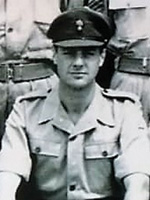 Robert, who has died aged 87 was born in 1931. With his younger brother Anthony, who predeceased him in 2014, he was brought up between London and Hampshire. He was educated at Eton where he developed his lifelong passion for cricket.

He did his National Service with the Grenadier Guards and was commissioned in July 1950 with the 1st Battalion in Tripoli. In December, Princess Elizabeth, the Colonel of the Regiment, flew over from Malta to visit them. He was very proud of his connection with the Grenadiers and embodied the expression 'Once a Grenadier, always a Grenadier'. He never lost touch with the Regiment, regularly attending the Guards Chapel, regimental reunions and continuing lifelong friendships forged during his service with the 1st Battalion.

After National Service he went on to Oxford to read law. This was followed by a long career in banking which started in New York with Bankers Trust Co. Robert remained with Bankers Trust for many years and continued to travel the world for them after his return to London in the early sixties. A descendant of the Huguenot Aufrere family and with his French wife Sabine a collateral descendant of Field Marshal the Earl Ligonier KCB PC; Robert was very involved with the Huguenot Society for over 50 years, including a term as President in 2004.

Robert and Sabine were married in 1966, and she survives him with their three daughters and six grandchildren.