Obituaries
Robin Hylton Murray-Philipson OBE DL
Late Grenadier Guards
by his son Hylton Murray-Philipson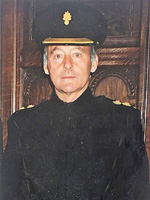 Robin was born in Edinburgh on 5th June 1927 the only son of Monica and Hylton Murray-Philipson of Stobo Castle, Peeblesshire. His father Hylton was Squadron Leader of Edinburgh 603 Bomber Squadron and MP for Twickenham, then Peebles, and his grandfather Hylton Philipson kept wicket for England and played with WG Grace.

He went to Eton where his uncle Claude Beasley Robinson was his housemaster, the last man to coach his house Bumping Four from a hunter on the towpath. Like his father and grandfather before him, and his son Hylton after him, he was Keeper of Rackets and was an avid tennis player all his life.

He did National Service as an officer in the 2nd Battalion, Grenadier Guards. He enjoyed recounting the story of when he was in Officer Training Camp, after six days of square bashing and boot polishing, the RSM posted the Sunday morning activity as 'Nature Ramble'. This turned out to be an assault on Mount Snowdon in full battle kit!

Commissioned in 1946, he served with in the Army of Occupation in Germany based in Wuppertal. One task was marshalling the local population at gunpoint to watch footage of the concentration camps so that no-one could ever say it had not happened.

In 1954 he married Nini Tilney 2nd daughter of Frances and Brigadier Robert Tilney, Leicestershire Yeomanry, who commanded allied forces on Leros in the Second World War.

After the war, Robin went round the world (he would say the Empire) on money left to him by his grandfather 'To visit the overseas dominions of His Majesty the King'. His interest in travel later led him to be Managing Director of Serenissima, a travel business which took his friends (and a few others!) to cultural destinations such as Moscow with Prince Yuri Galitzine or Venice with Viscount Norwich.

Apart from travel, his great enthusiasm was helicopters. He learnt to fly one summer in Shannon and then ran aerial tours of London and a crop spraying business in Syria before joining the European operations of Howard Hughes. Friends recall Robin dropping in for a game of tennis in a Hughes 300 or later a Hughes 500 – the machine described as the workhorse of US forces in Vietnam.

In later years he spent increasing amounts of time on the family farm in Leicestershire. During his time as High Sherriff, he founded Crimebeat (later named the Warning Zone) to help children stay out of trouble. Amongst other interests he was a supportive and enthusiastic President of the Leicestershire Branch of the Grenadier Association for over twenty years.

Robin had tremendous energy and a zest for life. He loved his friends and was the life and soul of any party. For 65 years he was a devoted husband to Nini, father of four children and grandfather to 11 grandchildren.