Obituaries
Major Lord Patrick Tristram de la Poer Beresford
Late Royal Horse Guards (The Blues)
by Brigadier Andrew Parker Bowles OBE
formerly The Blues and Royals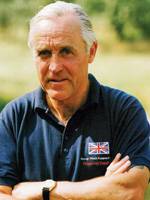 Patrick Beresford, second son of the 7th Marquess of Waterford, died peacefully at his gentleman's bachelor home in Berkshire on 18th March 2020. He was born at Curaghmore, his family home in County Waterford, in June 1934.

He had a dashing set of great uncles: Lord William Beresford was awarded the Victoria Cross in the Zulu Wars and was also a member of the 9th Lancers' team which played in the first Polo game in England, Lord Charles had a very successful and danger filled naval life finishing up as an Admiral and Lord Marcus, said to have had many female admirers, was racing manager to The Prince of Wales, who owned Ambush Il which won the Grand National in 1900. Patrick certainly shared family characteristics with all his forebears.

Patrick was sent to a private school in the Lake District before going to Eton where he was unblemished by any great academic achievements, although he did get eight distinctions in school certificates. The final report from his classics tutor read 'Beresford has made the potentially fatal discovery he can get by even doing quite well without really trying'. At RMA Sandhurst he won the Sword of Honour and followed his brother, Tyrone Waterford, and his father into The Blues.

Once commissioned he spent a year as an armoured car troop leader at Windsor before being stuck off all military duties in 1955 to get the new Household Brigade Polo Club started and up and running on Smith's Lawn. The first tournament was played during Ascot week and during that week he stayed at Windsor Castle as Her Majesty's guest. The gossip columnists speculated that he had a very close relationship with both Princess Margaret and Princess Alexandra.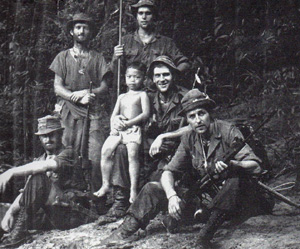 Lord Patrick Beresford, in Borneo, serving with No 1 Guards Independent Parachute Company. 1964
Patrick was posted from The Mounted Regiment in 1957 as Second in Command A Squadron to Cyprus where The Blues were taking part in the Eoka operations. On one patrol, his intelligence section was ambushed and shot at: in the follow-up Patrick shot and hit a terrorist three times, then tended to the man's wounds and saved his life.

On his return from Cyprus he went to Windsor in 1959 and then BAOR as signals officer (hence his nickname 'Pronto'). He found, like many others, soldiering in Germany boring so he joined No 1 Guards Independent Parachute Company, serving in the Middle and Far East including the Borneo Campaign.

Patrick left the Army in 1965 and joined the Anglo-Irish Bloodstock Agency. In 1967 he joined R Squadron 22 SAS and for the next eight years served as a territorial officer, and commanded the Squadron from 1974-1975.

On retirement he was head-hunted to lead an SAS body guard team for Sheikh Yamani, the Saudi Arabian Minister for Petroleum, one of the most important politicians in the world. During Patrick's eighteen months with him, at least two attempts on the Sheikh's life were foiled.

In 1985 Patrick was again head-hunted to become chef d'equipe of the British event team. During the next eight years under his leadership the British team in three European championships achieved a clean sweep of the team golds and all the individual medals and countless other team victories including two World championships.
He was Equestrian Tour Director for Abercrombie and Kent and then for the Ultimate Travel Co from 1993-2008 taking riding tours all over the world. Patrick's real love was horses and he considered a day without riding to be a day wasted. He was a brilliant all-round horseman and won over fifty National Hunt and Point-to-Point races. In the Polo world he played in thirty-five different countries and was selected for the Army, the British and Commonwealth teams. Along with his brother Tyrone (RHG) and Ronnie Ferguson (LG) he was also a member of Prince Philip's Windsor Park High Goal team which won the Cowdray Gold Cup in 1966 and 1969 and in 1982 was part of the team that won the Queen's Cup. He loved his polo ponies. He won the Supreme Championship at the Royal Windsor Horse Show on at least twelve occasions. He hunted well into his seventies, elegant to the last. A polo/hunter called 'Buck' was a favourite and would nearly bring tears when he talked about him. He was very concerned about the welfare and treatment of polo ponies and he set up and chaired the Pony Welfare Committee for many years.

Patrick's real disappointment was the failure of his marriage, for which he blamed himself, to the beautiful Julia Williamson who had previously been married to Captain Darel Carey (RHG Captain of the Army Ski team) and after marriage to Patrick failed in 1970 she married Major Sir Nicholas Nuttall Bt (RHG, Officer Commanding the Guards Parachute Company, and winner of The Grand Military Gold Cup). The Regiment lost three very capable officers to one glamorous lady!

He was a devout and practising member of the Church of England.

Patrick is survived by his son Valentine who is the co-founder of a FTSE listed company and his daughter Samantha, who to Patrick's delight became a brilliant horsewoman and winner of the 1993 Melton Hunt Cross Country race. He was much loved by his batch of grandchildren in whom he took great interest. A fellow Guards Parachute officer described him as a 'very fine officer and gentleman, blessed with brains, looks, charm, courage, competence and wit'. I myself would judge him as one of the most admirable men of my generation.

Patrick was indeed the bravest of the brave and Chaucer's verse The Knight is a good description of 'Lord Pat's' qualities.