Obituaries
Captain William David Heber Percy MBE
Late Welsh Guards
by John Harding
formerly Welsh Guards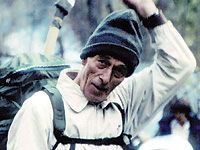 Bill Heber Percy, who died on 2nd August 2020 aged 81, shared an ecclesiastical and patrician ancestry. Hodnet Hall, Shropshire had been a Heber Percy seat well before the famous hymnwriter Reginald Heber was appointed Bishop of Calcutta in 1823. Renowned as huntsmen, the Heber Percys had a long tradition of service with the Foot Guards. During the Second World War, Algernon, one of Bill's grandfather's four sons, commanded the 3rd Battalion Grenadier Guards in Italy. Another, Bill's father, Lieutenant Colonel Cyril Heber Percy DSO MC MFH, fought at Boulogne in 1940 and commanded the 1st Battalion Welsh Guards in North-West Europe from October 1944 to August 1945.

Bill, the second son of Cyril's first marriage to the former Anne Garland, was educated at Eton where he became Captain of his house and Master of the Eton Beagles. Described by his housemaster as 'energetic and capable of asserting himself when necessary', he was offered a place at Trinity College, Cambridge. Instead, after being commissioned into the Welsh Guards in December 1957 for his National Service, he decided on a military career and on 5th April 1960 was appointed to a permanent Regular Army commission.

But Bill's horizons stretched far beyond traditional regimental soldiering and in February 1960 he joined on secondment the Aden Protectorate Levies, a British-officered force operating in British South Arabia's Western Aden Protectorate (WAP) in which two fellow Welsh Guardsmen, Johnny Rickett (later Brigadier and Regimental Lieutenant Colonel) and Denis Stewart were already serving.

Although by 1960, Harold Macmillan's Imperial Audit foreshadowed the last days of the British Empire, it remained an article of faith that the Crown Colony of Aden be retained for its strategic and economic importance. Fortress Aden, with the finest natural harbour on the Arabian Peninsula, had reached the apogee of its prosperity as the 'Hong Kong of the Middle East' and was shortly to become HQ Middle East Command.

While Aden prospered, the wild, mountainous hinterland of the WAP, which provided its strategic cordon sanitaire, languished in poverty and neglect. Ruled by a ragbag of feudal chiefs mostly at odds with each other, its peoples comprised a melange of disparate and disputatious tribes embittered by internecine blood feuds. The colossal cost of structural reform and meaningful economic development had determined Britain's miserly if realistic Protectorate policy of letting the rulers govern themselves, assisted by 'advice' proffered by a tiny cadre of British political officers.

The WAP's other endemic problem was defence. For years past, Yemen's Imamic rulers had cast covetous eyes on Aden and actively promoted unrest and armed incursions along the WAP's porous frontiers. After the First World War, selective RAF reprisals had kept these in check, but since its formation in 1928, prime responsibility for maintaining the fragile peace that guaranteed Aden's security rested with the Aden Protectorate Levies (APL).
Bill had joined the APL when the future of British South Arabia was entering a critical phase. Recruited from the hinterland tribes, the APL had been more than adequate to deal with frontier skirmishes. However, the death of Yemen's Imam Ahmed in 1962 not only triggered a revolutionary coup and the creation of the Yemen Arab Republic, but also gave Gamal Abdul Nasser an excuse to support the Republicans by invading the Yemen with a 30,000 strong Egyptian army (later swelled to 70,000). Nasser's aims were to evict the British from South Arabia and secure Aden as a launch-pad to seize the oilfields of the Gulf. A network of Egyptian intelligence officers and military instructors was established along the Yemen frontier, tasked to spread anti-British propaganda and train dissident tribesmen for battle.

In 1961, anticipating this looming threat to Aden's security, the APL had morphed into the four-battalion-strong Federal Regular Army (FRA). Having previously obtained the reluctant permission of Tony Leatham, the Welsh Guards Regimental Lieutenant Colonel, to extend his original APL posting by eighteen months, Bill enrolled into the FRA in January 1962. The largely Arab-officered FRA had garrisons along the Yemen frontier including Dhala, Mukeiras and Beihan. Bill was frequently involved in border operations working closely with a brilliant young Arab officer Qaid (Colonel) Haider bin Salih al Habili.

In 1963, Aden's accession to the Federation of South Arabia, a controversial construct dominated by the tribal rulers, had met with raucous Russian and Third World opposition, creating serious local political uncertainties. Bill's distinguished military service and the exceptional rapport he had achieved with his Arab brothers-in-arms, had greatly impressed Ralph Daly, a Senior WAP Adviser and former wartime Welsh Guards officer. Bill needed little persuasion to take up Ralph's suggestion that he transfer to the Colonial Service and take over as Political Officer, Beihan. This was a key appointment because Beihan's un-demarcated desert frontiers, bordering both Yemen and Saudi Arabia, made it critically important strategically for both Egyptian and Federal/British combatants. Qaid Haider's high regard for Bill might also have influenced this posting for although Beihan's effective ruler, the formidable Sharif Hussan bin Ahmed al Habili, was mainly preoccupied with running the Federal Ministry of the Interior, he also happened to be Qaid Haider's uncle and father-in-law.

In March 1964, the RAF's bombing of the Yemen Army's frontier fort at Harib, in reprisal for Egyptian instigated air raids and dissident attacks, had prompted the Yemen government to demand a UN Security Council emergency meeting. With the eyes of the world now focused on Beihan, Bill's job was the more delicate because, with Sharif Hussain's blessing, Beihan had also become the depot and conduit for supplying the Yemeni Royalists with arms and ammunition via a covert British SAS/mercenary force. This was originally the brainchild of David Stirling, who had approached Colonel Jim Johnson, a former wartime SAS comrade and Welsh Guardsman, to 'put something together'. The savage guerrilla war waged against the Egyptian Army by the Royalists from 1962 to 1967 left Nasser to repine 10,000 Egyptian casualties and what he later described as his 'Vietnam'.

At Beihan, the political officer's value was measured by his ability to keep the autocratic Sharif Hussain on side and liaise effectively with both the military and Johnson's secret force. Bill achieved both superbly, earning the Sharif's ungrudging respect for standing up to him and for promoting essential development work in his state. In 1966 Bill was promoted a Senior Adviser and awarded the MBE.

The lamentable story of Britain's scuttle from Aden has often been told. Bill would have empathized with Sharif Hussain's bitter aphorism that 'it was better to be an enemy of the British than a friend, for as an enemy you know where you stand, but as a friend you will certainly be betrayed'. Abdication from its South Arabian responsibilities and the abandonment of its friends proved disastrous for Britain's reputation with both allies and enemies. But though the tide of events turned the allegiances of many in the South Arabian Army, some remained loyal to the memory of camaraderie forged in conflict. With only a month to go before British forces pulled out of Aden on 28th November 1967, Qaid Haider stood shoulder-to-shoulder with Bill, first at Beihan and then in Aden while the two rival revolutionary factions, FLOSY and NLF, fought it out to the death. After Aden's independence, Haider became joint commander of the Saudi sponsored South Yemeni forces in exile and was subsequently appointed Military Adviser to the President of the Yemen Arab Republic with the rank of Major General.

After the Aden debacle, Bill and several other displaced ex-South Arabian veterans went to work in the Sultanate of Oman to assist with the reconstruction of a country revitalized by its energetic new Sultan, the Sandhurst-trained Qaboos bin Said. From 1967 to 1972, Bill was employed first as the Secretary General and subsequently Director of the Planning and Development Board. On an official business visit to Jordan in 1968, he was met at the airport, at the behest of King Hussain, by Christine Gates then working for Princess Muna. Bill and Christine were married in January 1969, their daughter Robin was born that November and their son Peter in May 1971.

After retiring from Oman, Bill and Christine took to sheep farming at Clyro and then Paincastle in Powys before moving to Llangynidr at Talybont on Usk to enjoy the fishing in 1984. Yet Bill could never turn his back on South Arabia and in 1993, at the invitation of the Yemen Arab Republic's Foreign Minister, he and three other former political officers visited the Yemen to help the new government determine the long-disputed frontiers between Britain's former protectorate and Saudi Arabia. That same year, Bill became a founder member of the British Yemeni Society whose main object was to foster closer relations between the peoples of Yemen and Britain. For the next five years he served as the Society's innovative chairman building up its membership, supporting Cardiff's long-established Yemeni community, and promoting the work of young Yemeni artists and musicians.

Bill never lost his passion for adventure. In 1998, he and Christine joined fellow former-political officer John Ducker's pioneering trek in Kyrgyzstan. On 13th April 2004, Christine died after a long battle with cancer. Bill had given his all to care for her, but in memory of happier days joined another of Ducker's Russian-guided Kyrgyzstan ventures that July. This 14-day, high-altitude trek culminated in a three-day-flog up the 60-kilometre-long Inylchek Glacier. At one point, Bill, noticing that my re-constructed hip was playing up, promptly volunteered to carry some of my load. It was a typical gesture.
Bill's last years were spent quietly at Crickhowell. Relaxing one evening, he became aware that a something was crushing his ankle. After untangling what transpired to be a six-foot-long boa-constrictor, he left the room; shut the door and eventually traced its owner. His main concern was that the snake might have been hungry. Much later, he mentioned en passant this incident to his children.

Bill Heber Percy was an exceptional, outstanding yet supremely modest man. Of many tributes, one he would have particularly treasured was that of General Sharif Haider al Habili who has written: 'a great friend ….courageous, of great manners and an even greater personality… a true leader'.