Obituaries
Major Ossie Priaulx
Late Scots Guards
by Major Tony Heybourn
formerly Scots Guards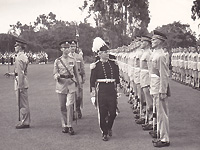 Major Ossie Priaulx, christened Osmond William, was a proud Channel Islander, born on 3rd October 1926 at Grahamstown, South Africa. His family had moved from their ancestral roots in Guernsey in 1923, to run a sheep farm after his father's service in the First World War. His father served in the Scots Guards during both World Wars and had been Adjutant at the Guards Depot in 1943, Adjutant 4th Battalion Scots Guards at its formation and Drill Adjutant, RAF Regiment, at Grantham in 1945. A great uncle, Frank Whitworth Priaulx, had also served in the Scots Guards earning a Military Cross for conspicuous gallantry at Ypres. Frank's father had been killed in action in the King's Royal Rifle Corps, having earned a Distinguished Service Order. A strong military ethic and strength of character was thus firmly embedded in Ossie's genes.

The family returned from South Africa to their home in Guernsey prior to the outbreak of the Second World War. He attended Elizabeth College, Guernsey where he was twice Champion Boxer. Due to the threat to the Channel Islands of German invasion and occupation, he had to leave home to continue his education and was sent to the Salisbury School, Connecticut, USA. There he excelled at sport, was appointed a prefect, captain of soccer and cox of the school rowing eight. In 1944, he returned home, and three weeks later joined the Scots Guards. His wonderful sense of humour and readiness to face eagerly any challenge, be it sporting, physical or mental, made him a welcome and valued asset to the Regiment. His prowess as a sportsman gave him a head-start to a successful and happy military career.

He set off by train to Trieste to join his Battalion in Italy in January 1946. His enthusiasm shines and bubbles in letters he sent home regularly to his parents. The family generously donated these letters home to the Regimental Archive, and they give a perspective of Battalion life that is absent from official accounts.

Ossie's character and sense of humour are best exemplified in his own words in this letter, sent home during his first year serving with the Battalion in Italy:

The Bn is boxing the King's Own. While I was closing the Sgts' Mess the other night Drill Sgt Hall pressed a large whisky into my hand, patted me lovingly on the shoulder and said 'Ha ha ha, isn't it funny, but you know the Bn has no Feather weights'. With a sickening feeling in the pit of my stomach I said I thought it was the funniest thing I'd ever heard but I really must be going. Hall is a large man, and he successfully blocked the only exit! Fixing me with a fishy eye he said he thought I'd be about the right weight and the Adjutant had said it was alright. I said I was sure the Adjutant would be only too delighted BUT – D Sgt Hall said, we'd lose 4 pts if we couldn't get anyone. Just as long as I climbed through the ropes, it didn't matter what happened afterwards. I said it didn't matter to him or the Adjutant, but it mattered a good deal to me, and I disliked the idea of my life being only assessed at 4 pts! I spluttered out other objections about having no time to train, that I hadn't boxed for seven years, etc. I am still fighting hard and nothing has definitely been decided, but I have a nasty feeling I shall probably be pushed into the ring on the 15th. Five days to live'. (He did compete and did win.)

The role of the Battalion in Italy, at this crucial post-war period, was as interesting as it was challenging, in the mountains, avoiding the flare-ups along the borders by elements of Tito's Jugoslav Partisan Army. A great start and a thorough grounding to begin a military career.

Shortly after Ossie's return home, he was sent to the 2nd Battalion in Malaya where his skill and leadership earned him a Mention in Dispatches. This quote from one of his letters home sums up his sharpness of mind, mental attitude, and sense of humour:

I went to the Officers' Shop yesterday to have a haircut. The barber, a vast black man of indeterminate origin, obviously had a lot to learn re the finer points of his chosen profession. The haircutting consisted of running a pair of squeaky clippers up as far as they would go all round my head. They couldn't of course go very far without pulling it out by the roots. This didn't deter him in the slightest. Observing the results thru a mist of tears I rashly asked for a head massage. A bottle of 'Bay Rum' was emptied over my head and the next thing my head was seized in a vice like grip and twisted round to the right. There was a frightful click upon which he let go, revised his grip, and started twisting to the left. Fortunately, I managed to get out of the chair before he got too far. I can hardly move my head at all now, and just what the object of the exercise was I don't know.

Malaya was hard soldiering, but Ossie, with his acute sense of humour, and competitive strength and spirit of a true sportsman, plus his military qualities as an officer, was admired and respected throughout the Battalion. Apart from a tour of duty as an instructor at the Support Weapons Wing at Netheravon, he remained at regimental duty, serving with both Battalions in the UK, Germany, and Kenya. With boxing now but a happy memory, he threw his sporting energy into horse racing; he was an enthusiastic competitive amateur rider of some merit, competing at every opportunity that his military duties allowed.

In 1948, during the Olympic Games, the Olympic Committee requested an Army officer, in uniform, to carry the Olympic Flag into Wembley Stadium for the closing ceremony. Ossie was selected for this honour. He arrived at the Stadium in good time, by staff car, with the Olympic Flag. Knowing that the horse of the moment, Foxhunter, was at the other end of the Stadium complex, he thought he had time to see him if he was quick, but what should he do with the Olympic Flag? He decided to hide it behind seating at one of the entrances to the Stadium. He saw Foxhunter, but at a cost. On his return, he had forgotten at which of the many entrances he had hidden the Flag. He eventually managed to recover it, just a few minutes before pigeons were to be released over the arena, his cue to march on. He paraded smartly, with a very red face, but feeling pleased with himself, having had his 'close-up' of Foxhunter. The Olympic Flag was then formally handed over to the next host nation with appropriate pomp and ceremony.

Ossie had two very happy marriages, firstly to Jean Charley Pearson at Warminster in 1959. Shortly after his retirement from the Army in 1963, they bought a farm at Aston Crews, three miles east of Ross-on-Wye. Ossie kept pigs and a horse and still enjoyed racing. Their son and three daughters were all born in the UK, while Ossie became extremely cross with Harold Wilson's Government! The whole family moved to Queensland, Australia, and another pig farm near Warwick. Sadly, Charley died of cancer in the early 1980s. He married Diana Fellowes in London in 1987. Diana's father had served in the Regiment, as had other members of her family. They lived firstly in Adlestrop, where Ossie did much for the village. After two more moves, they went to live in a retirement home in Stow-on-the-Wold. Ossie died on 13th April 2020, aged 93, following two years in the nursing home, where Diana continues to live in a cottage.